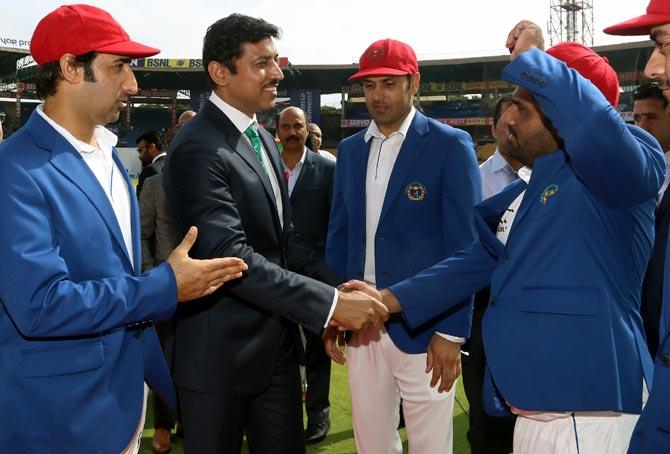 Afghan President Ashraf Ghani said on Thursday the national cricket team was a source of pride to the war-ravaged country as it took on India in a historic first Test match and he urged other cricketing nations to take on the team.
Awarded full member status by the International Cricket Council (ICC) alongside Ireland last year, Afghanistan became the 12th Test-playing nation after first being recognised by the ICC in 2001. India is the world's top-ranked Test side.
Cricket was tolerated by the Taliban during their harsh Islamic rule from 1996 to 2001. The Taliban, now fighting to depose Ghani's US-backed government and reimpose sharia, declined to comment on the match.
India won the toss and chose to bat, making a strong start in the maiden five-day Test match in the Indian city of Bengaluru, attended by top government officials from both sides.
"This is yet another poignant example of the everlasting friendship between India and Afghanistan," Ghani said in a statement.
"We also request other Test cricketing nations to arrange regular series with Afghanistan."
Indian Prime Minister Narendra Modi said he hoped the match could bring the South Asian neighbours closer together. Indian Sports Minister Rajyavardhan Rathore shook hands with Afghan players before the match and read out a congratulatory statement from Modi.
Afghanistan captain Asghar Stanikzai was presented with a memento from former India all-rounder Salim Durani, who was born in Kabul, before the match began.
India has offered Afghanistan the use of two of its stadiums to host matches with other countries. India donates hundreds of cricketing kits to young players and has plans to build small pitches in major districts of Afghanistan.
India enjoys close relations with Afghanistan and both accuse common neighbour Pakistan of not doing enough to stop Islamist militants operating on their territory.
"The historic friendship and relations between India and Afghanistan go back to centuries. I'm glad that cricket is now added as another layer," Afghanistan Cricket Board chairman Atif Mashal said in January, when the date and venue of the match were announced.
In Kabul, diplomats from cricket-playing nations and Afghan officials gathered at the Indian embassy to watch the match.
"This match is a result of immense goodwill and solidarity between the two countries," one senior diplomat said.
India has given long-term visas to Afghan players to live and practise there without worrying about security.
Last month, eight people were killed and dozens were wounded by multiple explosions at a cricket match in the eastern Afghan city of Jalalabad, illustrating the difficulties the country has faced in developing sports.
The blasts occurred after evening prayers at a football stadium that was hosting a cricket match at the start of the holy month of Ramadan.
"We are lucky that some of our best players are getting a chance to live in India and represent our nation," said an official with the Afghan Cricket Board.