Ecstatic after clinching an unbeatable lead in the ongoing Test series against the West Indies, Indian cricket captain Virat Kohli said his team will now play with more 'positive intent' in the fourth and final Test starting August 18.
India hammered West Indies by 237 in the third Test, in Gros Islet, on Saturday, to grab an unassailable 2-0 lead in the series.
1. Bhuvneshwar Kumar was amazing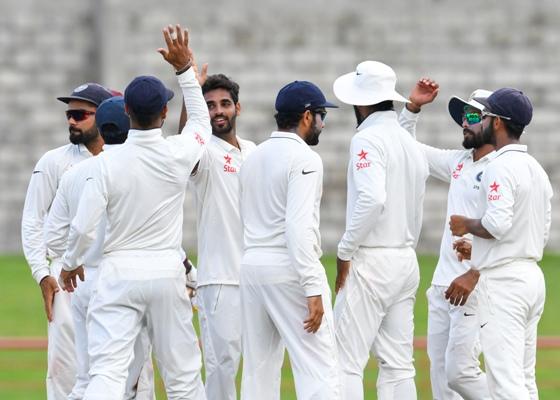 IMAGE: India's Bhuvneshwar Kumar celebrates with teammates after taking a wicket on Day Four of the third Test against the West Indies in Gros Islet. Photograph: WICB Media.
"The team is feeling really good, especially because we didn't have a day of play in Jamaica and fifth day was really testing for us. We didn't get the result we wanted. Here also we played two good days of Test cricket, then lost Day 3, but again on Day 4 bowlers came back and executed what we wanted to," said Kohli after the day's play.
"Bhuvneshwar Kumar was amazing in the afternoon, and picking up 5 wickets for 28 runs on that pitch in 24 overs was a great spell. That really changed things around for us. Not to forget the first innings, where the way Wriddhiman Saha and R Ashwin batted was really top class Test cricket as well," he added.
2. We could execute our plans and wrap up the series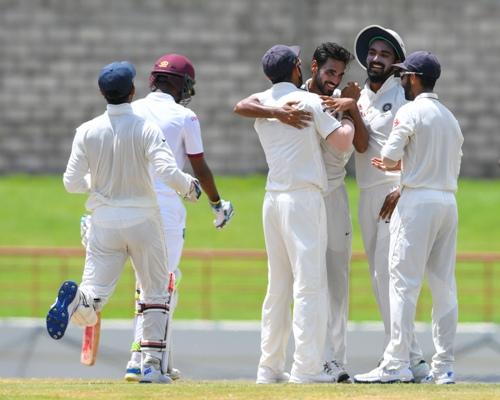 IMAGE: Indian players celebrate the wicket of West Indies opener Kraigg Brathwaite during the third Test in Gros Islet, St Lucia. Photograph: WICB Media.
"So the team is really happy that we could execute our plans and wrap up the series here. Now we can play with more positive intent in Trinidad and express ourselves fully and understand the areas we still need to improve on."
The visitors had made three changes for this match, and while they were reduced to 130/5, it worked out fine in the end as things came together on day five.
3. I am not fixated by my batting spot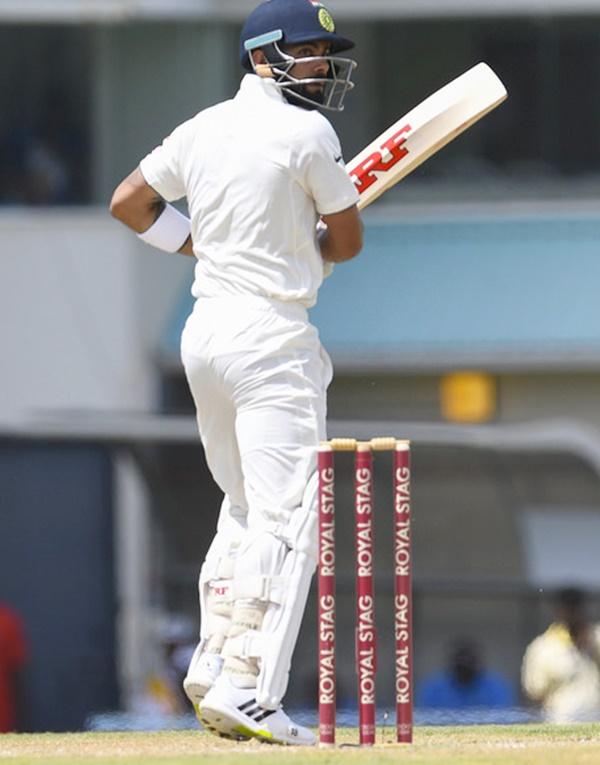 IMAGE: India's Virat Kohli reacts. Photograph: WICB Media .
India had declared their second innings at 217/7 and then bowled out West Indies for just 108 runs after they were faced with 87 overs to bat out.
"Very few people like change. This team doesn't think how others would react or what they might say. We put out a combination that's best according to the pitch. When I came at No 3 many people asked why I did it, but I am not fixated by my batting spot," Kohli said.
"If the team needs, I can open the batting too because that's the rule applicable to everyone in the team. To field a player like Rohit Sharma we had to make him bat at No.5. To make that happen the other players will go one place up the order. That's what we did," he added.
When asked about his batting spot in the near future, Kohli hinted that he would continue to bat up the order. "No 3 comes more naturally to me because I've played 170-180 ODIs and I've batted 130 ODIs at no.3. I don't mind being into the game early. I've always been the kind of player who wants to get into the action quickly.
"If I have to bat four, I will. I've batted at five in the past, at six. Three, I haven't batted too much in Test cricket, but I've batted enough in other forms in international cricket to not feel uncomfortable. I'm pretty happy with that position," he added.
Kohli also explained the reasons behind his bowling choices in the match.
"In bowling we replaced Umesh Yadav with Bhuvi because we felt that since the ground is so good it would be easier to maintain the shine on the ball. The pitch was also hard so there was carry. Bhuvi gave us the results, gave us breakthroughs with the second new ball.
"If you make three changes you might feel that it might to be too strong a reaction. But we realised that if we have to seal the series here then we had to make changes according to the conditions," the skipper said.
4. Good result lies in staying positive irrespective of the situation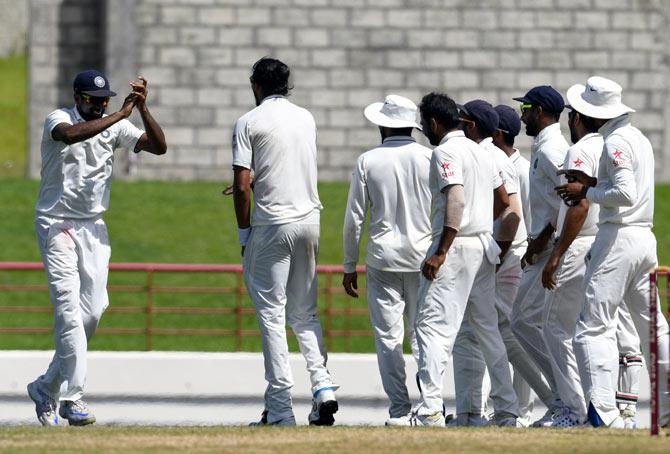 IMAGE: Ravichandran Ashwin, left, celebrates the run out of Jason Holder with his India team-mates, on day 5 of the third Test in Gros Islet, St Lucia. Photograph: WICB Media .
Kohli complimented his players for rising up to the challenge after rain washed off a day just like in Jamaica.
"Individually people have to stand up and show character. You will not be able to execute all the time but the intent and what you think about the game is very important.
"Someone like Bhuvi coming in, he thought about this as an opportunity rather than a pressure situation of having to perform. If everyone can stay in that mind set it's obviously good for the team and that is the only way you can execute what you want," he said.
Kohli felt the key to a good result lies in staying positive irrespective of the situation.
"You are in a positive frame of mind. If you are sceptical, if you are hesitant you will not get the result. I think everyone was hungry to change things around after Jamaica because we understood that we have the momentum, we are playing good cricket, and we are on top in ever Test match so we need to finish things off," said Kohli.
"I am really glad people stepped up at the right time and did the job for us. Even Saha and Ashwin in the first innings, and that was probably the most important partnership in the series.
"We had quite a few but that for me stands out till now in terms of where the series has gone. We have been able to seal the game because of the effort of those two. If we lost two more wickets you never know we wouldn't have been on top in the Test match. Lot of credit goes to those two as well," he added.