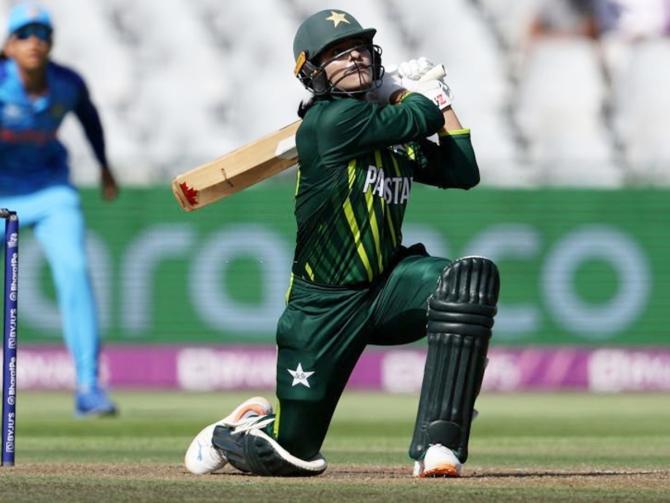 Once dubbed a 'serious talent' by the great Wasim Akram, Pakistani cricketer Ayesha Naseem, 18, has announced her retirement from international cricket citing her devotions to Islamic principles.
The hard-hitting batter with a bright future stepped away from the sport at an age when most players start their journey in top-flight cricket.
Efforts to convince her to continue playing, by Pakistan women's team captain Nida Dar and the Pakistan Cricket Board (PCB), did not yield the desired results.
A source in the board confirmed that Ayesha had first informed the PCB in February-March that she had left playing cricket.
"She was contacted for a training camp and assignment but she told the board she no longer wanted to play cricket," the source said.
He said Ayesha made it clear that it was her personal decision and she "wanted to be a practicing Muslim and live her life as per Islamic teachings".
"Efforts were made even by Nida Dar and some Pakistan players to convince her that she can be a practicing Muslim and also play cricket at the same time but Ayesha refused to rethink her decision."
Ayesha was considered one of the top young talents in Pakistan women's cricket with her hard-hitting batting and had made a name for herself in a short time.
She represented Pakistan in four One-day Internationals and 30 T20 Internationals (T20Is) and was considered a great prospect.
Coming from a conservative family, a source aware of the developments said that Ayesha had got permission to start playing cricket with great difficulty but once she started touring with the Pakistan team, she faced problems at home.
"She eventually decided to leave cricket and become a practiciing Muslim and adhere to the teachings."
In the past many high-profile Pakistan men's team players, such as Saeed Anwar, Inzamam ul Haq, Muhammad Yousuf, Saqlain Mushtaq and Mushtaq Ahmed, turned to religion while playing cricket but only Anwar left the game altogether after losing his young daughter in 2002.
Inzamam, Yousuf, Mushtaq and Saqlain maintained their ties with cricket while also becoming part of a Tableegi Jamaat.