'India have a good bunch of fast bowlers.'
'Umesh is doing really well and so are Shami, Bhuvneshwar Kumar and Ishant.'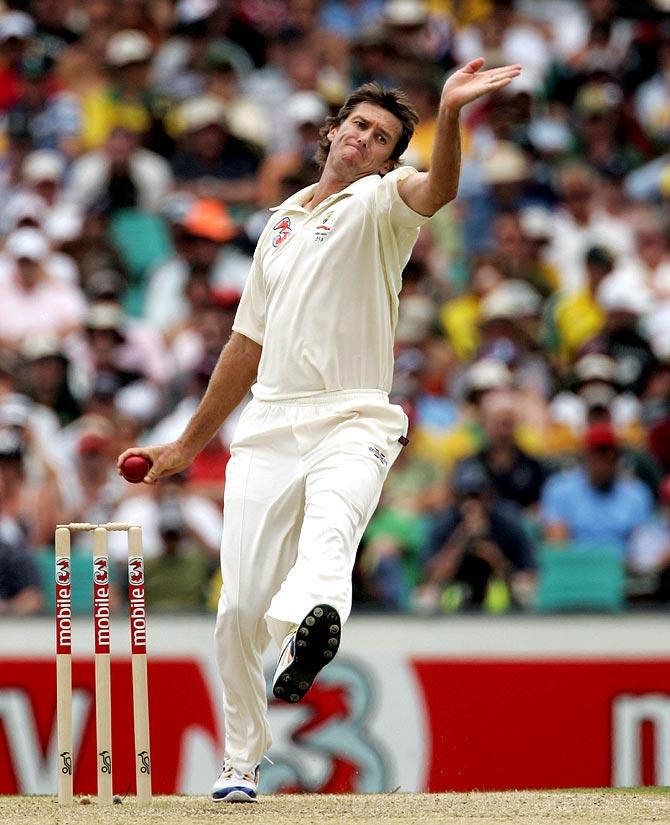 IMAGE: Glenn McGrath bowls during a Test against England in Sydney, January 2007. Photograph: Hamish Blair/Getty Images
Glenn McGrath is one of the greatest fast bowlers to have played the game.
The Australian holds the record for the most Test wickets by a fast bowler -- a massive 563 wickets in 124 Tests.
'Pigeon' also claimed 381 wickets in ODIs and was thrice part of Australia's World Cup winning squads in 1999, 2003 and 2007.
India's young fast bowlers can't thank their stars enough for having the 47-year-old guide them at the MRF Pace Foundation in Chennai these last five years.
As director of the MRF Pace Foundation -- he took over from the great Dennis Lillee in 2012 -- McGrath is already shaping the careers of young pacers like Basil Thampi and Ankit Rajpoot among others.
Rediff.com's Harish Kotian caught up with McGrath, who was in Mumbai on a two-day trip for a coaching programme organised by the Mumbai Cricket Association at the Sharad Pawar Indoor Cricket Academy.
How do you rate the current Indian pace attack?
India have a good bunch of fast bowlers.
Umesh is doing really well and so are (Mohammed) Shami, Bhuvneshwar Kumar and Ishant (Sharma), so they have got a good variety in their attack.
They have been performing well together as a group and I am sure they will do well overseas in places like South Africa and Australia, in places which are more pace-friendly.
And the fast bowlers who have impressed you?
I still think Mitchell Starc is No 1 when he is bowling well.
The pace he bowls at, the length he bowls, he can swing that new ball, he is an attacking bowler and he can reverse swing the old ball.
He is as good as anyone going around.
Every country has good quality fast bowlers. England with Stuart Broad and James Anderson, South Africa has always produced good quality fast bowlers as so is Pakistan.
India's fast bowlers are doing well, so there is no shortage of fast bowlers around the world and that's good to see.
In your association with the MRF Pace Foundation since 2012, how do you see the development of Indian fast bowler overall?
I think they are coming on really well.
Every time I go there, I see them improve not so much in their pace -- their pace has always been good -- but just their control.
And the areas they bowl, how they build up pressure on the batsmen, just the way they are thinking, those things have impressed.
That will help them when they get to state level and hopefully they go on -- fingers crossed -- and play for the country.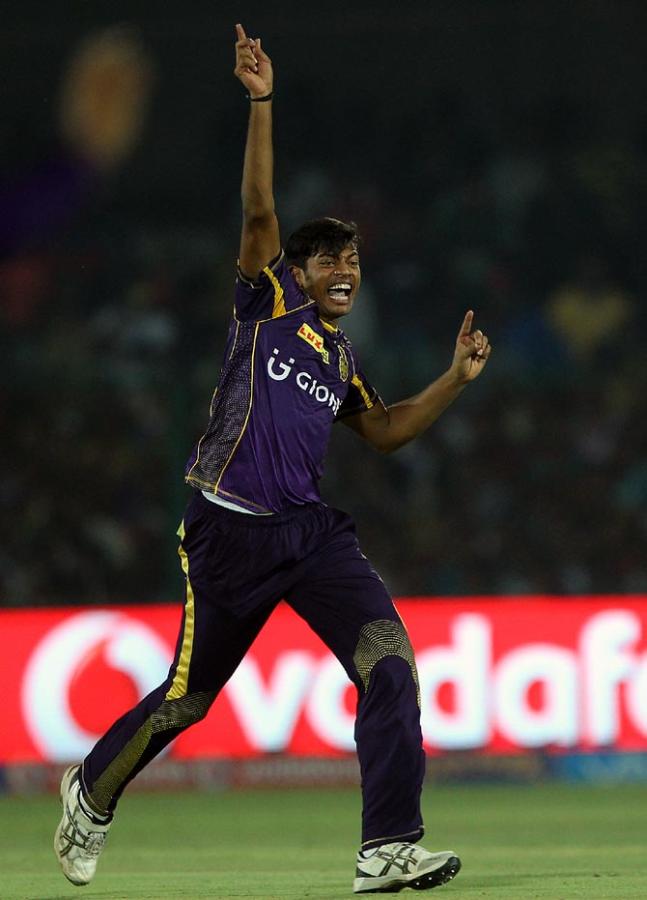 IMAGE: Ankit Rajpoot in action for the Kolkata Knight Riders during IPL 9 last year. Photograph: BCCI
Any fast bowlers who have caught your attention?
Someone like Ankit Rajpoot is bowling exceptionally well.
I am expecting big things from him. He is heading to South Africa along with India 'A' along with another fast bowler Aniket Choudhary who has also impressed me.
Then there is Basil Thampi, who came out of nowhere and did exceptionally well in the IPL, which is great to see.
I love his attitude, the way he goes about things.
All the young guys coming through... every time I come back to the MRF Pace Foundation they improve... their consistency, their control improves and hopefully they will continue to grow.
Somebody like Avesh Khan, who played Under-19s for India, he has got a lot of natural ability and it is about getting in.
He has played at the Under-19 level but the Ranji Trophy is a different level.
So moving up his thought processes, the way he goes about things, how he looks to take wickets, just those things are important.
There are plenty of guys who have the ability to go on and play for the country.
When you played you stressed on accuracy.
Has the definition of accuracy changed in today's times in the world of T20 cricket?
Accuracy is about landing the ball where you want to land it.
If you want to bowl a yorker, bowl a yorker.
If you want to bowl a bouncer, you bowl a good quality bouncer at the batsman or outside the off-stump.
So it is about executing the bowling plan.
If it works, great. If it doesn't, then you should adapt and change.
But if you are running in and bowling and if you don't have control and the ball is going anywhere, then you can't set the fields and you can't do anything.
So it is about that control. Once you have the control you can set fields and then you can be adaptable in the bowling plans.
If you can bowl good yorkers at will, I still think that is the best delivery in the shorter version of cricket.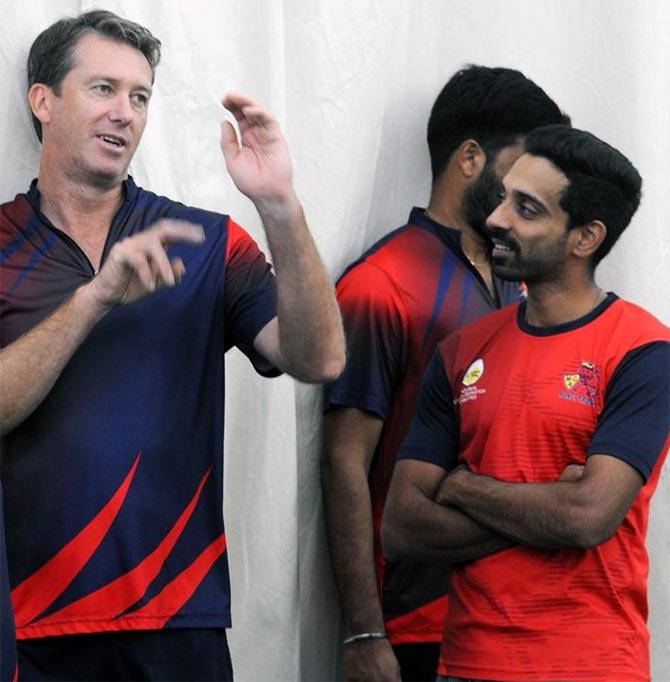 IMAGE: Glenn McGrath speaks to Dhawal Kulkarni at the training camp in Mumbai. Photograph: Mumbai Cricket Association
Are you worried that the hectic cricketing schedule could see fast bowlers burn out too soon or try to reduce pace to prolong their careers and prevent injuries?
Hopefully, fast bowlers won't slow down.
I think you have to make your name internationally to really be successful at T20 and be offered the money that these players want.
Fingers crossed, Test cricket and international cricket is still held at the highest, and that is how I have always felt about it.
If you are a good quality Test bowler, international bowler, then the opportunities will come along.
Hopefully, I don't see a lot of young guys going and playing T20s without playing international cricket.
I think it is important for cricketers and the associations to continue to keep Test cricket as the ultimate.
How different is the coaching structure in India as compared to Australia?
I don't think there is a huge difference. It is all about the basics.
The basics of fast bowling, the basics of batting and the basics of spin bowling are all very similar.
The conditions to India are so very different than in Australia, so it is just about adapting to the conditions and the way they go about it.
The basics are similar, it is just the conditions they grow up in.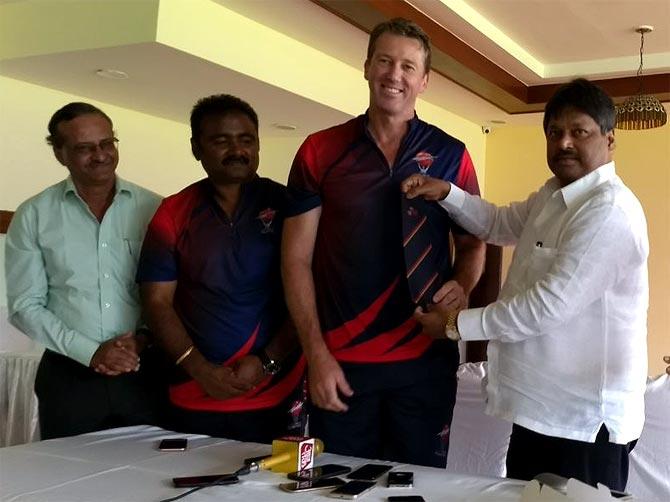 IMAGE: Glenn McGrath is presented with a memento by MCA Joint Secretary Dr P V Shetty, right, as MRF Pace Foundation Chief Coach Myluahanan Senthilnathan, second from left, and MCA Vice-President Vinod Deshpande look on. Photograph: Harish Kotian/Rediff.com
You enjoyed bowling to the top batsmen of your time. Which batsmen would you have loved to bowl to if you were playing today?
The guys who are the best... Virat Kohli, Joe Root, Steve Smith, A B de Villiers, they are quality batsmen going around.
It is getting probably tougher because batsmen are looking to score quicker and dominate the bowling more than they used to.
Those guys I would have enjoyed bowling to.