'Ashwin needs to be more consistent, bowling on the fourth stump line and making the batsman drive on the off-side.'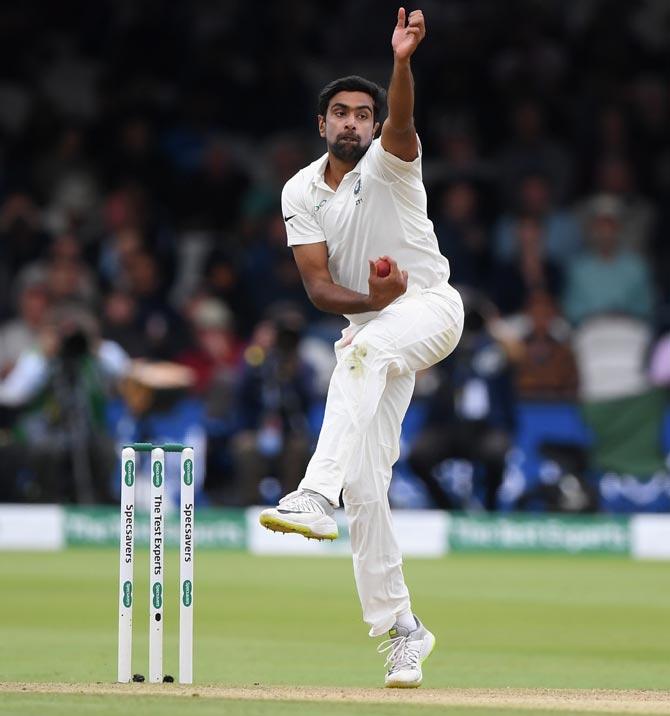 India was humiliated in the first two Tests against England, but a few positives emerged from the rubble of defeat.
One of them was Ravichandran Ashwin's good showing with the ball, especially in the first Test where he took 7 wickets.
Ashwin didn't have much of a role on a seamer-friendly wicket in the second Test.
Former India spinner Sunil Joshi is delighted with Ashwin's showing with the ball, but wants him to be more consistent especially with his line, so he can be much more effective.
"Ashwin has been very disciplined. As far as skill is concerned, he has tremendous skill, but he needs to be a bit more consistent, bowling on the fourth stump line and making the batsman drive on the off-side," Joshi tells Rediff.com's Harish Kotian.
"The English batsmen," he adds, "love to play cow corner shots over midwicket and so the traditional off-spin line is the fourth stump line to make the batsman play through the covers, or over mid-off or long-off for a six or a drive."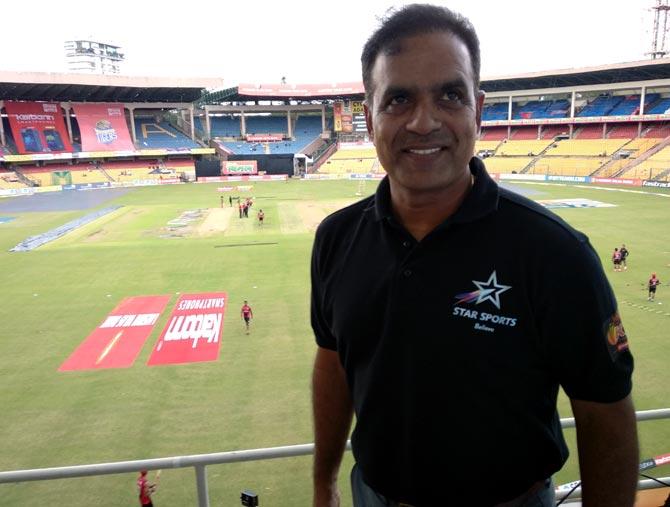 Sunil Joshi is famously remembered for his incredible figures of 10-6-6-5 against South Africa in a 1999 ODI. He played 15 Tests and 69 ODIs for India from 1996 to 2001.
Joshi asks the young Kuldeep Yadav not to get disheartened after his lacklustre showing in the Lord's Test when he went wicketless, giving away 44 runs in 9 overs.
"The white ball is completely different as compared to the red ball. Test cricket is all about test of skill, test of patience, test of ability. He is still young to Test cricket, he needs to play more matches at the Test level and probably then he will be able to do much better," the 48 year old says.
Following Ashwin's impressive showing in Tests in recent years, Joshi believes the off-spinner could be considered for a role in the ODI team, especially looking at next year's 50-overs World Cup.
Ashwin has taken 150 wickets in 111 ODIs with an economy rate of under 5, but in the last year or so has been kept out of the limited overs format with wrist spinners Kuldeep and Yuzvendra Chahal getting the selectors' nod.
"It all depends on what the team management looks at, whether they are looking at Ashwin, whether they are looking at Ravindra Jadeja, or someone like Kuldeep Yadav or Yuzvendra Chahal," says Joshi.
"These four spinners are all classical spinners, they have all done well in white cricket. It again depends on how the selectors think, the team combination in their mind, what the captain and coach are thinking," Joshi explains.
"But Ashwin has a good chance to be the No 1 spinner in the World Cup," he asserts.
Joshi, Bangladesh's spin coach, is currently doing commentary for the Karnataka Premier League.
The KPL, which was launched in 2009, he says, has been instrumental in helping Karnataka discover some good T20 players, who have gone from the district level all the way to the high-profile Indian Premier League.
"The KPL is really contributing to Karnataka cricket," says Joshi. "It is a tournament which provides a big platform to players in the districts of Karnataka. As many as 38 players have gone ahead from the KPL to Karnataka to IPL, so that shows the impact."