'We are asking a lot from the cricketers.'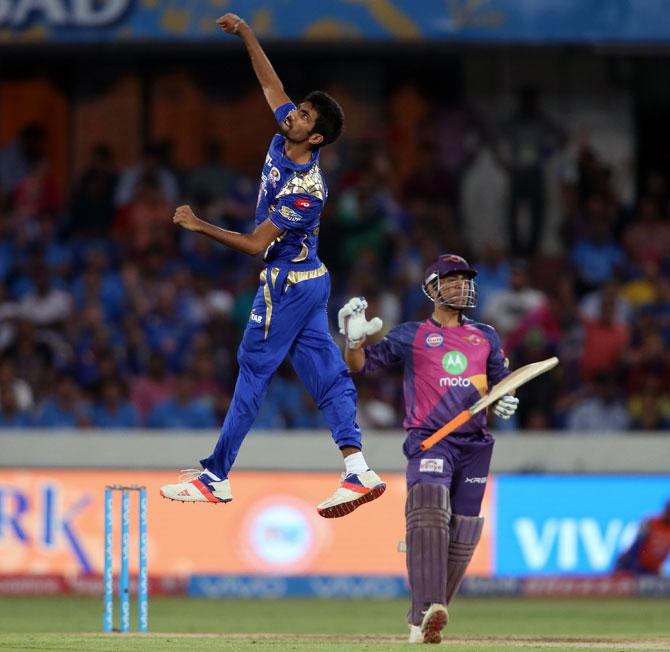 IMAGE: Mumbai Indians fast bowler Jasprit Bumrah celebrates Pune Supergiant star Mahendra Singh Dhoni's wicket in the IPL final, May 22, 2017. Photograph: BCCI
T20s are like the Transformers franchise.
No sooner had the first Transformers movie struck pay dirt at the global box office, studio heads were off and running, building assembly lines in Hollywood to manufacture Transformer sequels and near identical flicks.
The unexpected success of the first T20 World championship in South Africa ten years ago was quickly followed by the triumph of the Indian Premiership League with its tipped hat to Kerry Packer's World Series of Cricket and assorted sporting leagues like the EPL/NFL.
The IPL has spawned many T20 children -- the Big Bash in Australia, leagues in Bangladesh, the Caribbean, Pakistan, England. But the almost relentless march of T20 competitions came to an abrupt halt when Cricket South Africa's plan to launch a league this month was scuppered after a major sponsor pulled out.
That setback came just weeks after Rupert Murdoch's Star television network in India bought the television rights to the IPL for an obscene amount of money, confirming the IPL as one of the world's richest sporting competitions.
Star's pay cheque will finally bring in ample rewards for the IPL franchise owners for whom the franchises have mostly been vanity fare, largely sustained by their personal wealth.
The proliferation of T20 leagues -- not a month passes without some league or the other being contested in a province of the dominion of cricket -- in addition to the T20 encounters tagged on to every bilateral series may accelerate the Fatigue Factor with this format of the game.
It took 20 years plus for One Day Internationals to lose their appeal to the cricketing public. Barring the World Cups and the Champions Leagues, ODI contests invariably induce yawns these days.
The sheer number of T20 games with its almost predictable outcomes -- how many IPL games this past season were humdingers? -- and its tiresome emphasis on slam-bam batting to the exclusion of guile and all else that makes cricket more unpredictable than Donald Trump's moods could well ensure that twenty twenty games may head ODIs' way.
Chatting with Shekhar Gupta on the editor's Walk The Talk programme on NDTV two years ago, Gideon Haigh -- widely acknowledged as the finest cricket writer of this age -- argued that T20 cricket would head in a different direction from the rest of the game. Interestingly, the example the Australian journalist cited was women's basketball and netball.
When Rediff.com caught up with Haigh in Mumbai last week, we probed him on the subject. Where does Gideon Haigh see the future of the T20 game?
Here he is, eloquent and clear-sighted. A MUST WATCH video!
The second of a multi-series video conversations on cricket.
Video and Production: Hitesh Harisinghani/Rediff.com. Additional Video: Rajesh Karkera/Rediff.com. Interview: Nikhil Lakshman/Rediff.com.