'He is setting a new paradigm.'
Virat Kohli, as the television pundits and cricket's number crunchers never tire of emphasising these days, is 'in the form of his life.'
The Sunday before his 29th birthday (Kohli turned 29 on November 5), the Indian skipper, as Rediff.com contributor Rajneesh Gupta informed us, became the quickest batman in the history of the game to score 9,000 runs in One Day Internationals.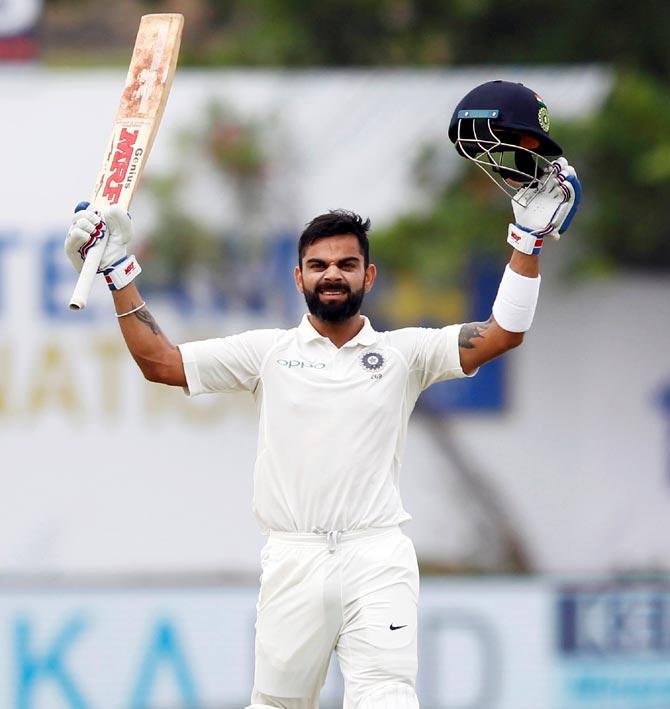 IMAGE: Virat Kohli celebrates a century in the first Test between India and Sri Lanka in Galle, July 29, 2017.
The Indian skipper is inarguably the biggest champion of Test cricket in the current game.
Photograph: Dinuka Liyanawatte/Reuters
He was also the fastest to score 8,000 ODI runs -- and by scoring 1,460 runs in ODIs so far in 2017, Rajneesh pointed out, Kohli's tally is now the highest for any captain in a calendar year. Ricky Ponting, the great Australian batsman, held the previous record.
Kohli's six ODI hundreds are also the most by a captain in a calendar year, beating the record of five centuries by Sourav Ganguly and Ponting.
Ironically, those feats came hours after Rahul Dravid told an audience at the Bengaluru Lit Fest that he 'cringed' when he heard Kohli's comments before a series.
'Virat sometimes comes across as outrageous, and I cringe on reading his statements before a series. But if he can bring the best out of himself by needling the opposition, so be it,' Dravid told a discussion about Rajdeep Sardesai's new book Democracy XI, moderated by our former colleague Prem Panicker.
Unlike Dravid or Sachin Tendulkar or V V S Laxman whose achievements on the cricket pitch were accompanied by an absence of drama, everything Kohli does on the field has aggression as an accomplice.
Which may be why Kohli does not quite attract the same unqualified adoration from the cricketing public that Tendulkar did and still does. Even those awestruck by Kohli's genius, his athleticism, his reverence for the game are sometimes put off by what they view as his arrogance.
What does Gideon Haigh, widely considered the finest cricket writer of our time, think of the man currently acclaimed as the finest cricketer on the planet?
In India, as a guest of the Australian government, Haigh -- the author of 19 books and the editor of seven others -- has just re-released his first cricket book, The Cricket War (Bloomsbury), a classic history of Kerry Packer's game-transforming World Series of Cricket.
Haigh -- whose observations have breathtaking elegance and eloquence -- settled down in the conference room at the Australian deputy high commission in suburban Mumbai to tell Rediff.com what he thinks of the phenomenon that is Virat Kohli.
The first of a multi-series video conversations on cricket.
Video and Production: Hitesh Harisinghani/Rediff.com. Additional Video: Rajesh Karkera/Rediff.com. Interview: Nikhil Lakshman/Rediff.com.