'What is the use of conducting an inquiry?'
'The BCCI will ask them about leaving out Mithali, but they can get away saying it was the team management's decision.'
'I can tell you nothing will come out of this,' former Indian women's team coach Tushar Arothe tells Rediff.com's Harish Kotian.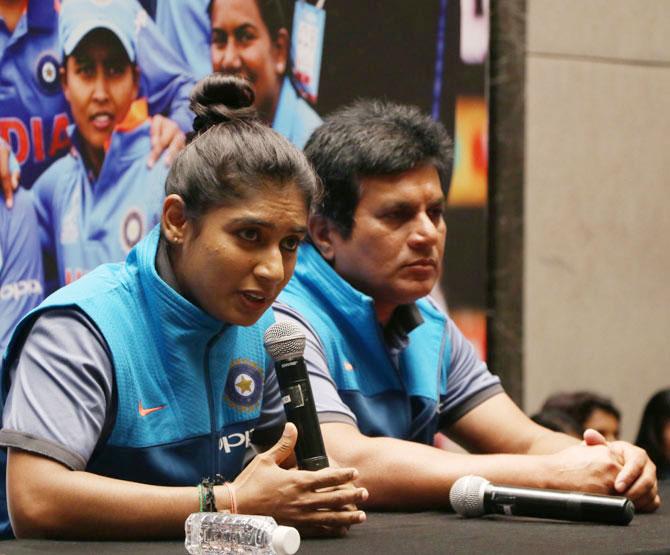 It was a gamble that stunned everyone who loves Indian cricket and will surely be discussed for a long time.
The decision to omit senior pro Mithali Raj for the World T20 semi-final against England hurt the Indian team big time as they were thrashed by 8 wickets.
Captain Harmanpreet Kaur and the team management have come under fire for their shocking decision to leave out Mithali who has featured in 10 Tests, 197 ODIs and 85 T20Is in her 19-year-old international career.
Tushar Arothe -- who coached the Indian women's team when it reached the final in the ODI World Cup last year -- is at a loss of words to understand why a stalwart like Mithali was left out for such a crucial game.
"I could not believe that Mithali was dropped from the team. How could you drop a match-winner from the team? If you see, there are only three match-winners in the team -- Smriti Mandhana, Harmanpreet Kaur and Mithali, so I didn't understand the decision of dropping one of your big players," Arothe tells Rediff.com.
"I have read some reports that it was a decision of the team management including the captain, vice-captain and the coach. I don't know what they were thinking when they decided to leave out Mithali, but it certainly proved to be a big mistake," Arothe adds.
Arothe, who was the India coach till July this year, resigned his position after senior players, including T20 Captain Harmanpreet Kaur, complained to the BCCI about his training methods.
Arothe, who has seen Mithali from close quarters, believes the Indian team missed her experience on a difficult wicket in Antigua.
"No doubt, she was missed. If she had played, she would have held the batting together, the other batsmen could have played around her and that would have resulted in another 25, 30 runs which could have proved to be vital," he says.
"Even though Mithali is not a big-hitter like Harmanpreet," he points out, "she is an intelligent player and is capable of pacing her innings according to the situation of the game."
"I agree that her batting is a bit slow, but she can pace her innings very well which no other player can do," Arothe points out.
"The way Mithali plays, I don't think Harmanpreet can play like that or the way Harmanpreet plays, I don't think Mithali can play in that fashion," he adds.
"Mithali is still an effective batsmen in all formats," Arothe asserts.
The team management, he says, "knew that our match was the second of the day after the first semi-final between Australia and West Indies and we are going to play on the same wicket. They would have known that the wicket would have slowed down and would also offer turn," he says.
"So maybe they didn't read the wicket correctly else they would have definitely taken the decision to play an experienced batter like Mithali on that difficult pitch," he adds.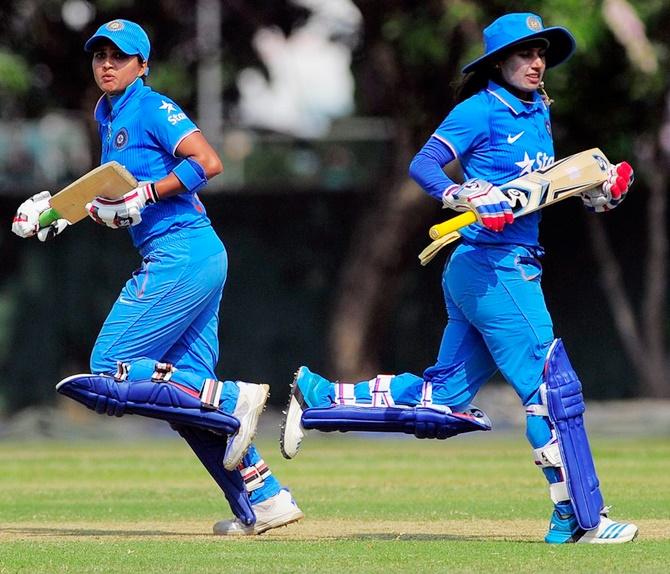 There has been speculation that Mithali and Harmanpreet don't get along, but Arothe says they were not at loggerheads during his tenure.
"Honestly speaking, till the time I was with the team. I didn't see any differences between the two. They used to always be together, whether it was training, or off the field, they all were united," Arothe recalls.
"I am not saying that there is a rift in the team now," he adds, "I have no idea what is going on, but all I can say is that till the time I was there, till July this year, there were no divisions in the team," the former coach asserts.
Arothe says he has witnessed Mithali working hard on her game for the past year to prepare for the World T20.
"Mithali is an excellent player. She has modified her game in every aspect in the last few years. From the World Cup in June last year, she has modified her game so well to prepare for this World T20. She worked so hard to get ready for this tournament, I have seen her working on her game." he says.
He hopes that the shocking omission won't affect Mithali and she continues to play since she has a lot to offer to Indian cricket.
"I am sure she will continue playing, she has a lot of cricket left in her. All these years she has been an excellent player. She can continue playing for few more years," he says.
Speaking from his own experience, Arothe says the players must not be allowed to dominate proceedings when it comes to coaching the team.
"Will a student tell a teacher how much to teach or what to teach? It should not work like this. Tomorrow, will Virat Kohli tell Ravi Shastri you will conduct the practice in this particular style and not like you have been always doing?" Arothe asks.
The coach reveals that he was looking to raise the benchmark as far as fielding and fitness standards are concerned, but the players were averse to the idea.
"I always used to focus on fitness and fielding standards. I believe if you want to compete against the top sides like Australia, New Zealand or England you should achieve certain standards by working harder every day. Every passing day you should try and raise the benchmark but maybe they (the players) found it too much to handle," he says.
"If you are playing international cricket then you don't play domestic cricket, so the BCCI used to organise a camp for them for at the most 5 to 6 days, but in that also, they wanted a couple of days break in between," Arothe reveals.
"I don't think it can work out like that. I told them I cannot work like this and so I told them that I didn't want to continue and offered my resignation," he says.
Arothe believes there is no point having an inquiry or a post-mortem as nothing will come out of it since the players will have their way like always.
"What is the use of conducting an inquiry now?" Arothe asks. "The BCCI will ask them about leaving out Mithali, but they can get away, saying it was the team management's decision. I can tell you nothing will come out of this."
His advice to Mithali is this: "Just keep calm. This time will also pass soon, just don't worry about it."