'People didn't associate Dinesh with hitting sixes. He had the ability to hit fours and the odd six, but hitting sixes (regularly) is one aspect of the game we have really worked hard on.'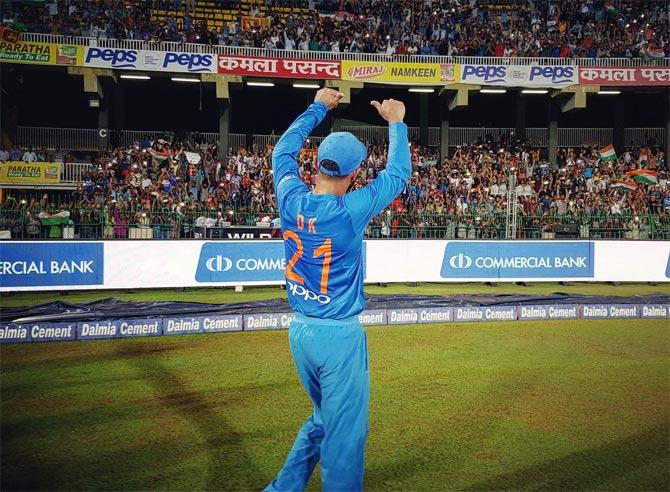 IMAGE: Dinesh Karthik and the Indian team celebrates after winning the Twenty20 tri-series title. Photograph: Kind courtesy Sri Lanka Cricket/Twitter
Exactly two years ago Dinesh Karthik was at the crossroads.
The Tamil Nadu wicket-keeper-batsman was considering other options with his cricketing career heading towards the end.
Unlikely help arrived in Abhishek Nayar, the veteran Mumbai all-rounder who has magically turned around DK's career.
No one was prouder of DK's match-winning performance than Nayar.
"We prepared really well for the past two years and I am happy it has helped him in this way," Nayar tells Rediff.com's Harish Kotian.
It was a high pressure situation and yet DK looked so calm during his entire innings.
It is obviously special that he could achieve the feat, but there has been a lot of hard work and a lot of preparation going into every tournament.
We have practiced this for a long time because we knew what his role will be in the T20s.
Initially, when he was drafted in the Indian team he was drafted as the No 4 and from there he slowly kept sliding down to the finisher's role.
That was something always at the back of our minds and we were preparing really hard for it, trying to make sure that we can score as many runs as possible in 10 balls rather than batting long hours.
So it was just short and sharp sessions, making sure that he can hit the ball really sweetly and in lesser time.
And when you see a sense of calm it is only because he trusts his skill levels and mentally.
He knows he has practiced it so much that it not only becomes a habit, but something you are used to.
We prepared really well for the past two years and I am happy it has come back and helped him in this way.
Working on his finishing abilities, was that something you worked on recently?
We have seen him play a lot more T20 shots recently like the paddle scoop he played over the fine leg fielder in the final.
He was always known as the guy who played in the 'V', but the game we really worked on was him hitting straight.
People didn't associate Dinesh with hitting sixes. He had the ability to hit fours and the odd six, but hitting sixes (regularly) is one aspect of the game we have really worked hard on.
We also worked on making sure that his bat speed increases and he could -- if he wanted to -- play around with the field because we used to always prepare in a field where we knew the kind of fields the bowlers will set to him.
We used to prepare accordingly and come out of the situation in different fields.
So that kind of gives you a feeling that he is able to do what he can, but as I said it is a lot of preparation with a lot of precise planning which has kind of helped it and the calmness that you see is a result of that preparation.
And if you see anyone who is calm in a tough situation is because he has prepared really well.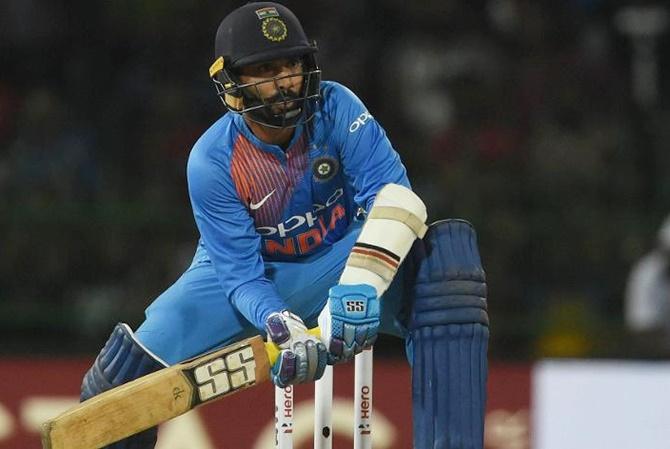 IMAGE: DK hits a boundary during Sunday's final. Photograph: ICC/Twitter
And what about him handling pressure so beautifully? Did you also work on making him mentally strong?
That was the tough part.
See, I work in a very simple way. I always assess who the player, what sort of player he is.
Dinesh Karthik has been someone who is known to be a little fidgety, known to be always thinking and jumping around.
I never tried to change that because for me that is how Dinesh was.
I wanted to retain that. All I tried to do is figure out some things in his preparation which suits him mentally.
So there are a lot of processes to be followed which obviously helps him mentally, but also gives him the feeling that he is ready to face whatever he wants to.
I have always believed there is no mental trigger, there is no button to switch off or switch on, that is not how it works.
I have worked with him for two-and-a-half years now and for those two-and-a-half years we have followed the same process. We have only tweaked it now and then.
So before every tournament, Dinesh comes to me. Basically around six to eight months of the year, he stays with me.
Whenever he is Mumbai, we work on mindsets, we keep working on his preparation, his goals, what are the areas he may face, the difficulties he may face and prepare in that way.
And as far as mental stability is concerned, it comes from doing all of that.
He obviously does meditation, visualisation and so many other things, but I don't believe that it (mental toughness) comes only by doing that, it comes by doing certain things over a period of time.
If you do that repeatedly and if you do that diligently -- which he has -- you benefit from it.
I have seen good results with not only Dinesh, but a lot of cricketers. The only thing is that they haven't done it for India yet, but I am sure in time to come they will do it for India as well.
How did it all start between Karthik and you. Two years ago, you were still playing. In fact you are still playing.
It is funny actually. How it worked out was that I used to always help people out, like when Rohit (Sharma) was going through a tough time I worked for a while with him.
Till date whenever he (Rohit) has time we train together and prepare.
I think it started off with Rohit. I am someone who is always with a lot of kids.
I love working with young kids, I love going and watching the kids. I love going and watching the biomechanics, technique and a lot of other things. And that came naturally to me.
Then I set up my own academy.
Once I had set up the academy, Dinesh used to come to the academy to practice.
We were always friends, we used to talk, we used to chill and spend time when he came to Mumbai.
At that point of time he was going through a really bad patch in his career, in the sense that it almost felt like the end of the road for him.
I remember him thinking about commentary and what he can do post cricket and 'What if cricket doesn't work' and stuff like that.
And for him coming from a Rs 10 crore bracket (in the IPL Players Auction) down to a Rs 2.2 crore contract with the Gujarat Lions when no one wanted him was kind of a last straw for him.
At that point of time (in 2016), I remember he came to me for practice and during practice we spoke. He was working on his batting with Pravin (Amre) Sir at that time.
Then he came and stayed with me for two days and we spoke a lot about cricket. We spoke around six to eight hours.
I gave him my perspective on cricket, my perspective on life and what it takes to kind of help.
I was working with Shreyas Iyer and Shardul Thakur at that point of time, so he kept asking me what I do with them and how Shreyas has come up the ranks and stuff like that.
We kept having conversations, then he asked if I could help him.
I told him I would love to help, but I had a certain way and you had to do it my way and there was no other way because I don't believe in shortcuts.
This was in 2016, two months before the IPL. He had a bad season that year and I agreed to work with him.
The first time he entered the 'House of Pain' we set certain routines. I made him work really, really, hard.
Unfortunately for me and fortunately for him I didn't get picked for the IPL that year, so I had all the time I needed.
I was helping Shreyas that year, who had a great time in the IPL that season.
I started working with Dinesh and that is how the journey started.
Basically, he was here, we spent time together, we spoke and basically he said I like the way you speak and I think things can work out so why don't you try and help me?
I remember him telling me 'If you can help, you can help anyone in this world', so I said 'Okay, let's give it a shot.'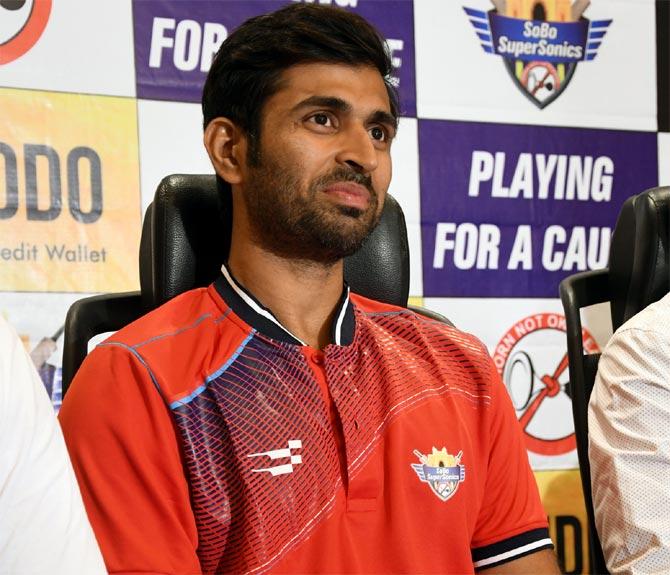 IMAGE: Mumbai all-rounder Abhishek Nayar.
You had a unique training method for Karthik including the 'House of Pain', something rare you see in a sport like cricket. How do you devise such a method?
The funny thing is I have always done things like that.
I have a very different mantra of how I work with people. I basically try and take them out of their comfort zone and make them think differently.
I understand what people require or how I can get the best out of them.
With Rohit, I used to do the same thing. I remember taking him to places where he was most uncomfortable, like a crowded place. He used to be really uncomfortable because he always said people were watching him.
So I took Rohit to different places. I used to make him wake up in the morning which he hated the most.
I used to make him meditate which he hates to the core. He didn't enjoy training then, now he likes it a lot. I used to make him train 2, 3 times a day.
I used to literally stay with him at that time and I used to work in a completely different manner.
For me, I need to be completely involved in someone. Once I am involved I know I can bring the results.
So the same thing happened with Dinesh. As the 'House of Pain' concept came up, he started staying with me. He was like 'This is too painful for me, let me stay in a hotel.'
I sait 'Nothing doing, if you are going to work with me, you are going to stay here.'
So, every time he came from his plush bungalow in Chennai he used to stay with me in this small space and it was kind of a reality check for him.
And Dinesh, whenever he comes to Mumbai he books his own Uber from the airport. I never send him a car.
He will catch an Uber and he will come. If I am already at a practice somewhere he will again take an Uber and come.
If you ever go to Chennai and see his lifestyle, he drives a Porche and he will have a driver, he has a nice lifestyle, but when he comes to Mumbai he has a very different lifestyle.
And I think that benefitted him in some way.
Behind the scenes there is a lot of hard work.
For me to help him, I have to know that whatever he says to me is honest.
I have got everything in honesty, how he feels from the smallest things to the biggest things.
I know everything that has happened in his life and I am part of every decision that he takes, and that helps me understand and analyse him better.
I know what to tell him when because I know him inside out.
I know exactly when he is going to do well, when he is not going to do well.
I can predict it because I know him that well.
Players like Shardul and Shreyas, I know them so well now that I can look at their body language and tell you what is going on with them and what areas they need to tweak which I think is necessary.
Do you feel his marriage to Dipika Pallikal in 2015 had a calming influence on Karthik?
When anyone does well, the family plays a huge role.
Dipika being a sportsperson herself, she has a very good understanding of what it requires to be where he is.
For her to support him, which wife would like her husband to stay somewhere half the time.
Either he is in Mumbai or he is travelling.
She has been so supportive of him. He has had that mental peace because of her.
I feel it is very important for your family or anyone associated with you to give you that space.
When you are working hard, when you are trying to achieve your dreams, they are there to support you and not nag you.
She was nothing but supportive. His mother-in-law, his parents, everyone played a huge role in calming his life which has helped him a lot. That is really important for a cricketer.
Dipika, being an iconic sportsperson herself, has been an amazing support for Dinesh.
Do you think it is time for him to push for a place in the Test team?
We started off wanting to do well in the Ranji Trophy because the first impact we had decided we would make was in first class cricket, and then take it on to the limited overs cricket and then to the IPL. That was the formula we wanted to follow.
When we started off, we started off with the IPL and he did well. He had a good IPL and post the IPL, I remember we sat down and we discussed that we have to have a big Ranji Trophy season and then we would take it forward from there.
You always prepare with the red ball because the ball is always moving and it is challenging.
He will have to be in better positions, he will have to hold his shape better to hit the red ball so he doesn't lose his position while he is playing with the white ball.
What it also does is when you hit the red ball you have to hit it really harder than the white ball.
The Kookaburra white ball travels a lot faster than the SG ball.
So for us, using the SG Test ball actually helps with his bat flow because he used to hit the ball a lot harder and that automatically helped with his white ball cricket.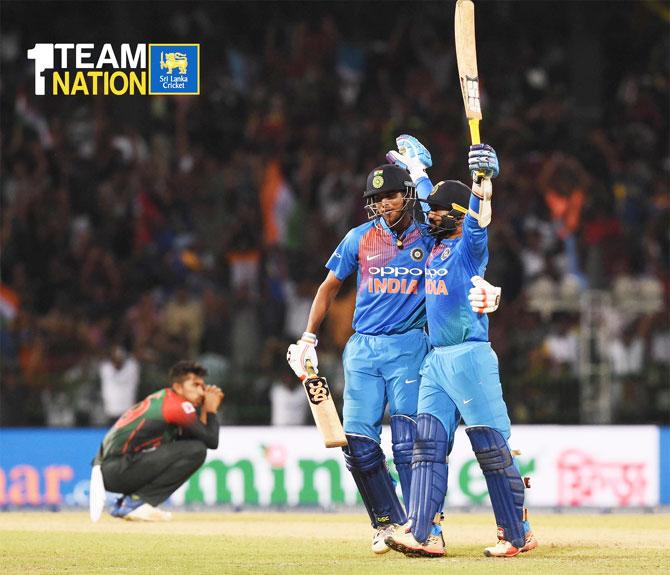 IMAGE: Dinesh Karthik, right, celebrates with Washington Sundar after guiding India to the Twenty20 tri-series title. Photograph: Sri Lanka Cricket/Twitter
Karthik will take another huge step up in his career when he captains KKR in the IPL. How do you look at that challenge for Karthik?
I have always believed that the first time they were speaking to him about captaincy, we were discussing what he should do and how he should approach it.
I am a firm believer that the team carries the captain and the captain does not carry the team.
A lot of people think a good captain will make the team win, but I believe that a good team can make the captain a great captain.
If your players stand up for you, that is when all your decisions look to be correct.
Rohit Sharma sent Dinesh at that number yesterday, but if Dinesh didn't do what he did, then Rohit's decision to send Vijay Shankar before him would have been criticised.
Dinesh must do all he can to make sure his team performs well because that is what will make him look good.
While it is important for him to the lead the side, he is another cricketer going to perform and trying to make sure that he can inculcate some values in that team for them to do well.
It is eventually going to boil down to what preparation each individual in the team does coming into the IPL that will benefit KKR.
It is not Dinesh Karthik's captaincy that is going to turn things around, it is going to be Dinesh Karthik facilitating those people who have prepared so well to perform at their optimum which is going to help the team do well.
Have you set targets for Dinesh for the big tours of England and Australia?
We don't plan for the season, but we plan for every tournament.
Before every tournament we have a camp, like before the IPL we have a 10 day camp in Mumbai.
He will always have a week to prepare for the tournament. We prepare for the immediate future and the present.
I don't like to think too far because we want to believe that this is going to happen for sure.
What he knows is going to happen, we prepare for that.
Now we know that he will play in the IPL, we will prepare for the IPL.
If he gets picked for England, we will prepare him for England post the IPL.
So one thing at a time, that is what I believe in and that is the process I believe in.