'It has been a quick evolution.'
'That is because he saw the big names playing in the IPL and he played alongside them; that transformed him as a batsman.'
'I would say now he is perfect.'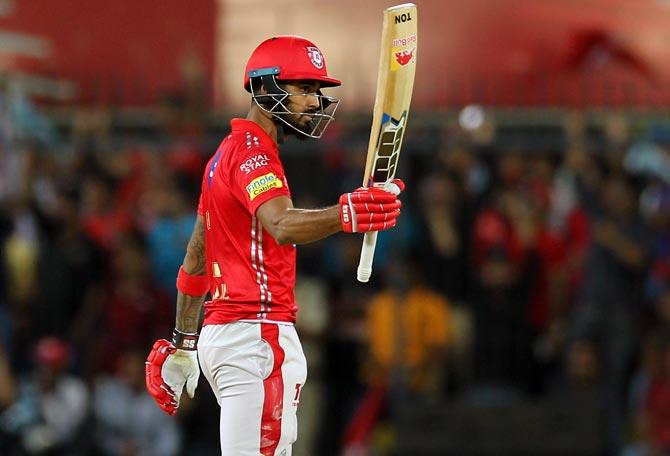 K L Rahul has taken the Indian Premier League by storm this year.
Bought by the Kings XI Punjab at the IPL Players Auction for a massive Rs 11 crore (Rs 110 million), the opener has proved his worth every penny and much more.
Starting the tournament with a sensational 14-ball half-century, Rahul has set the IPL on fire with his batting pyrotechnics, taking apart every bowling attack.
The 26-year-old has already smashed his way to 558 runs from 12 matches, at an average of 55, including five half centuries.
What has caught everyone's attention has is his impressive strike rate: 161.
Not so long ago, Rahul, who made his Test debut in December 2014 against Australia, was considered a batsman suited for the longer format.
He struggled to establish himself in the first few years of the IPL, in 2014 and 2015, but never gave up. He went back to the nets, and along with Samuel Jayaraj, his childhood coach, worked towards developing his game.
Soon he was transformed into a player who could thrive across all formats.
IPL 2016 was the turning point.
Rahul scored 397 runs for the Royal Challengers Bangalore, at a strike rate of 146.
He kept getting better and better in the limited overs format, but missed IPL 2017 because of injury.
Rahul is only the third Indian to score centuries in all three formats in international cricket and going by his current form he could become a vital cog in India's batting line-up in the years to come.
"In the earlier seasons he was throwing his wicket away easily and getting out cheaply. Now if you see in this IPL, he is not getting out easily. He is spending more time at the wicket and looking to play big knocks, which makes a difference. That is all because of maturity," Coach Samuel Jayaraj tells Rediff.com's Harish Kotian.
Rahul has been unstoppable in this year's IPL. What do you put his success down to?
I would say it is because of maturity. He has played with big stars in the IPL, like David Warner, Chris Gayle, Virat Kohli, A B de Villiers... so, naturally, he has learnt from them.
He has become hungrier and wants to get better and better all the time.
But, importantly, he has worked hard to reach where he is today.
If you see the IPL this year, all his strokes are proper cricketing strokes.
He is middling the ball very well; that is the plus point.
He has played in the line of the ball, not played across the line at all.
He started as someone who was looked upon as a Test specialist and struggled in his first couple of IPLs. But he has evolved his game so brilliantly and become an all-format player.
What is the key to him adapting his game to the limited overs format? He has done it quite quickly and effectively...
Yes, it has been a quick evolution.
That is because he saw the big names playing in the IPL and he played alongside them; that transformed him as a batsman.
The stint at Sunrisers Hyderabad was beneficial for him, as he watched David Warner closely and he had an excellent coach in Tom Moody.
In the IPL he got a chance to play some top world class bowlers in the nets. It also helped him improve.
In the earlier seasons he was throwing his wicket away easily and getting out cheaply. Now he has worked on that part and, if you see in this IPL, he is not getting out easily.
He is spending more time at the wicket and looking to play big knocks, which makes a difference. That is all because of maturity.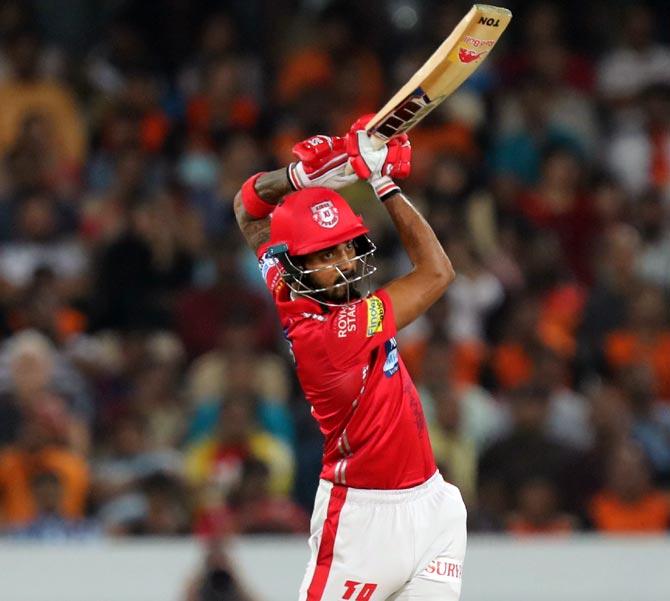 How did he become so aggressive?
He has added that to his game recently. It is a tussle between clearing the boundary and clearing the stadium.
All his strokes are now landing well outside the boundary line, but if you see two years ago, the strokes were landing just near the boundary.
Now he clears the boundary by a margin, maybe a few rows into the stands.
That change needed a lot of hard work and long practice hours in the nets.
There were injuries initially, but now he has overcome that too.
I would say now he is perfect. He has evolved himself, his mindset is good, he is middling the ball.
I would say that 14-ball 50 in the match against the Delhi Daredevils (Mohali, April 8) was the turning point for him.
Does attacking bowlers come naturally to him?
Yes. You just see his strike rate against fast bowlers who bowl above 135 (kmph) he will have a good strike rate against them.
Against the slow bowlers, he will not be so attacking; he will look to bat normally.
Even when he was small, whenever someone bowled fast at him, he used to be very aggressive because he liked to force the issue.
And he knew that when the ball is coming quickly to him, it is easy to score boundaries if you hit through the line off the front foot or the back foot.
Rahul times the ball so well and that is one of his big advantages.
What was your advice to Rahul ahead of this IPL?
It was only one thing before he went to play in the IPL. I told him: 'Value your wicket.'
I wanted him to put a price on his wicket and not throw his wicket away cheaply and ensure that once he got in, he made the most of it by playing a big knock.
Now that he is scoring runs I just tell him 'Remain not out and finish off games'. That is the only voice message I keep sending him after every match in the IPL.
Rahul paid a nice tribute to you recently. He tweeted 'Coach are you proud of this? Head still and Elbows High. Just like you taught me. Forever grateful to my coach Samuel Jayaraj' with a picture of him playing a shot.
As a coach, how happy are you that despite all the changes to his batting recently as far as the approach is concerned, Rahul has still stuck to the basics?
For me, it is only about the basics.
Even today when I coach the kids in Mangalore I advice them to stick to the basics, 'high elbows, head still' and that is for everyone, whether it is a bowler or a batsman.
Rahul has worked for this, he has worked on his foot movement, he has adjusted well.
If you see his foot movement, it is perfect, it is opening up very well.
Even the face of the bat is perfect, so all the basic things he is doing well.
Touch wood he should continue to do so.
Next, I want a hundred from him in this IPL.
He is batting so well that he should make most of this good run with the bat.
Rahul seems to have all the shots in his armoury, especially in T20 cricket. Is there any shot that you would like him to avoid?
I only want to see him playing his natural game.
I have seen his matches in this IPL, and I have noticed that he scored runs playing all proper cricketing shots.
He never got out playing a bad shot or trying something new or crazy.
For me, he has to play in all three formats of the game for India. That will be a big gift Rahul will give me.
He has achieved a lot of success as an opener in this IPL, but in India's ODI team he has batted in the middle order in his last few games.
With the ODI World Cup next year, where do you want Rahul to bat in the Indian team?
I want to see him bat as the opener.
I am very confident he will open the batting for India in all three formats and very soon that will happen.
As his childhood coach I want to see him play as the opener for India and that will give me happiness because we have worked towards it.
His basics are very strong and he will do well as an opener in all conditions.
He has a good head on his shoulders and he will perform if given an opportunity.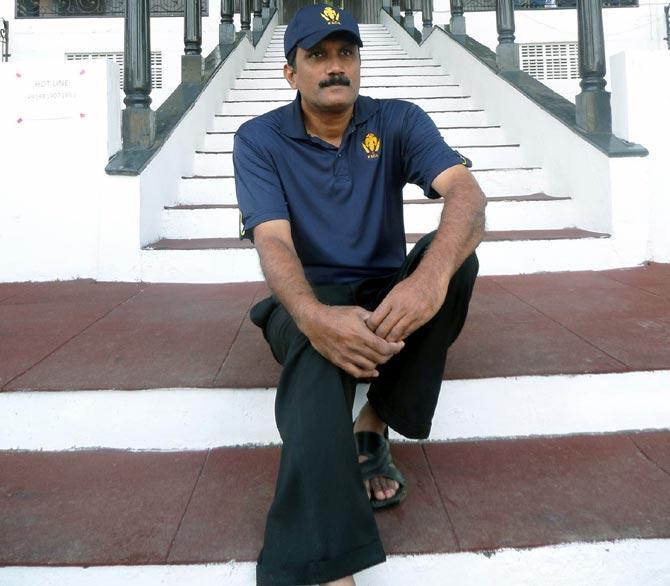 How big a boost is it for cricket in Mangalore when someone like Rahul, who grew up and learnt his cricket in that city, achieves so much success?
It is a fantastic thing for Mangalore. It is God's gift for the whole of Dakshin Kannada to see him perform so well at the highest level.
The young boys who are learning the sport can look up to Rahul and take inspiration from him.
There were players before him who could have gone on to play for the state or the country, they had the talent, but it was their mindset which set them back.
This boy worked hard and was determined to achieve his goals and that is what separates him from the rest.
From the start, I knew he was special, but without hard work he would not achieved so much.
A lot of people know me in Mangalore now and it is all because of Rahul.
Once he played for India, a lot of kids have joined my academy in Mangalore and there are some boys who are capable of doing well.
When Rahul was growing up we didn't have proper infrastructure in Mangalore. He only played on matting wickets, but today we have astroturf.
I and another coach, Devdas Nayak, worked really hard on Rahul's game.
We had very good fast bowlers that time -- Umesh Karvi, Arif, Wildon Crasto, Sachin Shenoy and others.
He enjoyed batting against those fast bowlers and that is how he developed early on.
It was not easy when Rahul first played for India at the Under-19 World Cup. We had planned it four years ago that in 2010 there is the World Cup and Rahul has to play in it.
That is the aim we had and we worked hard towards it.
Ramakant Achrekar used to take Sachin on his scooter and make him play two or three matches every day when Tendulkar was tiny because he believed that match practice is the best practice.
What routine did you follow with Rahul when he was small?
For him, it was more of practice sessions when he was growing up.
He used to train at the St Aloysius College Centenary Grounds in Mangalore Central and also at the Nehru Maidan at times.
He used to play all the league matches in Mangalore. When he was under 14, he used to play both the Under-14 and Under-16 matches.
We used to send him to play league matches in Bangalore on Saturdays and Sundays. He also used to play age group games in Bangalore.
He played for BUCC (the Bangalore United Cricket Club) and the Vultures Cricket Club.
He played every match possible. That was our first job -- to make him play as many matches as possible.
Even though the opponents were weak we never used to take fielding, we used to elect to bat and make Rahul bat.
In inter-zonal matches we used to ask him to bat as long as possible and face a lot of deliveries.
That is how he developed this batting for long hours in four-day games and Test matches because once he gets set, it is difficult to get him out.
There is a cricket stadium in places like Mysuru, Shimoga and Hubli, but Mangalore is yet to get one even though a plan was proposed to construct an international stadium in 2013.
What is happening with that because there is a lot of cricket following in the city and Rahul's success has only added to it?
I am hoping for some good news on that front.
Definitely, a cricket stadium will come up soon in Mangalore because the current KSCA (the Karnataka State Cricket Association) president Sanjay Desai has seen a few properties here so there is a big chance that we will hear some good news soon which should be a big boost for cricket in Mangalore.
Since we have a good airport, top class hotels and proper road connectivity, the cricket stadium will be a good addition to the city.