Former India captain and ace spinner ANIL KUMBLE says Dhoni's men have to play to their strengths -- bat really well, bowl with control and up their efforts in the field -- to beat England on Sunday.
It is very important that India disregard England's erratic and somewhat shaky performance against the Netherlands when they go into today's big game at the Chinnaswamy.
What they should probably look at from that game is how the experience of Collingwood and Bopara ensured that even if the beginning was unsteady, the end was composed and thoroughly professional. England bat fairly deep and, after the mini-scare against the Dutch, they would be doubly careful against India.
In any case, the visitors would be going into the game somewhat wary, as they are the complete underdogs -- according to the pundits, the punters and the people at large. For India, though, that's a dangerous place to be, the pressure's on them to win and win well. For me, the worry, as I mentioned in my last column, is India's bowling.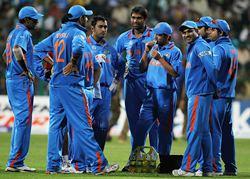 There's no point getting into an "if-we-win-the-toss" debate. There is no point thinking about the things that cannot be controlled, and there is really no point in looking at capitalising solely on England's weaknesses.
India really have to play to their own strengths --- bat really well, bowl with control and up their efforts in the field. They cannot afford to play the rather lax game they did in the second part of their essay against Bangladesh. England, even an England looking a bit under the weather, are not Bangladesh.
India also have to go into the first of their games against the big teams with the idea that they are also playing a psychological game. They need to win without any dramatics or unnecessary tension and if they do so, it will work in their favour in future by playing on opponents' minds. If they have to be the 'new Australia', in the sense, be the team that everyone else is looking to beat, then they also must realise that everyone else will try that much harder against them.
So they would need to pick their final XI carefully. It's difficult to predict any team, and what makes it more of a predicament, is the deep cloud cover over Bangalore. We are still hoping to get a full game, but the weather condition might see a 3-1 bowling combination. I don't know the situation with Nehra's back, but if Sreesanth plays (and he might be useful given the condition) then he will have to bowl with far greater control. If it wasn't for the weather, India might have been better served to play with a 2-2 combine, with part-timers as back-up.
Munaf and Zak have bowled very well and they need to continue doing that, bowl wicket to wicket and let the batsmen frustrate themselves. If two spinners play -- and logically, it should be Harbhajan with Chawla as the second spinner for the variation he provides -- they should then utilise the middle overs (the collection period) as best as they can.
Meanwhile, India's batsmen have been fairly consistent against all attacks. They would just need to play the way they normally play.
- HAWKEYE COMMUNICATIONS