The Indian ladies are no longer bogged down by the timidity of the past and are more than willing to embrace the temerity of the present, says Dhruv Munjal.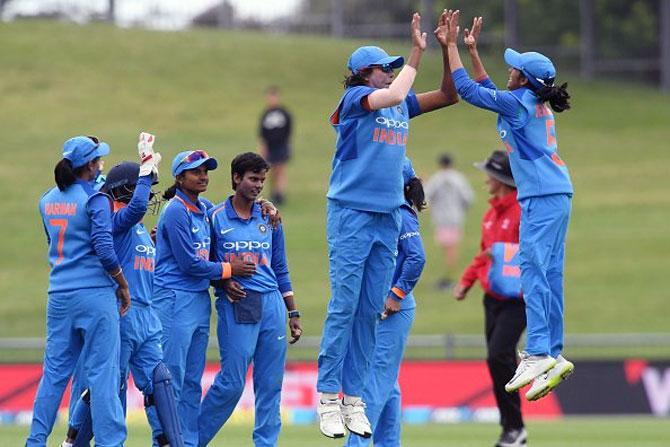 It is funny -- and extremely unfortunate -- how a team's success is so closely interlinked with its popularity.
For the longest time, women's cricket in India was seen as a needless extension of a sport that only the men were supposed to dominate, an unwatchable version of a very physical game few spoke or cared about.
More recently, with favourable results in major competitions, the national women's side is perhaps the strongest it has ever been.
That has ensured the arrival of plenty of sponsors, in addition to generating fervent broadcaster and viewer interest. Simply put, cricket for women in India has never had it so good.
Unlike most out there, Karunya Keshav and Sidhanta Patnaik, who have authored The Fire Burns Blue: A History of Women's Cricket in India, aren't new to the women's game.
Over the years, they have seemingly played the dual role of impartial cricket journalists as well as passionate followers of the Indian team. They have seen India go from pitiable also-rans to a group of spirited women with immense character, strength and courage.
When India lost the 2017 World Cup final to England, a match they were always in pole position to win but inexplicably ended up conceding, Keshav and Patnaik were among only three Indian journalists to be camped inside the Lord's press box that eventful evening. Clearly, a journalist duo that takes its cricket as seriously as the ladies themselves.
The Fire Burns Blue is important for a couple of reasons: One, books on women's cricket are scarce, and this is a well-researched and wonderfully articulated account that was desperately needed; and two, it comes at a time when knowledge and awareness about the women's game are crucial for its expansion.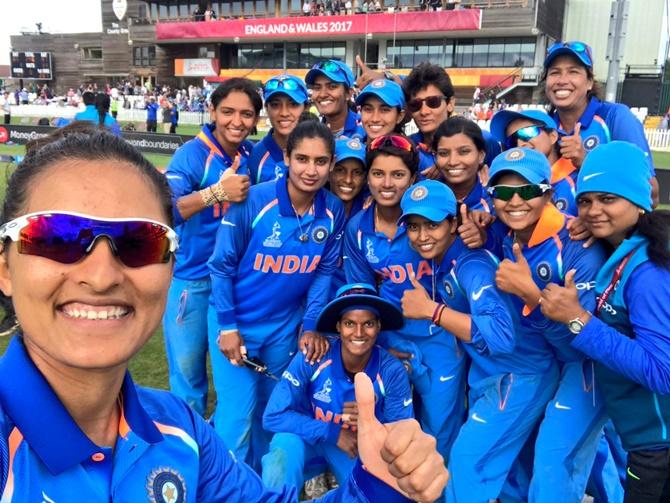 The role played by the women in the development of modern cricket is perfectly illustrated by the fact that the first limited overs World Cup was, in fact, contested by them and not the men, in England in 1973. The men's inaugural World Cup took place only two years later.
It was around the same time that young girls in India, till then having limited themselves to table tennis, softball and basketball, started exploring the possibility of adding cricket to that list.
Initially, it was only the most benign form -- gully cricket -- before the obvious talents of some of the girls impelled the likes of Aloo Bamjee, a Parsi widow from South Bombay, to start a cricket club and eventually host competitive matches.
One of Bamjee's students was the dogged, fiercely competitive Diana Edulji who was friends with Sunil Gavaskar's sister Nutan. Together, they led the way in inspiring other women in Bombay to shun the 'softer', more conventional sports and swap them for cricket.
Similar catalytic roles were reprised by a bunch of pioneering women in other parts of the country: Shantha Rangaswamy in Bangalore, Sudha Shah in Madras and Nilima Barve in Pune.
All this was happening around the same time a 21-year-old Sunil Gavaskar was thwarting the mighty West Indies in his debut series, amassing an improbable 774 runs in the most heroic manner.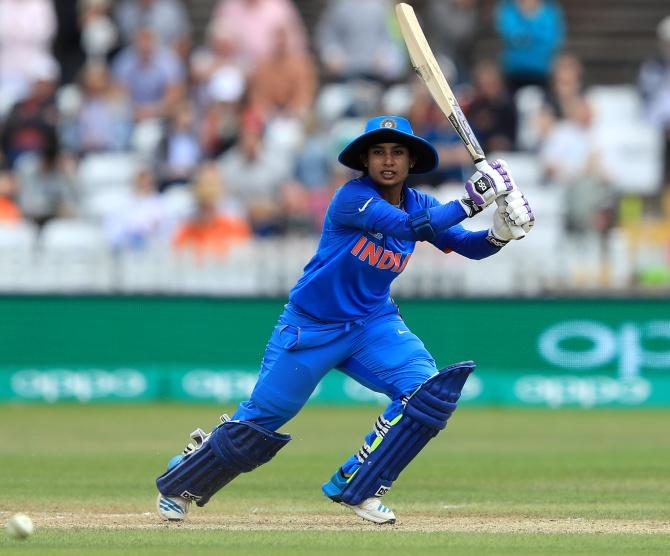 On returning from the Caribbean, Gavaskar made his way down to Albees, the club founded by Bamjee, and sorted a lot of the young ladies's defence out, introducing them to the full coaching manual package, with high elbow and all.
These are just some of the captivating details that emerge from The Fire Burns Blue. And while the writing, livened by sharp, ably constructed sentences, is eminently readable, the book stands out more for being a proper journalistic work.
With extensive interviews, right from Shilavati Ranganathan, the 90 year old who was a long-time member of the erstwhile Women's Cricket Association of India, to Jhulan Goswami and Mithali Raj, two of India's modern greats, the authors superbly showcase the value of comprehensive reportage.
Some 250 pages in, there is also an entertaining passage on Mandira Bedi, the actor-model who, somewhat excruciatingly, became the 'face' of the women's game when she was asked to be on the broadcast team for the 2003 men's World Cup by Sony Max.
'In 2003, Mandira Bedi stood for everything wrong in how cricket looked at women,' write Keshav and Patnaik. 'A lot of that criticism, perhaps, should have been directed at the broadcasters, who in how they chose to portray their anchor enabled an ill-advised mishmash of media and marketing, cricket and patriarchy.'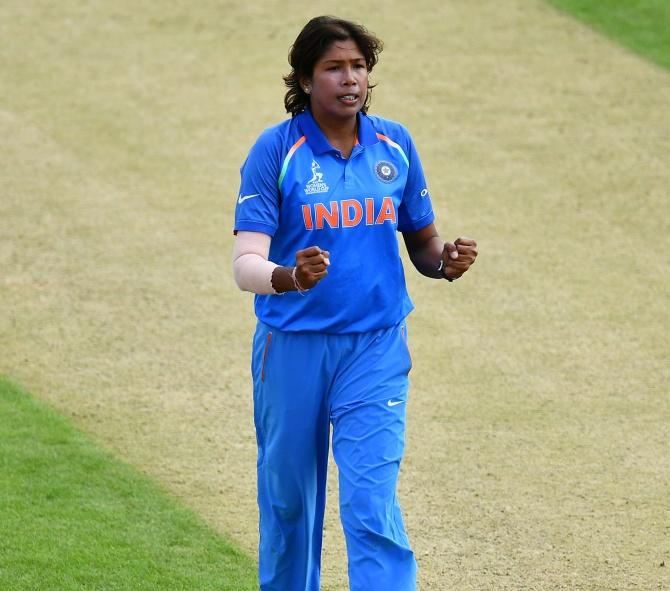 Bedi's emergence as a gormless mascot for women's cricket eventually worked in the game's favour, however. Her beaming face on the telly ensured that women's cricket in India was able to forge a new following in the country.
She took a keen interest in the players, even helped arrange sponsors for a tournament in 2004, and her ebullient, galvanising, presence helped popularise the sport among young female fans.
Bedi's mention in the book underscores a larger point: That more than anything else, The Fire Burns Blue is an indicator of progress.
When once there was little or no money involved and female cricketers played only for their love of the sport, some of them, like Harmanpreet Kaur, are now superstars, cutting substantial endorsement deals and plying their trade in the Women's Big Bash, among the most lucrative T20 leagues in the world.
They never had annual contracts; now the Board of Control for Cricket in India hands out hefty ones to each of them.
Harmanpreet's knock against Australia in the semi-final of the 2017 World Cup was, in fact, in many ways emblematic of India's progression.
Her 115-ball 171 was proof of how the Indian ladies were no longer bogged down by the timidity of the past and were more than willing to embrace the temerity of the present.
That same fearlessness was on display in the T20 World Cup last year when India eviscerated New Zealand and Australia in the run-up to the semi-final, before encountering a terrible off day and bowing out to England.
No one espouses this intrepidity better than Goswami. The authors write how the fast bowler once encouraged Veda Krishnamurthy to play her natural game by delivering the most of rousing of speeches ahead of a T20 international in Adelaide.
'Phod daal unko... Hum kissi se kum nahi. Tu kuch soch mat, bas apna game khel (Tear them apart... We are as good as anyone. Don't think too much, just play your game).'
What more can we say? Keep the fire burning, ladies.