Domestic airports across the country are bursting at the seams. And new ones are stuck.
Surajeet Das Gupta takes stock.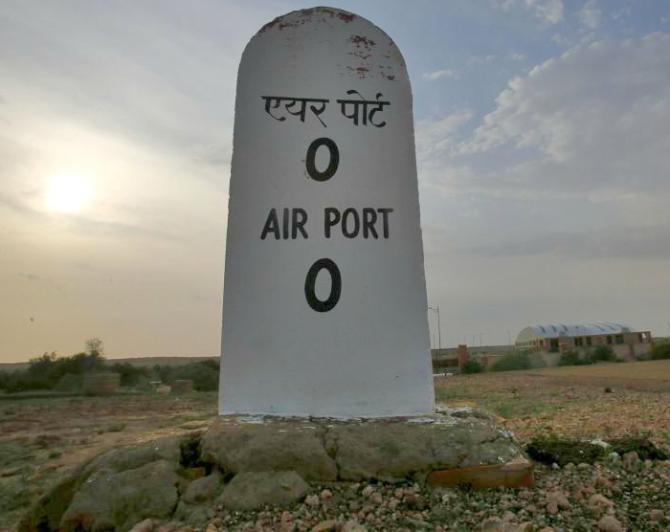 A milestone is seen outside the Jaisalmer Airport in Rajasthan in August 2015. Two-and-a-half years after the completion of the multi-million dollar terminal building, the airport stood empty. Not a single passenger had passed through the gates of the airport big enough to handle more than 300,000 travellers a year, with parking bays for three 180-seater narrow-body jets.
In 2017, it is yet to open.
Inside the ghost airport that haunts Modi's infrastructure dreams.
Photograph: Anindito Mukherjee.
Delayed take-off
> 25 of the 126 airports operated by AAI have reached saturation point. In two to three years, at least another seven airports, which include Varanasi, Raipur, and Indore, will reach peak capacity.
> AAI expects passenger traffic (excluding joint ventures) to grow 75 per cent from 2018-19 to 223 million in 2022-23.
> Both Chennai and Kolkata will require a second airport for which the respective state governments have been asked to identify land.
> In Delhi, peak-time hourly traffic at 72 flights will go up only after the expansion plan is completed after 3 years.
> In Mumbai, airlines say there are no slots available during peak time.
> Domestic aircraft movement in April-June 2017 fell by 1 per cent in Mumbai and 3.1 per cent in Bangalore but increased in regional airports like Jodhpur by 61 per cent, Surat by 281 per cent and Amritsar by 61 per cent.
A senior executive of a leading Indian carrier complains that his airline has not been granted a single additional slot to fly during peak hours in Mumbai in the last 12 months.
"We can easily grow traffic by 15 per cent a year from the city, but we have no choice but to wait for five or six years till the new airport comes up," he says, predicting that such capacity constraints will force air fares to hit the stratosphere.
Mumbai, the country's second-busiest airport, is no outlier. In Delhi airport, the busiest, additional slots during peak hour traffic have all but dried up -- this year's summer schedule saw no additional flight slot allotted between 7 am and 10 pm.
Domestic airports across the country are bursting at the seams.
Consider the predicament of State-owned Airport Authority of India (AAI): 25 of the 126 airports that it operates have reached saturation point. These airports together are already handling 7 million more passengers a year from their stated maximum capacity, which explains the teeming crowds at check-in counters and growing flight delays.
In Chennai, the domestic terminal was built for 10 million passengers a year; it now handles 13.15 million passengers a year.
Capacity constraints are one problem.
Airports like Delhi and Mumbai, which together account for 35 per cent of domestic passenger traffic, lack enough runways to accommodate the unprecedented increase in aircraft and demand for new flights.
The crunch is especially severe during peak hours (6-8 am and 5-7 pm) when most corporate travellers, who constitute 70 per cent of air traffic, fly.
A spokesperson for Mumbai International Airport Ltd (MIAL) said peak-hour handling capacity at the airport has gone up by only one flight to 46 in 2017, over the last year. She added that efforts are being made to handle more flights, but didn't give any deadline.
AAI data shows that the airport, with a capacity of 45.2 million, saw the number of aircraft movements fall 1 per cent in the April-June period this year.
For airlines, the looming crisis could not have come at a more inopportune time.
With global aviation turbine fuel prices dropping dramatically making flying more affordable, domestic air traffic grew 23 per cent in 2016 to hit 100 million. Now analysts reckon that the lack of airport infrastructure will crimp growth to around 15 per cent in 2017.
And with Indian airlines having ordered over 500 new aircraft, about 50 new planes are being added annually to the overall domestic fleet (currently pegged at 300).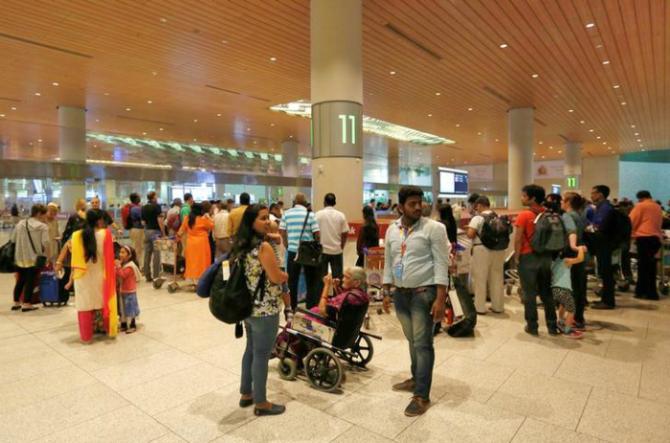 Passengers wait at the Chhatrapati Shivaji International airport in Mumbai, in February, 2017.
Airports like Delhi and Mumbai, which together account for 35 per cent of domestic passenger traffic, lack enough runways to accommodate the unprecedented increase in aircraft and demand for new flights.
Inside Mumbai's swanky T2 terminal.
Photograph:

Danish Siddiqui/Reuters

.
This demand-supply mismatch appears to have caught state and central governments unawares.
"Airports need to be planned and constructed much in advance of the existing airport getting saturated. The oil price crash in early 2015 did catch everyone by surprise but that's not a good excuse why airport expansion projects were delayed," says Amber Dubey, partner and India head of aerospace and defence at global consultancy KPMG.
As he points out, the 12th Plan released in early 2012 predicted airport throughput in FY17 at 270 million.
"The actual number was tantalisingly close, at 264 million," he says, adding, "For the next five years, we will lose a part of the growth that could have happened if we had built capacity in advance of the projected demand."
Any new capacity will only be on stream in two or five years in the most optimistic scenario. Most of the them are in various stages of finalisation and construction is yet to begin.
As many as 12 new airports are awaiting land acquisition by the respective state governments.
So, why are airports in a mess?
One key reason is the inordinate delay in acquisition of land.
"Land acquisition laws have made the process highly restrictive and costly. The other challenge is that the authorities involved in land acquisition face unpopularity and sometimes violent protests, whereas the kudos go to the ones who inaugurate the airport six to eight years down the line," says Dubey.
This apart, paying compensation for farmers remains a sticking point.
"The problem is how do you compensate farmers who have lost land, but see prices of the neighbouring land go through the roof when the airport is built. So, they baulk and get into legal wrangling" says a senior state government official who has dealt with the issue.
The classic case is the Navi Mumbai airport, which was conceived nearly two decades ago, but was stuck because of huge problems in land acquisition, multiple legal cases and controversies over environmental clearances.
The latest deadline for the airport is 2019, but everybody knows this is wishful thinking as Hyderabad-based GVK, which won the bid a few months ago, has still not been given the letter of award.
The lack of airport infrastructure has almost stymied the government's high-profile UDAN programme to enhance regional connectivity.
"There are problems in the revival of non-AAI airports because state governments, public sector corporation owners like SAIL and private airports like Mithapur or Raigarh are not confident about how fast they can get their airports up and running," says AAI chairman Guruprasad Mohapatra.
AAI hopes to help them open in the next two or three months, but this is unlikely to alleviate the shortage of airport capacity quickly.
For instance, Air Odisha, which won routes connecting smaller cities with Delhi and other state capitals, nine of the 32 airports for which it received permission to fly under UDAN are not ready.
"Worse, we have flights from smaller cities to Delhi, but Delhi International Airport [DIAL] has not given us the three slots we require as they have no space. So, what do we do?" said an airline source.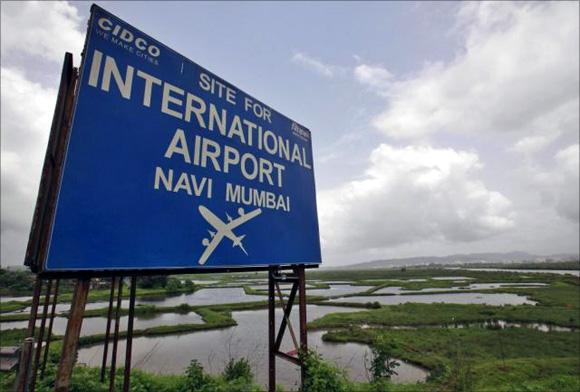 The Navi Mumbai airport, which was conceived nearly two decades ago is a classic example of what's wrong with the system. It was stuck because of huge problems in land acquisition, multiple legal cases and controversies over environmental clearances.
The latest deadline for this airport is 2019, but everybody knows it is wishful thinking.
Photograph: Danish Siddiqui/Reuters
.
Ironically, airport infrastructure shortages hinder the roll-out of new technology that would reduce congestion.
Low-cost airline IndiGo, for instance, has over one quarter of its passengers using the self-help kiosks to check in. But a request to increase the number of kiosks in some key airports has been shelved for lack of space, said an airline source.
Airlines also blame AAI for the way it operates.
"There is no transparency about its growth plans for various airports or how they fix peak traffic handling capacity. For instance, why should Jaipur airport handle only 12 flights an hour and not more? We are never told," a senior executive of a leading airline points out.
AAI, however, says that it has put up a capex plan of ₹17,500 crore for airport infrastructure in the next five years.
It is also spending ₹300 crore to operationalise the 31 unserved airports under the UDAN scheme and would require another ₹2,000 crore to upgrade them in the long run.
Many in the aviation business say it is unfair to blame AAI since it is dependent on state governments identifying and giving them land in many airports.
As for private airport developers, airlines argue that they are interesting in flogging their existing assets to make money and have no incentive to using their cash flows to expand, since that would entail taking on more debt.
DIAL, for instance, has made ₹586 crore in profit after tax in FY 2017 on the back of substantial increases in airport charges, and its new expansion project would require taking some debt. But with the regulator reducing the charges once again, analysts say DIAL's profit will fall dramatically.
Sources in DIAL say that the airport's peak capacity is 72 flights an hour, which might go up a little bit after the ATC is upgraded.
But an exponential increase in capacity will be possible only once the expansion is completed in three or four years.
A proposal for a second airport for the National Capital Region in Noida, Uttar Pradesh, might take years to fructify; it will be considered by the state government this financial year.
"DIAL's tariffs are set by the regulator; its returns are also fixed. And expansion has to be done in tandem with the government. Can we blame them for the delays?" says a senior executive who works closely with private airport developers.
One positive unintended consequence of the choking in airports is a focus on regional connectivity as a serious business.
IndiGo, for instance, has announced orders for 50 ATRs to run on less crowded regional routes, marking a change from its earlier plan to have only a one plane configuration.
The government and the airports are looking at some interim measures to partly resolve the looming crises. One is to ask airlines to put in larger aircraft in airports like Mumbai and Delhi to increase passenger capacity (Jet Airways and Air India have started using Boeing 777 and 787 aircraft).
The aviation ministry has also mooted a proposal to ease the pressure on Delhi airport by opening up the Air Force-controlled Hindon for civilian flights.
In Bangalore and Chennai, construction of rapid exit taxiways is helping increase the hourly peak flight handling capacity (in Bangalore it has gone up from 34 to 38).
But these are minor solutions to a major problem. Harried passengers will have to live with snaking check-in queues and chaos at baggage handling for more years to come.