Offers 12.60% in revenue share to Cidco, while only other bidder GMR offered 10.44%.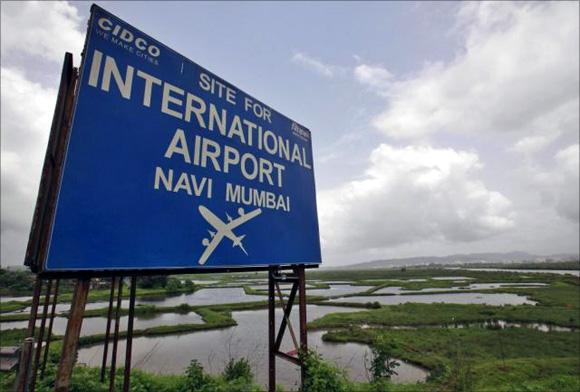 The GVK-ledMumbaiInternationalAirport has won the bid for the Navi Mumbai international airport, edging out rival GMR Group.
GVK, which runs the Mumbai and Bengaluru airports, offered 12.6 per cent in revenue share to the project implementing authority, the City and Industrial Development Corporation of Maharashtra.
The contract would be awarded to the company offering the highest revenue share to Cidco, and GMR's offer of 10.44 per cent revenue share was lower by over two percentage points.
The long-delayed project had attracted only one bidder, MIAL, on two earlier occasions and Cidco was forced to make changes in project conditions.
Monday was the last day for submission of bids to Cidco after the two extensions, where the two companies were the only bidders.
Apart from GVK and GMR, Tata Realty and Hiranandani Developers had also cleared Cidco's technical requirements, but both companies did not submit financial offers.
The Rs 16,000-crore Navi Mumbai airport has been in the planning stages since the 1990s, but has faced delays and roadblocks in land acquisition and environmental clearances.
The state government hopes the first phase of the airport, which will cater to 10 million passengers, will be operational by May 2020. But aviation sector experts say it will take at least four years for completion.
Both Mumbai and Navi Mumbai airports will have to compete for traffic.
Cidco Joint Managing Director Prajakta Lavangare told Business Standard, "MIAL has offered us 12.6 per cent revenue share, while GMR Group offered 10.44 per cent. Cidco's technical evaluation committee will meet on Tuesday to evaluate the offer, following which it will be submitted to the state government's project monitoring and implementation committee. The bid will later be submitted to the state Cabinet for its approval. The letter of intent will be awarded within a month after the state Cabinet's nod and later the concession agreement will be signed with the selected bidder."
"We remain committed towards creating, designing and managing yet another state-of-the-art airport and deliver a world-class gateway from Navi Mumbai," said G V K Reddy, founder chairperson, GVK Group.
•
WAITING IN THE WINGS
The Navi Mumbai international airport requires 2,268 hectares (ha), of which 1,160 ha would be employed for aeronautical purposes
• Mumbai International Airport will hold 74% equity in the airport and City and Industrial Development Corporation (Cidco) of Maharashtra will hold 26%
• According to Cidco, the airport is expected to open in May 2020 instead of December 2019. Aviation sector experts question the timeline and cost overruns involved in executing the Rs 16,000-crore project
• The new airport will cater to 10 million (mn) passengers since the commissioning of Phase-I, likely in May 2020; 35 mn passengers by 2020; 55 mn by 2025; and 90 mn by 2030
According to an industry expert, raising funds for the Navi Mumbai airport will be a challenge for the GVK Group.
"The airport will have an estimated capital expenditure of about $3 billion, and even if 70 per cent is raised through debt, MIAL will have to raise $600-700 million capital for the project over a period of time. The group may consider bringing in a financial investor in the Navi Mumbai project or could look to use deposits from real estate development in Mumbai for financing the project."
A senior MIAL executive, however, said raising funds for the project will not be an issue. "It is too early to comment on funding, but we have various options. We have internal accruals," he said.
"It is a challenging project, but we are quite confident. Mumbai airport project itself has been a challenge and who would have imagined we would create such a world-class terminal T2.
"Getting traffic for the Navi Mumbai airport will not be an issue. Mumbai airport is already functioning above its design capacity. We will be handling 45 million passengers by March-end and hope to handle 50 million passengers by next year," the MIAL executive said.
The airport project will be carried out as a public-private partnership. Cidco will bear the cost of pre-development works and the amount will be treated as a loan to the project developer. Cidco had made changes in the project conditions, in order to attract more bidders.
One of the changes in the concession agreement is extension of the repayment period of soft loan from 11 years to 15 years and the other is to cap the soft loan to around Rs 3,500 crore and not the actual cost.
According to the original condition, of the total amount of Rs 3,420 crore spent on pre-development works, Rs 430 crore will be treated as Cidco's equity contribution and the remaining as soft loan to be repaid in five equal instalments from the 11th year.