Being a wilful defaulter means that the individual or company can attract certain penal measures, notes Shishir Asthana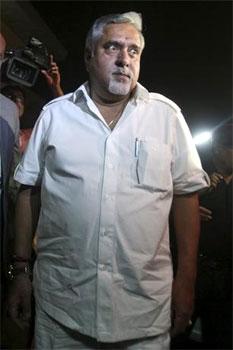 In a move that could affect the fortunes of Vijay Mallya, United Bank of India declared Kingfisher Airlines, Mallya himself and three directors of the company -- Subhash R Gupte, Ravi Nedungadi and Anil Kumar Ganguly -- as wilful defaulters.

Kingfisher Airlines in July 2014 moved the Calcutta High Court, two months after the bank had in May 2014 identified it and Mallya as wilful defaulters.

The court last week dismissed the plea, paving the way for UBI to declare the company and its chairman wilful defaulters.

In a further blow, the Supreme Court on Tuesday rejected a plea by Kingfisher Airlines against being declared a wilful defaulter, saying it has become infructuous as the Grievance Redressal Committee of Union Bank of India has already passed an order.

But how does a company or individual become declared as a 'wilful defaulter' and what is its impact? Here's a quick tutorial on the scope and meaning of what it means to be identified as a wilful defaulter.

According to the Reserve Bank of India, a wilful default is deemed to have occurred in any of the following four circumstances:
When there is a default in repayment obligations by the unit (company/individual) to the lender even when it has the capacity to honour the said obligations.
There is deliberate intention of not repaying the loan.
The funds are not utilised for the specific purpose for which finance was availed but have been diverted for other purposes.
When the funds have been siphoned off and not been utilized for the purpose for which it was availed.
Further, no assets are available which justify the usage of funds.
When the asset bought by the lenders funds has been sold off without the knowledge of the bank/lender.
Further, in cases where a letter of comfort or guarantees furnished by group companies of wilfully defaulting units are not honoured when they are invoked by the lender, then such group companies are also considered to be wilful defaulters.
HIGH COSTS

Being a wilful defaulter means that the individual or company can attract certain penal measures.

According to RBI, penal measures are applicable to a defaulter with an outstanding balance of over Rs 25 lakh.

Banks and institutions are required to submit the list of suit-filed accounts of wilful defaulters at the end of every quarter to the Credit Information Bureau (India) Ltd.

Banks also report the names of current directors as well as directors who were associated with the company at the time the account was classified as defaulter.

This helps to put other banks and institution on guard against such individuals.

This list can also include independent and nominee directors.

The worst thing that can happen if one is labelled a wilful defaulter is it pretty much chokes off most credit channels since no additional lending facility is available from any bank or institution.

Also, it shuts the door on any new ventures -- a wilful defaulter is not permitted to float any new business for a period of five years from the date of being declared a wilful defaulter.

Lenders are also expected to initiate legal process, which can include criminal proceedings if necessary, against the borrowers/guarantors and foreclosure of recovery of dues is expedited.

But most importantly, banks and institutions have been given the right to change the management of wilfully defaulting company.

Given such stringent norms, few companies would like to have a wilful defaulter on their board, and which might also explain why Kingfisher Airlines and Mallya are trying so hard to shake off the tag.
Image: Vijay Mallya