'Trai's new tariff order has ushered in transparency and plugged leakages, bringing in better revenues for the industry. But it has made it more expensive to watch TV.
'Anti-bundling diktats have led to people dropping channels, killing serendipity from content discovery and forcing viewers into silos defined by genres or languages', says Vanita Kohli-Khandekar.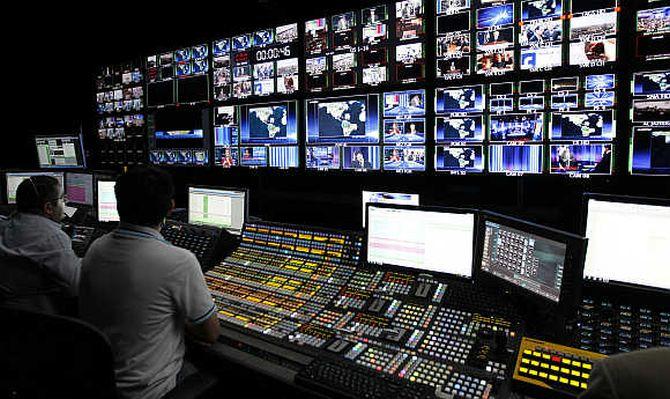 Ranbir Singh Kanwar, 31, from Madangiri, New Delhi, works at a sourcing firm.
Till January this year he paid Rs 250 a month to his local cable operator.
Soon after the New Tariff Order, or NTO, from the Telecom Regulatory Authority of India (Trai) was implemented in February, he had to choose from the packages the operator offered.
Now he pays Rs 350 per month for 160-170 channels against the full buffet of channels that he got pre-NTO.
"I have no problem with the price increase because it had been Rs 200-250 for so many years.
"But the channels we watch - Zee, Sony, Colors and even sports - are in different packages now," says he.
He's dropped sports channels because it would mean spending more.
In another side of the city, in Saket, finance professional Chetana Khullar, 48, is a Tata-Sky subscriber in a joint-family home with four TV sets.
"Unbundling has caused a four-fold rise in my cost from Rs 12,000 a year for all the channels (and all connections) to Rs 48,000 a year!
"And it has got more complicated than before.
"There is a list of 500 channels to choose from. The free-to-air choice is terrible.
"And you have to take DD channels but I don't want that. Earlier all I had to do was drop a pack or pick a pack," says Khullar.
The stories of Kanwar and Khullar illustrate what is happening to TV viewing across India - a rise in prices, complaints of complicated packages, a drop in sampling, a shift from cable to DTH or from TV to online options.
These are among the immediate reactions from consumers, five months into the NTO.
None meets the stated objectives of Trai, the biggest of which was giving viewers choice.
It is also a warning bell.
Trai's tendency to micro-manage and over-regulate is finally facing push-back from the one constituency it claims to defend - the consumer.
And its new consultation paper on August 16, which hopes to "fine-tune" the existing order, has consumers worried.
"Amazon gives me free delivery (of shopping), music and movies in Rs 1,000 a year.
"If they make more changes I am just going back to my firestick," says Khullar when told that Trai is planning to make more changes.
Trai Chairman R S Sharma did not respond to Business Standard's request for an interview.
Too much choice
"There is no report or analysis of actual consumer impact," says Dinyar Contractor, editor and publisher Satellite & Cable TV Magazine.
But a chat with broadcasters, consumers, multi-system operators, and DTH firms, and a look at the Trai data or the Broadcast Audience Research Council (BARC) data bring out four big inter-linked buckets.
One, prices have gone up.
This is largely because there is now a network capacity fee of Rs 154 per home per month (including taxes) for a basic tier of 100 channels.
Of these, 25 Doordarshan channels are mandatory.
So you pay for 75 channels, assuming they are free-to-air.
Pay channels are priced separately.
Note that over 28 years of private television, average cable TV prices have remained way below inflation rates.
India has one of the lowest ARPUs (average revenue per user) for TV anywhere in the world.
"We did a research exercise on pricing just before the NTO and found that there was price elasticity as along as value was perceived," says one large broadcaster.
Contractor agrees. The amount is debatable but he reckons that "for cable the resistance is Rs 300 (per month)".
Two, "selecting channels has now become more complex and elaborate than filing one's income tax returns," says Contractor.
India has more than 800 channels, of which about 330 are pay channels, says he.
All free-to-air channels have to be chosen a la carte while pay channels are housed (now) in more than 200 bundles.
Trai has been insistent that consumers should be allowed to choose single channels if they want to.
But like all a la carte prices those of TV channels too are way above the buffet prices.
Trai tried, without success in the courts, to limit the amount of discounting on bouquets.
Currently discounts range from 15 per cent to 55 per cent, going by the Satellite & Cable TV Magazine data.
They are steep because broadcasters are trying hard to ensure that their channels are not dropped.
Three, and this is arguably the most important point, even if a consumer is willing to pay Rs 19 per channel for a bunch he wants, it is difficult, if not impossible, for the bulk of them to do that.
Here's why. According to EY, in 2018 of India's 197 million TV homes, roughly 36 million were on a free-to-air platform, DD Freedish.
The remaining 161-odd million are pay TV homes.
Of these, about 56 million are on DTH.
With its backend, call centres et al. DTH is far better equipped to deal with the flexibility needed to give you five channels from different broadcasters or to change that overnight.
However, the bulk of the Indian TV homes, over 105 million, are with cable operators and MSOs, who do not have the flexibility or backend to make one channel-at-a-time changes across millions of subscribers.
This is frustrating for consumers who don't get their choice of channels or are offered a best-fit package.
This has led to a migration of about 2 million cable homes to DTH.
According to one unconfirmed news report, 10 million cable homes have simply fallen off the grid.
It is critical to understand that the origin of this lies in the way cable has evolved in India - with entrepreneurs stringing wires over trees.
It was all well for a few years but the make-shift nature of the industry has calcified over 30 years, making last-mile-ownership of cable the eternal problem of India's Rs 74,000 crore television industry.
Without clarity on that, neither the MSO nor the cable operator has any incentive to invest in improving the backend.
It explains why, over four years after 100 per cent foreign direct investment was allowed in cable, not a single foreign company has come in.
In January, this reporter asked Sharma whether the cable backend should be sorted before mandating a technologically demanding service.
"The last-mile ownership thing is an issue between the cable operator and the MSO.
"We are cognizant that the MSO-cable operator relationship is not equal.
"So we guard and ensure that lack of agreement does not lead to disconnection.
"Broadcasting brings less revenue than telecom but 80 per cent of the fights are from broadcasting because the relationships are vague," he said.
But they are vague because of the last-mile ownership conundrum, leading to no investment in the backend and the frustration the consumer now faces.
The fourth and last fallout is that consumer choice has actually decreased.
According to the BARC data, 41 per cent of the population sampled more than 30 channels before the NTO; this has now dropped to 24 per cent.
On average, Indian homes watched 40-60 channels of different genres and languages a month.
After the tariff order this has gone down to 32-48 channels, says one broadcaster.
Remember that 98 per cent of India's 197 million TV homes have one TV, which is watched jointly.
Dad, mom, kids, grandparents all have their choices.
Anti-bundling diktats have led to people dropping channels, killing serendipity from content discovery and forcing viewers into silos defined by genres or languages.
The way out
The hope and a possible solution lie with the one big positive impact of the NTO, and for which Trai should take credit.
It has brought in transparency and method in an industry where 60-70 per cent of the Rs 43,500 crore collected on the ground doesn't always come back.
This order, along with the goods and service tax, has changed the tide on revenue leakages.
"The subscription revenues at TV18, Zee and Sun are up by anything between 27 per cent and 47 per cent year-on-year in Q1FY20," reckons Rohit Dokania, senior vice-president research, IDFC Securities.
So have MSO revenues, thanks to a share in the Rs 154 per home network capacity fee.
As revenues improve and money comes back into the system, most MSOs should be pushed to invest in the technology needed to facilitate a la carte choice.
Instead, on August 16 Trai released yet another consultation paper on tariff to howls of protest from across the industry.
Since 2004, when it became the broadcast regulator, there have been 35 orders including amendments on tariff alone.
There are scores of others on interconnection, quality of service, audience measurement.
"There is a new regulation or direction, almost every month for the past five to 10 years.
"This makes the regulator's role intrusive and the industry's working unstable, unpredictable and contentious.
"The industry then tries to find loopholes in Trai's regulations, which in turn leads to a patchwork of modified or new regulations.
"It is a vicious unending cat and mouse game," says Contractor.
One that is now hurting the main reason the industry and the regulator exist - the consumer. It is time then to end it.
Photographs: Jumana El-Heloueh/Reuters