Mohapatra tells Abhishek Waghmare and Sanjeeb Mukherjee that India's cyclone warning system is now better than that of Japan and Australia.
However, he concedes that the low density of India's ground and air observational network makes it difficult to accurately predict the time and place of extreme and sudden weather events.
Illustration: Dominic Xavier/Rediff.com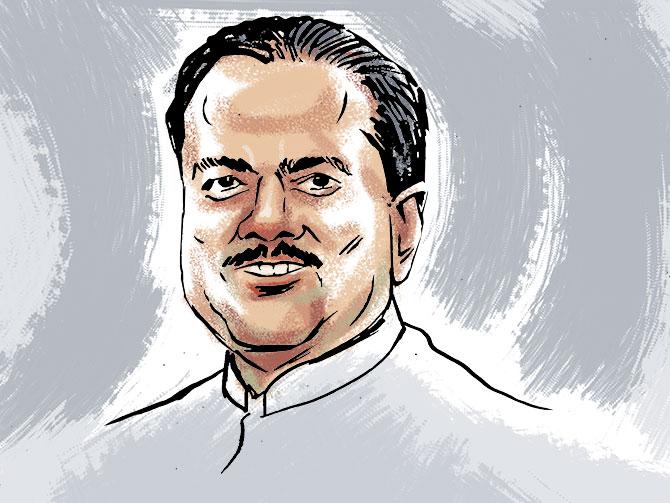 "Yes sir. I'm quite sure, sir. There would be light rain… just light rain in the morning," our guest assures an official on the other end of the phone managing the show for Prime Minister Narendra Modi's Independence Day address from the Red Fort.
It is a muggy August 14 afternoon. The PM's Office is on its toes, praying for a no-rain I-Day, and they have just got an assurance from Mrutyunjay Mohapatra, the new chief of the country's met department, that the event won't be a washout.
With a degree of confidence one rarely sees in weathermen, Mohapatra assures the caller, and gets back to our conversation.
We are already one drink into it. When we had asked him a few minutes ago what he would like to drink, Mohapatra had said "I don't take drinks" with the sincerity of a child.
So he is sipping a lemonade, as we acclimatise ourselves to the comfortably cool air around us in Tres in New Delhi's Lodhi Colony.
"Urban heat island effect," he says. For the uninitiated, that's why we feel warmer in a city than in the surrounding rural areas.
In no time -- and for countless times during our conversation -- we find ourselves discussing the freak weather phenomena.
Floods have ravaged hundreds of villages and inundated several towns in Gujarat, Maharashtra, Karnataka and Kerala.
"These instances are increasing, and would increase further. This is the very reason we have started impact-based forecast at the district level," he tells us taking a sip from his glass.
European cuisine is new to Mohapatra. Indeed, anything apart from regular Indian food is a rarity for him, given his work hours.
"I go to office even on weekends, at least for half a day. I cannot do research work on weekdays."
He rarely eats outside, and is content with home-cooked food.
And yes, he is happy that Odisha Rasagola received the Geographical Indication (GI) tag.
We are sitting at a corner table in the unusually quiet restaurant.
Maybe because it is bang in the middle of a week with two holidays -- a large chunk of Delhiites would be holidaying out of the city.
Mohapatra does not eat chicken or red meat but eats his seafood with as much relish as he does rice, his staple.
As we order some prawns to start with, we get some neighbours -- thankfully, soft-spoken ones.
Mohapatra enters his favourite territory -- cyclones.
Fondly called the "cyclone man" of India, thanks to his ability to tame cyclones -- that is, minimising their impact -- he goes back to October 29, 1971.
His father had assumed the role of a "nowcaster", he says, and had saved a hundred lives by getting fellow villagers to their "mantu ghar", or a house with a safe terrace, hours before a cyclone hit Rajgurupur.
Nowcast is a special weather advisory issued by the meteorological department three hours before an extreme weather event, such as a thunderstorm, occurs.
He wouldn't have known, he says, that 18 years later, he would get his first big inspiration, and come face-to-face with his first biggest challenge.
In 1999, India test-fired the Agni-II ballistic missile under the prime ministership of Atal Bihari Vajpayee, and the able and scientific guidance of former President of India APJ Abdul Kalam.
Mohapatra, then a junior scientist at DRDO, was monitoring the test at the launchpad in Balasore.
Before the fire, Kalam had visited each and every department on the campus, to shake hands with all scientists and engineers and wish them luck.
"I shook hands with Kalam," he remembers fondly.
The same year, India received sub-normal monsoon after six years of excellent rainfall.
In late October, Odisha was hit by an unprecedented cyclonic storm that took more than 10,000 lives.
Once again, Mohapatra was at the spot.
"The IMD was not well equipped to handle such mega-cyclones back then," he recalls poignantly.
It was this experience that prepared him for the 2013 cyclone Phailin.
Thanks to accurate prediction, around half a million people could be moved to safe shelters in a week -- India's biggest modern-day evacuation.
The next milestone: The 2019 cyclone Fani.
Massive in its severity, but managed successfully by minimising fatality.
Mohapatra smiles, asserting that India's cyclone warning system is now better than that of Japan and Australia.
"Catching up with the sophistication the US boasts of remains," he says, enjoying the last of his prawns.
For the main course, Mohapatra orders seabass.
It arrives in no time -- a wholesome fish portion, pampered with jalapeno and tender barley.
"The knowledge about the rains is not new to us Indians," he turns the page.
"Our rishis (saints) used to do yagnas (sacrificial offering) to pray for a good monsoon. That is a fact."
Traversing from mythology to observational science, he tells us that the first-ever cyclone warning system dates back to 1864, when British ships in the Bay of Bengal sent advisories to the port capital of Calcutta about the intensity of a storm.
Having praised our advanced cyclone warning system, he concedes with despair that the low density of our ground and air observational network makes it difficult to accurately predict the time and place of extreme and sudden weather events.
Against a requirement of 55 radars, India has just 26 of them at present, he adds.
Mohapatra's love for rice is amply evident.
"The food is good, I like it. But let us have rice, else I will feel I have skipped lunch," he says.
A risotto comes to our table, and he seems to get the stimulus to speak on.
Continuing an earlier discussion on the poor state of science awareness among the masses in the country, he says he wants to take weather observatories to schools.
"If children learn science by operating weather stations, they will be better citizens when they become part of the active economy," he seems to ponder over an unknown future.
So what does Mohapatra do when he is not trying to decode the vagaries of nature?
He loves to write in whatever time that is left from his no-holiday job.
He has, in his car trunk, an unpublished volume of the Bhagwad Gita, translated into his mother tongue.
"How can a person like me, who is uneducated and understand nothing but Odia, know the Gita," his grandmother would ask him.
He took it up as a challenge and translated the Gita.
He uses the "navakshari chhanda" (nine-letter format).
He has also compiled the scientific aspects elucidated in the Odia Bhagabata, a cosmo-religious tale of Hindu deity, Krishna.
We decide to skip dessert.
Mohapatra lets out a secret -- luck has played a key role in getting him to the place he finds himself today.
His elevation as the head of the forecasting modernisation programme in 2008 was due to the sudden exit of a senior colleague from the IMD to Isro.
That senior colleague is now the secretary in the earth sciences ministry.
"Kaama na kale khaiba nahin," (one should not eat unless one has completed one's job) he says, with a sigh of contentment as we prepare to disperse.
Who would not feel contented after clearing the stage for none other than the country's prime minister!