It is all about a C and C model -- of choices and consequences -- for women.
Women make choices about their lives and for each of them there will be consequences, Shell India Lubricants MD Mansi Madan Tripathy tells Jyoti Mukul.
Illustration: Dominic Xavier/Rediff.com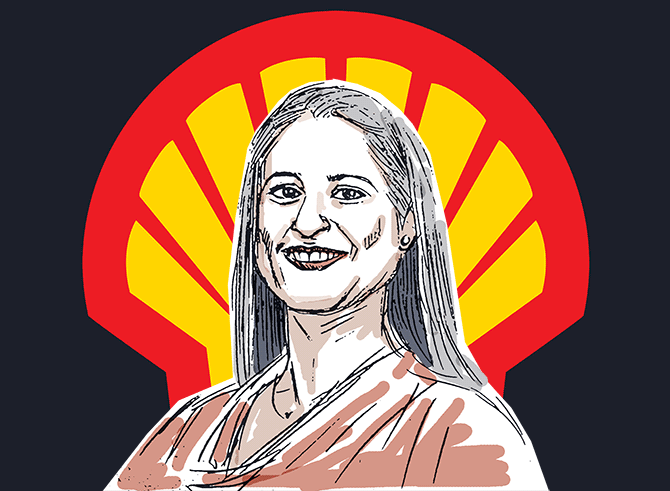 After sitting up well into the night preparing a presentation for her bosses at Procter & Gamble, Mansi Madan Tripathy began to wait next morning for her children's nanny to arrive.
Tripathy, then global head for P&G's Gillette business, had planned to reach office by 7.45 am; so she prepared her five and seven year olds to be alone till the nanny arrived.
The Boston cold was harsh -- and soon there was a snow storm.
On her way out she picked up a shovel to clear the snow and rolled out her car.
As she drove on, she could see the nanny's car approaching from the opposite direction.
She was relieved, but that nagging question popped up in her mind all over again: 'Is this worth it?'
She gave an outstanding presentation and that moment of uncertainty passed.
I meet Tripathy, now managing director of Shell India Lubricants, at Threesixtyone Degrees at The Oberoi, Gurugram. She arrives in a peach crepe sari and a warm smile.
This is our fourth meeting and I had expected her to be in a business suit like any other corporate leader, so I greet her with a compliment and ask her if she wears saris often.
"I do, but they are difficult to maintain," she says.
I notice the intricate Kashmiri embroidery on the border of the sari, falling gracefully on her understated demeanor, making it hard to imagine she has been dabbling with things like men's shaving products and lube oil.
"I almost peeped into the bathrooms of 700 men trying to know why they take a bath or shave," jokes Tripathy who was based in the Boston office of Gillette before she quit P&G and joined her husband, an entrepreneur, in India.
She took over as chief marketing officer for the lubricant business of Shell India in September 2003.
We decide to order the food first. Would she like to sample the Japanese fare at Threesixtyone Degrees?
"Japanese vegetarian food is a bit dicey. Let's order Mexican. There are very few places in India where you get good Mexican food," she says.
She goes through the menu card carefully and chooses enchiladas and penne pasta with tomato sauce and mozzarella cheese.
We decide to start by splitting a soup of wild mushroom with roast onion and truffle.
How does she find the lubricants business after dealing with grooming products, I ask. She laughs out loud.
"My last media interaction at Gillette was with GQ magazine. After the glitz and glamour and the fashion industry of Manhattan, I was meeting mechanics at Shell. Both are beautiful in their own ways."
The main course is served and I like the look of the enchiladas with refried bean fillings. It is served with three different dips. I smear my enchilada with the guacamole dip and ask Tripathy if Shell has made a conscious decision to rope in women as business leaders since the company's earlier India head (Yasmin Hilton) was also a woman.
Tripathy says only about 6 per cent of the employees in Shell's lubricant business were women until about a few years ago. Now the number looks better -- 13 per cent.
"At around 2,400 in Shell India, women account for 24 per cent of the workforce. We want it to be 50 per cent at some point. The immediate target is to make it 20 per cent in the next two years."
An unofficial quota for women at a time when they are clamouring for equality?
"It has to be worked out diligently because if you don't, it will get missed out. It has to be merit-based and not quota-based. If I put a target for women, when they go to the campus for recruitment, they will ensure that we have a pipeline. But if I do not show that direction, it is very easy to pick up boys."
For every 15 resumes even for a mid-level job, there is only one from a woman, she says.
It is all about what Tripathy calls a C and C model -- of choices and consequences -- for women. They make choices about their lives and for each of them there will be consequences.
"If I choose to be the managing director, it comes with a lot of consequences. Do I want to do that? If the answer is yes, then I better go for it."
The "inner fire" in women is sometimes not ignited, she goes on. Does that mean contentment sets in earlier in women?
"Sometimes women want to be in their happy zone where they put barriers for themselves."
A trained Odissi dancer, she shows me a mudra (a hand gesture) called the shikhara (a thumbs up sigh) signifying power, which is used to portray a male. "Women are always lower even in the hasta mudra. These biases are ingrained in our culture."\
So what keeps her going?
She tells me of a casual comment a batch mate from the Regional Engineering College, Kurukshetra, passed many years ago.
When she was called for an interview for a job at Bharat Electronics, he had said, 'Mansi you are a woman, you will get married, have children, and quit the job. Leave this job for us.' She is determined to prove him wrong.
We have been talking for over an hour and I wonder when the conversation veered towards the issue of gender bias. "What about dessert?" I change the subject. She says she would go for a coffee.
"There is nothing wrong in being indulgent at times," I nudge her. She laughs, changes her mind and says she would try a pan ice-cream, while I order a kulfi with fresh fruits. We
end up sharing the kulfi when she leaves the ice cream half way saying, "the kulfi was better."
When Tripathy joined Gillette, it was a men-only brand. "For women, the act of having a bath is about free time, me time and a lot of mental and emotional pieces come out. For men, bathing is just about cleaning up. But one of the big insights we found while working with men was that they too want to use their faces as works of art."
She learned another important lesson in Shell -- the art of being "bossy"
"As I became senior, I found it difficult to scold people." One day, her boss walked up to her and said, 'You are too soft.' She suggested he look at the results she posted than how she achieved them.
"I do not go banging on the table or scream, but I give feedback to people in my own way. When I move out, there will be an image left of me for the next generation of leaders -- the one who nurtured."