West Bengal signed an MoU with the Centre for jointly implementing Ayushman Bharat but so far officials have received no word about how it will be done and the deadline is almost here.

The concluding part of the series analyses the ground realities in West Bengal ahead of the mega health scheme launch on September 25.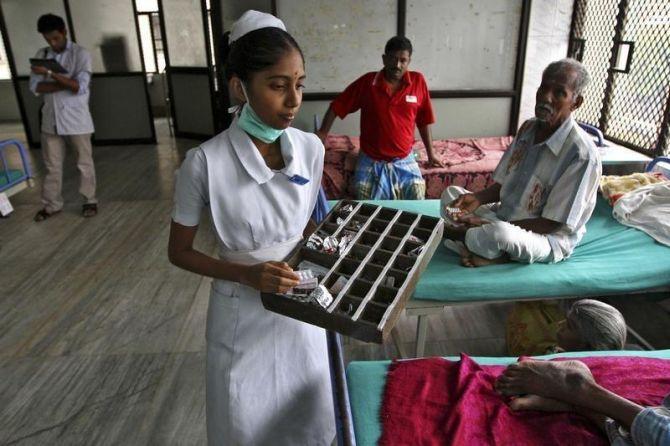 Part 1: Why Gujarat is better prepared to launch Ayushman Bharat

Part 2: Where the health of Ayushman Bharat is in a shambles

Part 3: Can Chhattisgarh maintain its lead?

The practical problems in implementing Swasthyasathi scheme give a clue to the problems Ayushman Bharat might face.
At 3.30 pm at Howrah General Hospital, an elderly woman is the lone applicant for Swasthyasathi, the mass health insurance scheme of the West Bengal government.
Most days, only four to five people turn up to apply. But that's not a concern for officials. The scheme at Howrah has already met 95 per cent of its target.
The latest enrolment drive is purely to 'mop up' people, like the woman who turned up that day, who have slipped through the net.
Rather, the concern of Swasthyasathi officials these days is that, with the Centre declaring September 25 as the roll out date for the national health insurance scheme, Ayushman Bharat, how will joint implementation work?
West Bengal signed an MoU with the Centre for jointly implementing Ayushman Bharat but so far officials have received no word about how it will be done and the deadline is almost here.
The fact of West Bengal agreeing to a joint implementation was a milestone in itself.
In general, it has taken a dim view of central schemes.
For example, it refused to participate in the Smart Cities project because it has already developed satellite cities.
But it agreed to collaborate on Ayushman Bharat owing to soaring health expenses.
West Bengal provides free treatment at all government hospitals.
The budget for this increased by about 190 per cent between 2011-12 and 2017-18 to about Rs 857 crore.
In December 2016, the state launched Swasthyasathi, the paperless, cashless scheme, smart card-enabled scheme that provides insurance cover up to Rs 150,000 and up to Rs 500,000 in assurance mode (ie, the claims are paid by the government and not an insurance company).
With no cap on family size, parents of both spouses are eligible under the scheme.
It covers all pre-existing diseases and is available for any person remotely associated with the government. From February 1, 2017, till July 31, 2018, about 47 lakh families have been covered.
Till the end of July 2018, about Rs 258 crore has been paid out as Swasthyasathi insurance claims, with private hospitals accounting for the major part.
However, the number of assurance claims (where the state pays for expenses above Rs 150,000 to Rs 500,000) is fewer with only about 148 cases at a cost of Rs 86 lakh.
Therefore, it makes sense for West Bengal to join hands with the Centre on Ayushman Bharat as it will mean being able to provide insurance cover up to Rs 500,000, covering a large number of families, and, most importantly, sharing the premium burden.
At Barasat District Hospital in North 24 Parganas, Papiya Barui, who is having her daughter treated, has heard neither the name Swasthyasathi nor Ayushman.
After spending a night outside, under an asbestos sheet, she is hoping her daughter will recover from acute fever.
Hundreds of other patients wait under the shade as the humidity crosses 90 per cent.
Inside, the superintendent doctor, who just finished the afternoon round, has hardly had time for lunch.
The hospital sees around 10,000 patients per day, all receiving free treatment.
In contrast to the crowded corridors, the Swasthyasathi cell in the hospital has only about five attendants.
Like Howrah, the district has achieved more than 95 per cent enrollment
However, none of the staff has any inkling about the implementation plan for Ayushman Bharat.
Jhuma Roy, an officer in charge of Swasthyasathi, has heard about Ayushman only on Facebook.
But she is aware of the hiccups in the implementation of Swasthyasathi that could serve as a case study for Ayushman Bharat.
"Sometimes the insurance companies take a lot of time in claim settlement, and we are forced to unblock patients from Swasthyasathi. In that case, the hospital pays for the entire treatment," said Roy.
This happens because insurance companies can take up to a week to settle claims.
Problems arise when the district hospitals refer patients to bigger hospitals but are unable to provide discharge certificates as they don't get the claims settled in time.
Without discharge certificates, patients cannot move to bigger hospitals.
In that case, government hospitals are forced to "unblock" the patients from Swasthyasathi, making them liable to bear the entire cost.
Implementing a health insurance scheme at a mass level also comes with the challenge of right pricing of the premium, which has to be borne by the government.
Till last year, only public sector general insurance firms were allowed to participate in the Swasthyasathi bidding process.
This year, two private insurers, IIFCO Tokio and Bajaj Allianz, have been partnered by the government because the public sector firms found the pricing unviable.
This year, in some districts, the premium has fallen as low as Rs 500 per family, against last year's range of Rs 2,000-2,200.
Last year, while claims were around Rs 150 crore, out of a premium collection of about Rs 700 crore, insurance companies were allowed to retain close to Rs 120-130 crore as fees.
The rest had to be returned to the government as per the terms of the agreement.
However, if claims exceed the premium in any year, the government does not need to compensate the insurance company.
"Claims in any government scheme start coming after one or two years of inception, when the scheme becomes popular. This year, we found the pricing unviable," said a public sector insurance firm official.
In short, it's only when claims start increasing (in about two to three years) that the long term economic viability of Swasthyasathi will be tested. It's clear that an alliance with Ayushman Bharat will help boost its prospects.
Photograph: Babu/Reuters