For India 5G will mean a lot for healthcare, robotics and unleashing a new chapter in Digital India perhaps. A delay in 5G auctions would, in fact, imply keeping many telecom-linked reforms on hold.
Nivedita Mookerji reports.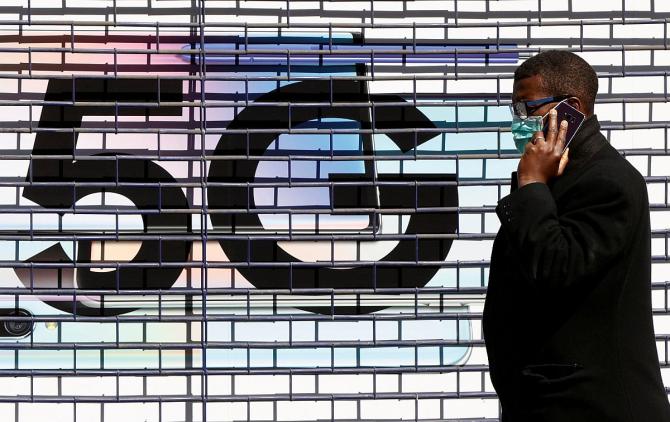 Discussing the prospect of more reform earlier this month, telecom minister Ashwini Vaishnaw announced a delay in the 5G spectrum auction.
India's telecom sector regulation has to be benchmarked with the global best, he said.
It's another matter that many countries have either introduced or are about to roll out 5G services that will enable cutting-edge tech in diverse areas.
For India, too, it will mean a lot for healthcare, robotics and unleashing a new chapter in Digital India perhaps.
A delay in 5G auctions would, in fact, imply keeping many telecom-linked reforms on hold.
So far, China has built over 1.15 million 5G base stations, accounting for a large chunk of the total around the world.
In the US, too, many telecom companies are in the process of launching their 5G services in new bands once they cross some bureaucratic hurdles.
The Federal Aviation Administration, for one, had lodged a last-minute objection claiming 5G could interfere with flight paths using "adjacent spectrum".
Experts have spoken of the huge economic cost of the delay in 5G services while pointing out that aviation and telecom spectrum have co-existed for years.
In India, related to the timing of the 5G auction is another government policy — that of allocating spectrum for satellite-linked communication services.
A war of sorts has broken out on how that spectrum should be allocated and priced, with Sunil Mittal and Elon Musk on one side and the camp led by Mukesh Ambani on the other.
The government does not want to be seen taking sides and is sending out signals that a comprehensive spectrum policy would be in place.
Till then even backhaul spectrum — necessary for local access to networks — may not be given out.
With policy on hold in these areas, the hinterland and Digital India may well be a casualty.
Mobile operators, who have waited for more than one-and-a-half years for backhaul spectrum, may have to wait more as the Department of Telecom is likely to make allocations only after an overall policy is formed on how airwaves should be granted to all stakeholders — through administered pricing or auction.
The back and forth on telecom spectrum is not new.
The Telecom Regulatory Authority of India (Trai) has come out with close to 30 consultation papers and as many as 60 recommendation documents related to spectrum policy so far.
These papers also capture the terrain of telecom policy-making in the country.
The first of these papers can be traced back to 1999 in the early days of mobile telephony.
We began with auction in the mid-90s and then switched to administered pricing a few years later, before returning to auction in 2010 when telcos went all out bidding for 3G and broadband wireless spectrum.
India is at a crossroads again on spectrum policy, formulating a new plan on how to distribute airwaves after about a decade.
Globally, most countries have opted for the auction model. Japan has been an exception going for 5G spectrum allocation on administered pricing.
Although in many countries it's a combination of auction and revenue-sharing, the cost to telcos is not exorbitant, unlike in India.
Prashant Singhal, Emerging Markets Technology, Media & Entertainment and Telecommunications (TMT) Sector Leader at EY, believes it's important to link the spectrum policy of the day to the larger objective.
"In the current context, we need to have a parity between faster telecom services growth and reasonable pricing.
"The burden on the industry should come down through innovative measures; for instance, pay-as-earn model and auction based on revenue share.
"There can be fresh thinking on floor pricing too," he said.
On satellite broadband specifically, Singhal thinks spectrum regulation should be "enabling" for deeper access to the hinterland.
Satellite is not telecom communication in itself, and therefore should be seen differently, he said.
The latest Trai paper on satellite communications, which was issued on November 15, points out that with the technological developments in satellite communication, the operation of earth station (hub) has become more complex and dynamic, and it may require to be established and operated by the satellite operator itself.
However, according to the draft Spacecom Policy 2020 released by the Department of Space, non-government private Indian entities should be permitted to become significant players in global space communication.
The policy push has prompted the Department of Telecom to seek Trai's recommendation on how spectrum for satellite communication should be allocated and priced.
In India, the subject of satellite communication has heated up with Bharti Group chairman Sunil Mittal having interest in both terrestrial as well as satellite.
Mittal's OneWeb and Elon Musk's Starlink (a subsidiary of SpaceX), with their low-earth orbiting network (LEO), are at the centre of the debate of spectrum pricing. Some new industry associations have sprung up as well in the process.
At a virtual media conference recently, Mittal asked, "What auction do you do? People are not understanding...This is not a terrestrial spectrum being used.
"This is not going to be used in every part of the country.
"This is going to be only in two landing stations at those specific points."
His argument is that globally there has never been an auction for satellite spectrum.
His claim is that OneWeb will benefit other telcos as well.
However, Mukesh Ambani-led Reliance Jio's stand has been clear.
Jio has said the principle of "same service, same rules and same fees" must apply to satellite communication service providers, and has called on the government to hold auctions.
Once the comments and counter-comments to the Trai paper on satellite communications come out by the end of December, the regulator could streamline its future course of action.
Not just on satcom but on the entire spectrum policy that India is waiting for.
Photograph: John Sibley/Reuters