Surajeet Das Gupta explains why Mukesh Ambani's target is by no means impossible.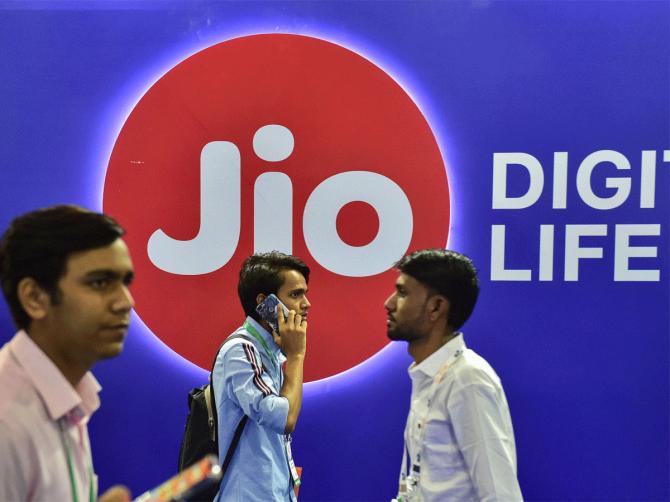 Is Mukesh Ambani's announcement that Reliance Jio will offer 5G services towards the second half of next year a case of mad optimism or a realistic target?
The statement, made a few days ago at the Indian Mobile Congress, stumped the industry.
The feasibility of the goal depends on three factors.
One, can the DoT keep its promise of going for a 5G auction in March-April despite opposition to the high base price?
Two, how much money is Jio ready to raise and invest after RIL made such a mammoth effort to become debt-free?
Three, how effectively can Jio leverage advancements in technology, along with its own indigenous 5G solutions, to accelerate the speed of the roll out as well as prune capital costs?
In the global context, Ambani's target is by no means impossible.
The time taken for rolling out networks has been concertinaed since 4G.
Chinese telecom companies kicked off their commercial launch of 5G last year in November, merely five months after they received licences in 50 cities across the country.
Telecom gear manufacturers say that, with the various constraints in India, Jio could conceivably launch the 5G service in a CBD of a city like Delhi within six months of getting spectrum and within one year for the entire city, but on condition that it already has spectrum.
When it comes to a national network, experts estimate that it could take 18-24 months after spectrum is given.
However, sources close to the company say that Jio is prepared to launch a pan-India network within six months, covering key cities, after it gets the spectrum.
Those who are sceptical about Ambani's plan point out that it took Jio nearly four years to launch its 4G network.
"I don't think 5G will be as pervasive as 4G as it will be limited to industry or specific areas. Also, there are too many uncertainties. But it may be possible for Jio to roll out 5G in some pockets," said telecom analyst Mahesh Uppal.
Jio dismisses such scepticism.
Those working closely with the firm say it means business and wants to be the first with a pan-India network.
It has already developed 5G stacks -- the software required for various functions in the network such as radio and the core which will power the new open-radio access networks it plans to roll out.
It has designed its own 5G radios and is looking at either identifying vendors to manufacture them in India or abroad.
In terms of funding, Goldman Sachs estimates that Jio will be able to save $8 billion in capex and opex in the next five years by using O-RAN architecture.
This, in turn, could defray what it has to spend on pan-India spectrum for 5G.
It also helps that spectrum payments are going to be staggered across and that the upfront payment is small.
The funds needed, say analysts, are well within RIL's means.
After all, the Aramco deal to buy a 20 per cent stake in Reliance will generate $15 billion.
Since it now has zero debt on its books, RIL can raise more debt if necessary.
It can also raise money through the proposed listing of Jio Platforms abroad.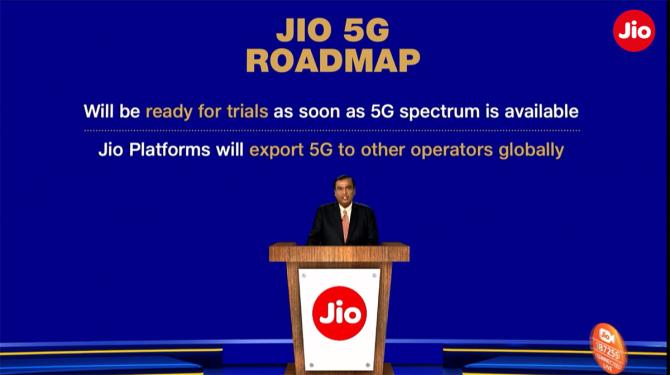 On technology preparedness, Jio is going to leverage its current 4G advanced network for rolling out an overlay of 5G, which takes far less time.
Thanks to technological advancements, the switchover from 4G to 5G now no longer requires a completely new network.
There are now two standards for 5G.
One is 5G Non-Standalone.
The current networks around the world use this standard in which 5G and 4G technology can be combined.
The other is 5G Standalone which of course ensures lower latency, machine-to-machine functionalities for which use cases are being developed.
This is expected to kick off commercially, perhaps in 2021, albeit slowly.
In 5G NSA, the core 4G network which manages the connections and calls can also be used for 5G.
All data uploads (data a consumer sends to others) on the 5G phone can use the existing 4G LTE advanced network and radio, providing speeds similar to that on a 4G phone.
Most consumers download more data for which they need higher speeds rather than upload, for which such speed is not so crucial.
Also, the remote software upgradation option available in advanced 4G networks such as Jio's for 5G, reduces the time of the roll out.
It means Jio only has to put in new radios which work on the 3500 5G band frequency on towers which will be required for offering consumer high download speeds.
Jio has already developed the software.
Telecom gear makers estimate that, based on the number of towers it has, Jio will need to invest a minimum of $10 billion for a pan-India network.
It will require around Rs 1.2 trillion to buy spectrum in the 3,500 Mhz band, the millimetre band, the 700 Mhz band (for coverage) and also spectrum for backhaul, they say.
For the time being, what is on offer is the 3,500 Mhz band for 5G.
The contrast with Airtel is striking.
Airtel believes it will take 2-3 years before the market is ready for 5G.
If Jio manages the rollout ahead of rivals, it could acquire a huge edge in the next battle of the telecom war.