Bharti Global is planning to put up more satellites and has set a stiff deadline to launch commercial Internet services by October in the UK, Alaska, northern Russia and northern Europe.
Surajeet Das Gupta reports.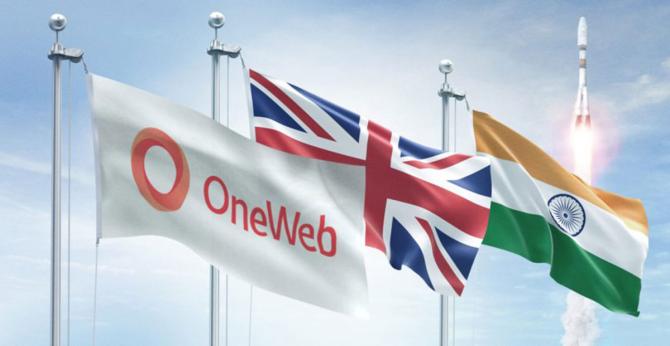 Space wars are here again, but with a difference.
Pitted on one side is India's telecom czar Sunil Mittal who has taken a big gamble by buying a 50 per cent stake in the once bankrupt low earth orbit constellation satellite company OneWeb.
The company, Bharti Global, is planning to invest $2 billion (of which it has already put in $500 million) to put up more satellites and it has set a stiff deadline to launch its commercial Internet services by October next year in the UK, Alaska, northern Russia and northern Europe.
Taking him on will be the formidable tech entrepreneur Elon Musk whose competing broadband offering through Starlink is much ahead of its rival.
The company has put in over 800 satellites (compared to 74 by OneWeb) and, a few weeks ago, invited consumers to participate in its beta testing in the US at $99 a month for the data service and $499 for the kit consumers have to use to connect to the satellite.
Despite that steep price, Starlink has received 700,000 responses and is planning to increase the number of authorised user terminals from the planned one million to five million.
And Musk, whose electric car company Tesla has a market cap equivalent to all other major car companies in the US together, never appears to be short of cash.
Musk is ahead of Mittal in his timeline for an India launch too -- he says it will be sometime in mid-2021, whereas Mittal is looking at May-June 2022.
But the Mittals are unfazed about their formidable rivals.
Said Shravin Mittal, the OneWeb director overseeing the project: "We expect there will be two or may be three players in this space. ITU (the International Telecommunications Union) has given us spectrum priority across the world and in the US with SpaceX."
"We have been given the spectrum by ITU which is based on number of satellites we plan to put out in the sky. This is one reason we entered the business because it offers defensibility," he adds.
"Starlink has to coordinate with us to ensure there is no interference in our frequency."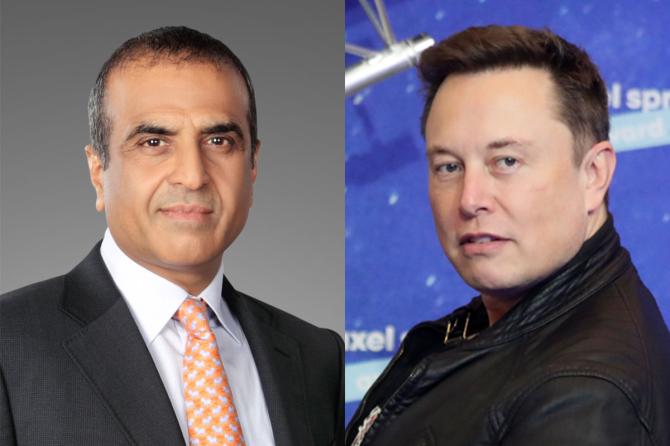 Musk could also face regulatory challenges in India.
The company is hoping for an open skies policy in space with minimal regulatory restrictions, but the powerful Cellular Operators Association of India has shot off a letter to the department of space, which is finalising a space policy to allow private sector participation in the sector, raising some key concerns.
"What we are asking is a level playing field between telcos and satellite-based services," said COAI Director General S P Kochar.
"Both of them should have a UASL (Universal Access Service Licence) because they are giving the same service."
This implies that Musk will have to pay Rs 1,500 crore (Rs 15 billion) for this licence; Airtel already has one.
Two, Kochar said, the spectrum required (KU band for satellite) should not be given through mere authorisation or at a nominal cost (as is being considered) but should be auctioned like any other.
"To do so, the department of telecom should be the custodian of all spectrum and not the space department," he added.
Both requirements would mean that the cost of delivery would go up.
But the key question is whether satellite-based broadband can be viable.
In the 1990s, Iridium, which was based on low earth satellites offering voice and data, failed to make money and stopped operations.
Bill Gates-backed Teledesic, which had planned 288 LEO satellites, also closed shop in 2002.
And even OneWeb, which raised over $3 billion, was forced into bankruptcy till Bharti and the UK government, which was looking for a strategic alternative after exiting the EU's Galileo network, stepped in.
It is difficult to hazard a guess on market size, however.
A Ficci-Deloitte report estimated the initial satellite broadband market at $1 billion in India, growing at 12%-15% a year.
Morgan Stanley put the global market at $400 billion by 2040 accounting for 40 per cent of the global space industry business -- and that is the upside.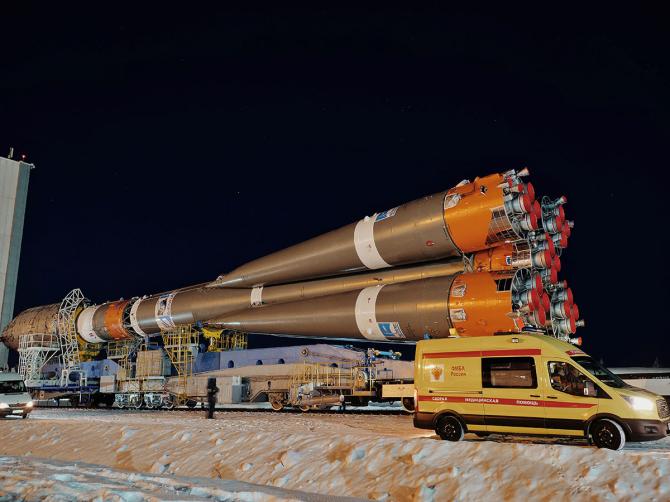 Sunil Mittal identifies the north east, Himalayas, dense forests and parts of Rajasthan as key markets.
He can also leverage Bharti's presence in over 18 countries in Africa and Asia (which Musk lacks) many of which, such as Chad (Internet penetration: 6.5 per cent) or Nigeria (where 138 million people have no internet access) are underserved.
Deloitte also pointed out that with population density and scale dropping in India from dense urban areas to smaller towns, fixed wired connections become unviable.
When they move to rural even mobile broadband is inviable.
It is here that that satellite provides an alternative technology for data.
That is reflected in the fact that the deadline for government programmes to connect all panchayats by fibre has been postponed several times -- the target could be reached in 12 to 18 months using satellite broadband.
But the service currently is expensive -- at $1,600 per mega bit per second monthly, out of reach for most in India.
OneWeb and Starlink are working furiously to cut costs.
Both have reduced the satellite weight (OneWeb is 159 kg and Starlink 260 kg compared to Iridium's 689 kg) and using technology and standardisation to scale up.
Experts said launch costs have fallen about 85 per cent from 1990 levels already, principally because the high throughput in satellites exceeding 500 GBPS has helped reduce the cost per megabit.
But the big challenge is the cost of equipment needed in homes to power broadband.
Musk's initial offering of $499 in the US won't work in India.
Analysts reckon new models will emerge -- such as rental per month on equipment -- and service providers may subsidise consumers, just as they did with mobile phones to build volumes.
But even Mittal agrees that satellite broadband can only complement terrestrial broadband because costs for the former will always be higher.
He is, however, asking the Indian Space Research Organisation to help build an eco-system to reduce costs.
No one more than his group, which built a low-cost mobile network in the country and in Africa, understands the importance of cost in building a profitable business.
Feature Presentation: Ashish Narsale/Rediff.com