More than 2 million people have been diagnosed with coronavirus across the world, and the pharmaceutical industry is pulling out all stops to find potential treatments and vaccines for the global pandemic.
According to the World Health Organization, there are now more than 70 potential vaccines under development, with some already in clinical trials.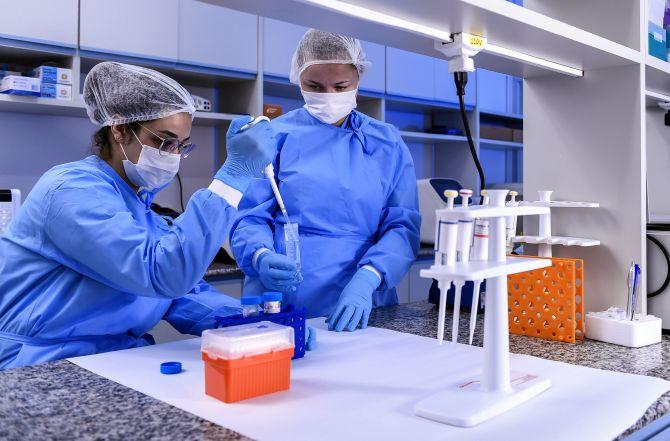 >> Ad5-nCoV
The front-runner across the globe, Ad5-nCoV, was developed by the Beijing Institute of Biotech and CanSino Biologics, a Chinese biopharmaceutical company.
This vaccine uses a viral vector, a virus that has been engineered to not contain its infectious properties and instead delivers genetic material to the recipient.
Phase I testing of this vaccine is underway at Hubei Provincial Center for Disease Control and Prevention, where 108 healthy adult volunteers will receive one of three doses of the vaccine
to assess for safety.
The official anticipated completion date for Ad5-nCOV safety testing is December 2020, with all testing completed by 2022.
>> The Oxford vaccine -- ChAdOx1-nCov19
United Kingdom's Oxford University has its own candidate, which is in a very aggressive clinical development program.
A team led by Sarah Gilbert, a professor of vaccinology, has recruited 500 volunteers from the ages of 18 to 55 for the early- and mid-stage randomised controlled trial. It will be extended to older adults and then to a final stage trial of 5,000 people. Gilbert said that the timing is ambitious but achievable.
This vaccine uses an inactivated (non-infectious) virus that contains genetic material for the key protein on the novel coronavirus, similar to Ad5-nCoV in China. This viral vector, however, was derived from chimpanzees which, the researchers argue, creates an even more robust response than other viruses to which humans may have already been exposed.
This vaccine is being funded by the United Kingdom government and is moving quickly. Still, its anticipated completion date of this phase isn't until May 2021.
However, the researchers behind the vaccine are hopeful of getting "emergency" usage approval before then, depending on the initial results of their trials.
>> Moderna's mRNA1273
This is another one that's progressing rapidly in the clinic, and if you're keeping score, is the most advanced vaccine candidate from a US company.
mRNA-1273 has the backing of the United State government's National Institutes of Health.
This particular vaccine has been rushed to human trials before it was even tested in animals -- skipping a step in traditional vaccine development.
A Phase I trial testing the vaccine's safety in 45 healthy adult volunteers began earlier this month at Kaiser Permanente Washington Health Research Institute in Seattle. The participants will receive two injections of low, medium or high doses of the vaccine and be monitored for any adverse events or immune response.
The company is hopeful that it may have a vaccine as early as fall 2020 for some particularly vulnerable groups, such as health care workers. The Phase I safety study should be completed by
June 2021.
>> Sinovac's PiCoVacc
In China, Sinovac has received approval for human testing of an inactivated-virus vaccine. The vaccine, which is currently in combined Phase I/II trials, aims to generate an immune response by exposing the body to 'inactivated' cells of the novel coronavirus.
The vaccine's current stage of trial research is expected to be completed in around four months.
>> Inovio's INO-4800
Developed by the United States biotech firm Inovio Pharmaceuticals, INO-4800 is currently in Phase I clinical trials. INO-4800 has the backing of the Coalition for Epidemic Preparedness Innovations, a global vaccine research coalition founded by the governments of India and Norway, and the Bill and Melinda Gates Foundation, among others.
They started dosing 40 volunteers here in the US earlier in April, moving from younger, healthier participants now to older ones, and they're moving into similar trials in South Korea.
According to the company's research listing, Phase I trials of INO-4800 are expected to be fully completed in the first half of 2021.
>> Sanofi vaccine
Last month, Sanofi Pasteur announced that it was partnering with the US Department of Health and Human Services to create a DNA-based vaccine.
The company had been previously working on a vaccine for SARS, a close relative of the novel coronavirus, which showed promise in animal models. The company says they are aiming for a 2021
release.
>> Indian efforts
Zydus Cadila, Serum Institute of India, Biological E, Bharat Biotech, Indian Immunologicals Ltd, and Mynvax are among local companies trying to develop a vaccine for covid-19.
Serum Institute of India, in partnership with US-based vaccine specialist Codagenix, is developing a vaccine with de-optimised live attenuated virus, and animal trial data is expected soon.