That the extradition procedure is cumbersome is evident from the fact that Mr Choksi's nephew, Nirav Modi, and businessman Vijay Mallya have not come back even months after favourable orders from UK courts.
Shyamal Majumdar reports.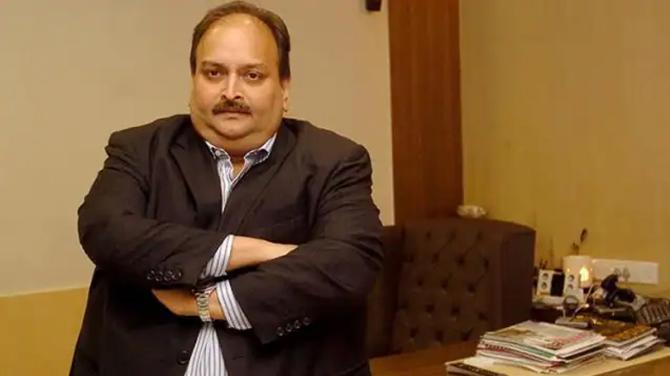 It was perhaps over-enthusiasm that prompted the Indian investigative agencies to take a private jet to Dominica to bring back fugitive diamantaire Mehul Choksi.
Predictably, the eight-member team had to return empty-handed after almost a week-long wait.
The agencies were banking too much on the "state-less" status of Mr Choksi, as Antigua, which had given him citizenship in 2017, wasn't willing to take him back.
Thus, the calculation was that Mr Choksi would be whisked away from the Dominican courtroom to the waiting plane.
The reason for the optimism was also because Antigua is friendly territory for India.
After all, its Prime Minister Barbuda Gaston Alfonso Browne has publicly thanked Narendra Modi many times for his "act of benevolence" in generously sending Covid-19 vaccines to the Caribbean countries.
Mr Browne had also said in the past that he would continue to work towards strengthening the bilateral relations with its "significant development partner".
But the officers who were in a tearing hurry to bring back Mr Choksi should have known better.
The first setback came when Mr Choksi went to court against Antigua's move to revoke his citizenship.
In any case, an extradition process is invariably a lengthy and tricky exercise, with a lot of caveats in a treaty between two countries.
Lastly, India's track record on extradition requests has been nothing to write home about.
Consider this: An IANS report said in November, 2020 that of the 72 absconding economic offenders, the government has managed to bring back only two in the past six years.
The difficulty of extradition is evident from yet another data point.
India and the UK signed an extradition treaty in 1992.
Since then the UK has accepted only two requests for extradition of a fugitive living in that country.
All other requests remain pending to date.
That the extradition procedure is cumbersome is evident from the fact that Mr Choksi's nephew, Nirav Modi, and businessman Vijay Mallya have not come back even months after favourable orders from UK courts.
Mr Choksi's extradition gets further complicated as the Indian agencies have failed to get the tag of a fugitive economic offender against him, as his lawyers managed to get a stay on the matter in the Bombay high court in 2020.
A fugitive offender status would have made it possible for India to confiscate his properties abroad.
Challenges to extradition orders can also be raised outside treaty terms.
These are generally based on concerns of human rights violations.
The UK and several other European countries have often denied extradition requests on the grounds that the accused will be subject to poor conditions in India's prisons.
In fact, one of the accused has still not been extradited after his lawyers quoted a report written some time ago by the Lawyers Collective in Mumbai.
The report said in most Indian prisons, the living area and the toilet area are separated from each other by a one-foot divider.
"The water supply is unpredictable and intermittent at best.
"The stench is unbearable and flies abound.
"The undertrial is not provided with a change of clothes nor with soap, oil or toothpaste."
Even Mr Mallya's lawyers had argued that the poor conditions in Arthur Road Jail in Mumbai will be tantamount to inhuman and degrading treatment, prompting the UK court to request the Indian government to send a video of the jail for evaluating its conditions.
The extradition of bookie Sanjeev Kumar Chawla was held up for a long time on the grounds that the condition in Tihar Jail in Delhi were appalling and detention there would amount to a violation of human rights.
He was finally brought back to India in February 2020 in the first high-profile extradition of its kind.
India is anyway among Category II countries under the UK's extradition laws.
Category II cases take much more time to complete than Category I cases.
The United States and most European countries are in Category I.
Some countries take the view that economic offences are not criminal conduct and since they are of no immediate security threat to foreign nations, there is no urgency to expedite their extradition process.
Another problem is the inordinate delay by the Indian investigating agencies.
While denying a request for extradition for fraud against a British Indian couple, a UK court heavily criticised the Central Bureau of Investigation for delays, which caused the case to remain pending for 25 years.
Such delays also block the process of submitting extradition requests, or invoking Interpol mechanisms like the Red Corner Notice that help in locating and provisionally arresting offenders.
Efforts by India to get back Mr Choksi will depend to a large extent on the response to the request for his repatriation from Dominica.
The problem however is compounded by the fact that Dominica does not figure in the list of countries with which India has an extradition treaty or arrangement.
That perhaps explains the clever jeweller's mysterious abduction to that country. Unless something dramatic happens, the next plane to bring him back will have to wait a while.