Building a global brand was Choksi's idea, which Modi borrowed from him.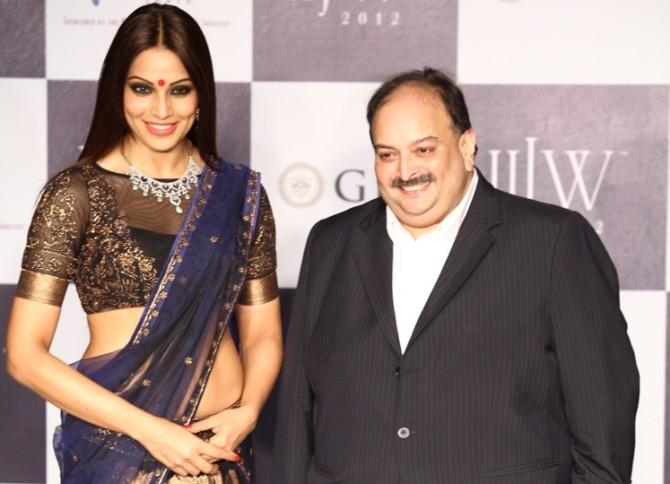 IMAGE: Jeweller Mehul Choksi with Bollywood actress Bipasha Basu. Photograph: Courtesy, Clea PR.
Tainted jeweller Nirav Modi once described his maternal uncle and business partner Mehul Choksi, chairman of the Gitanjali group, as his mentor and the most brilliant person he knew. He had his reasons for such wholesome praise because Choksi, it now seems, laid the blueprint for the businesses Modi ran.
Big-ticket events, fashion shows, and having Bollywood actresses and models at soirées were germane to their business strategies.
Building a global brand was Choksi's idea, which Modi borrowed from him. While Choksi counted LVMH Moët Hennessy Louis Vuitton Chairman and Chief Executive Officer Bernard Arnault as a role model, for Modi it was Harry Winston, an American jeweller.
While Modi would attend flamboyant dinners and events frequented by global elites such as Donald Trump Jr, Bill Gates, and Prince Charles, his uncle would emulate Vijay Mallya to the extent of buying yachts as a cachet of the high life.
Choksi had launched a number of jewellery brands such as Maya, Gili, Nakshatra, and Asmi, besides Gitanjali Jewels.
The firm's name, Gitanjali, is a combination of the names of Choksi's sisters: Nirav's mother, Gita, and her sister Anjali.
Gitanjali Gems was splurging on promotions, ads, events, and marketing, and had brand ambassadors such as Priyanka Chopra, Shah Rukh Khan, Katrina Kaif, and Kareena Kapoor. It spent Rs 2.28 billion on promotions in 2012-13, its best year in terms of profitability. That year it made a net profit of Rs 5.92 billion on revenues of Rs 164.19 billion.
The next year its debt increased to Rs 84.85 billion from Rs 52.39 billion in 2012-13, and profitability declined substantially. Marketing spends in subsequent years too are about a third of what they were in 2012-13.
Gitanjali, at its peak, had market capitalisation of Rs 60 billion though much of it tapered off when the company faced investigation by the Securities and Exchange Board of India, which had alleged Choksi was involved in rigging his shares in collusion with Prime Securities, a Mumbai broker, and 24 entities that traded in Gitanjali stocks.
Sebi, along with the stock exchanges, suspended the "unique client codes" of the 26 entities, including those of Choksi and Prime Securities, from trading for six months owing to suspected market manipulation.
There have been other allegations of wrongdoing. The primary one among them is that Choksi has not repaid lenders in the informal market and suppliers.
Like many rumours that circulated about Modi's sources of funding and that he owed banks money, talks of Choksi's financial slip-ups ranged from an exhausting working capital to having personal debts.
Still Choksi seemed confident. Nakshatra was one of the companies he was trying to list as recently as last year, with plans to raise Rs 6.5 billion.
Choksi, who has the nickname "Pappu", is the youngest of his parents' six children. "If I had to point out a single prominent trait of his personality, I would say that it was this deep-seated desire to prove himself," said Atul Merchant, Choksi's classmate and friend.
The turning point in Choksi's career came when his father and uncles split acrimoniously, Merchant said. There was a boom in the diamond sector in the early 1970s, and Choksi's father, Chinubhai, and his four uncles had established themselves in the global diamond industry. By 1974, they were major players.
However, glaucoma spoiled Chinubhai's vision and his dependence on others to evaluate diamonds led him to bring his teenage sons Chetan and Mehul to his business before they could finish graduation. "That was when Mehul changed," said Merchant. Merchant said for the young jeweller, who could laugh at himself, the separation from his uncles made him bitter.
Choksi, who was good at market research and handling figures such as gross domestic product growth rates and income trends across geographies, clearly knew how to build a brand, as did his nephew. Ultimately, it would appear that it was financial improprieties that dulled their glittering business.