One way would be to encourage farmers to come out of the long-standing paddy-wheat cycle. But for that to happen, farmers want income assurances akin to what they get for paddy and wheat, writes Sanjeeb Mukherjee.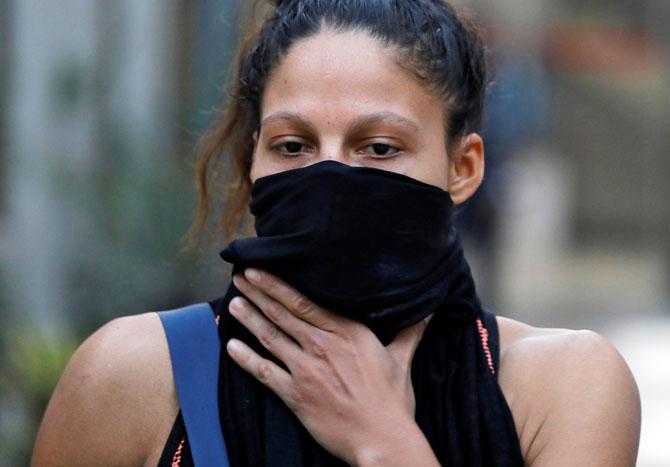 Mahendra Kaur, 75, has been suffering from a recurring respiratory problem for the last few years. Her trouble becomes acute in the winter, especially in the days after Diwali. That's also the time when her husband, Joginder Singh, 80, burns the crop stubble on his 15 acres of farm land in Mohal Gwara village in Nabha Tehsil in Punjab's Patiala.
In other words, Kaur lives slap bang in the middle of the lethal smoke from farm fires that severely pollutes the National Capital Region at this time of the year.
"My wife's dependence on medicines has increased in the last few years and so have her trips to the doctor," rues Singh, who grows wheat and paddy on his farm, alternating between the two every year.
"But do I have any option? I know it is wrong to burn stubble and my own family is suffering, but tell me, what can I do?" he asks.
Singh cannot afford to buy or hire the machines that would cut out the need to burn farm waste.
"In 15 acres I need to run a tractor thrice -- for cutting the stubble, for overhauling them, and then for levelling the land. Assuming that a tractor consumes 65-70 litres of diesel, look at the cost that I already incur. On top of this, how can I purchase another machine that costs not less than Rs 1,50,000?" he exclaims.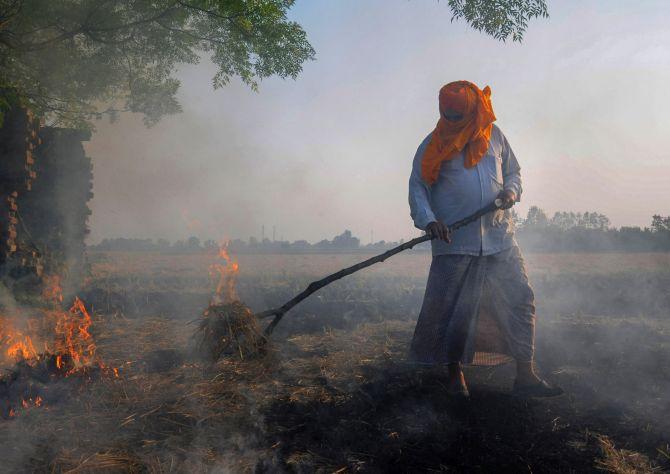 Singh feels that the best option for farmers like him is using a combine harvester and burning the stubble left behind. "We have to rely on combine harvesters for cutting paddy -- there is no way out," Singh says.
That view is echoed by most farmers in the region that this correspondent spoke to. Though they welcome the Supreme Court's order to give an interim relief of Rs 100 per quintal for stubble management, most feel that they cannot stop the practice of stubble burning unless there is a viable and long-term solution to the problem.
According to the Union ministry of agriculture, between October 1 to November 3, there were 31,402 cases of stubble burning in Punjab, Haryana and western UP, of which, over 80 per cent was in Punjab alone. However, this is almost 12 per cent less than last year.
Pritam Singh of Nabha's Kot Khurd village says that going back to the old method of manual harvesting of paddy, which does not leave crop residue, is out of the question because labour is scarce.
Joginder Singh agrees, adding that even the labour needed to run the combines is hard to get nowadays.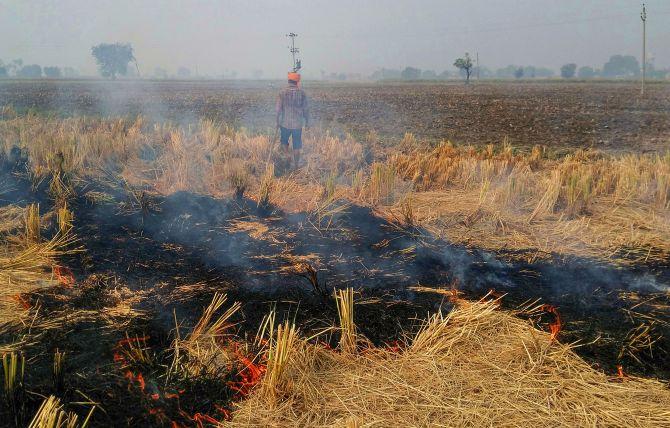 Incidentally, Nabha is known for its farm machine industry. As many as 200-300 units in the area deal in farm machines in some form or the other.
Combine harvesters from this town are sold across India. But the use of combine harvesters and the resultant burning of stubble continues to take its toll on the health of the people in the region.
Dr Dalbir Kaur, senior medical officer at the Civil Hospital in Nabha, says that since the last few years she has seen a spurt in the number of people coming to the hospital with chest and eye-related complaints during the days when farm fires rage.
"We normally get around 800-900 patients daily in our OPD, but in the last few days, this number has increased by at least 15-20 per cent," Kaur says.
Seated in the clean but crowded civil hospital premises, Kaur says that the ones who suffer most are the old and the infirm as they are the most vulnerable.
"We advise them to stay indoors and take medicines, but very little can be done as pollution is not under our control," says Kaur, who feels that the farmers are to blame for the sharp rise in pollution levels, both in their own areas as well as in the cities that are miles away.
On their part, the farmers point out that they can do little unless the authorities provide alternative solutions which can be implemented efficiently.
Chamkaur Singh of Ghanurki village tried an alternative route to dispose of his stubble, but now rues it.
Two years ago, he sold his stubble for over Rs 11.50 lakh to the Punjab Biomass Power Plant in Patiala. But so far, he has received just about Rs 2.45 lakh.
Chamkaur Singh is now running from pillar to post to recover his dues. "After sowing wheat, I and 40 other farmers from my village will go to Mumbai to meet the company's representatives to try and get our money back," he says. (Media reports claimed that Punjab Biomass Power Plant shut down as it was in the red for the last few years.)
"Even now, I don't burn paddy stubble and look for alternatives. But for how long can I do this?" Chankaur Singh asks.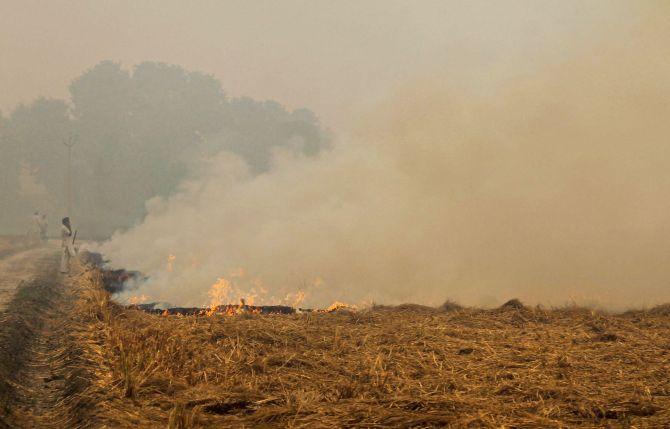 The Punjab government has been trying to encourage the setting up of biomass power plants which can put crop stubble to good use.
According to the website of the Punjab Energy Development Authority (PEDA) 13 biomass-based power plant projects have been allocated, of which five have been commissioned.
Crop stubble have a high silica content and biomass power plants need to make additional investments to get it removed so they can be processed.
That is one reason why private players have been reluctant to set up biomass power units that can process stubble.
However, with the state government now trying to offer a more attractive power tariff for investors, many private players have again started showing their interest in these plants.
But there are other, cheaper, options available to deal with paddy stubble. One way would be to encourage farmers to come out of the long-standing paddy-wheat cycle. But for that to happen, farmers want income assurances akin to what they get for paddy and wheat.
"We don't want to grow paddy anymore, but we need viable alternative arrangements for the crops that we will grow instead, and some sort of assured procurement -- either by agro-based industries or by the government," says Omkar Singh Khaira, general secretary of Bhartiya Kisan Union (Rajewal faction).
Khaira says that farmers in this region can grow basmati rice, which needs less water than other rice varieties and does not give rise to the problem of disposing stubble.
But if farmers are to switch to basmati cultivation, they would need the assurance of a minimum support price of at least Rs 3000 per quintal, he asserts.