In the third of a four-part series, Sanjay Jog/Business Standard finds that the Nashik press has stepped up printing of currency notes to around 20 million a day, from 14 million a day till recently.
Part 1: When did printing of Rs 2,000 notes actually begin?
Part 2: Why notes ban is good news for people of this MP town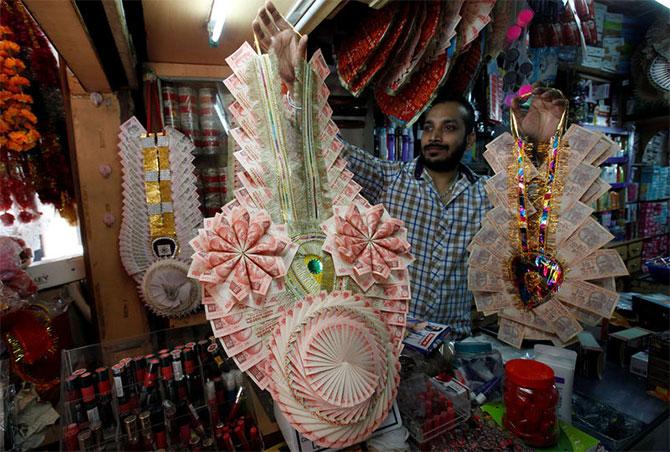 IMAGE: This mint does not print the new Rs 2,000 note due to the lack of modern machines. Photograph: Amit Dave/Reuters.

A billboard displayed by a local sports and cultural organisation opposite the Nashik currency note press (CNP), at the centre of the city, thanks the employees for sacrificing their weekly offs to be able to print maximum currency notes after note ban.

In fact, a mini vegetable and fruit market close to the currency press captures how demonetisation has played out. Most vendors are waiting for cash, especially those of smaller denominations, to flow into the system to stabilise their daily business.
Forty-year-old Vishal Gaydhani complains about the drastic fall in his daily turnover to Rs 200 from Rs 1,000 due to cash shortage, but believes that ramping-up of printing by the Nashik press will improve his earnings.

In Nashik, located in the foothills of Western Ghat mountains, the connect between local trade and the currency press is prominent. For instance, 65-year-old tea stall owner Ram Kokate asked why the government, in an exceptional situation like now, cannot allow CNP to directly distribute notes to people like him.

But, of course, access to the Nashik press is barred, unless you can flash your identity card. Without it, hanging around outside the gate is discouraged too. After the night of November 8 when Prime Minister Modi announced a ban on big notes, security has been beefed up with additional closed-circuit television cameras around the complex.

The press has stepped up printing of currency notes of Rs 500, Rs 100, Rs 50, Rs 20 and Rs 10 to around 20 million a day from 14 million a day till recently. These notes are transported daily to the nearby Ozar Airport to be flown to other cities.

CNP does not print the new Rs 2,000 note due to lack of modern machines, an insider pointed out. There are four production lines with two shifts one between 7 am and 5 pm and another from 7 pm to 5 am. Employees usually stretch their hours during the change-over, to ensure non-stop printing.

A union leader associated with the India Security Press Mazdoor Sangh, which is affiliated to Hind Mazdoor Sangh, said workers here were treating their job as a "national service" now.

Nashik CNP, established in 1928, is a unit of the Security Printing and Minting Corporation of India, unlike the two presses in Salboni and Mysuru run by the Reserve Bank of India. The other government-operated press is in Dewas.

The India Security Press Mazdoor Sangh general secretary Jagdish Godse, who has been holding a series of meetings between the management and the employees for proper coordination after demonetisation, pointed out that the machines here were older than in the RBI presses. It is learnt that representatives of the Mazdoor Sangh in the last week of November met Finance Minister Arun Jaitley and sought his intervention for upgrading the technology and machines at the Nashik press.
They also want better quality ink and other material that go into the making of notes. Among the demands is the need for two super intaglio machines. One of the employees this correspondent spoke to, said 400 million notes of old currency have been kept aside and would be destroyed after due audit.

If a timeline is what you are looking for, many of these note-makers believe it will take another six-seven months for the situation to normalise at this press.
Previous: Dewas, Madhya Pradesh.