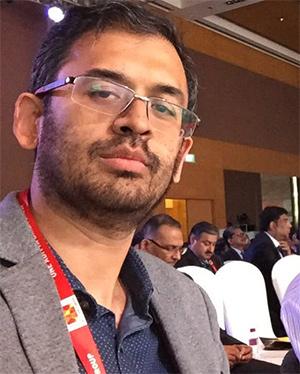 "Our artificial intelligence tells us what people are buying at that point, what is in fashion; on the other hand, we have a fair idea of the material available. It gives us a sense of what we should be putting across in the market and we can put them across really quickly," Ananth Narayanan, CEO, Myntra, tells Alokananda Chakraborty.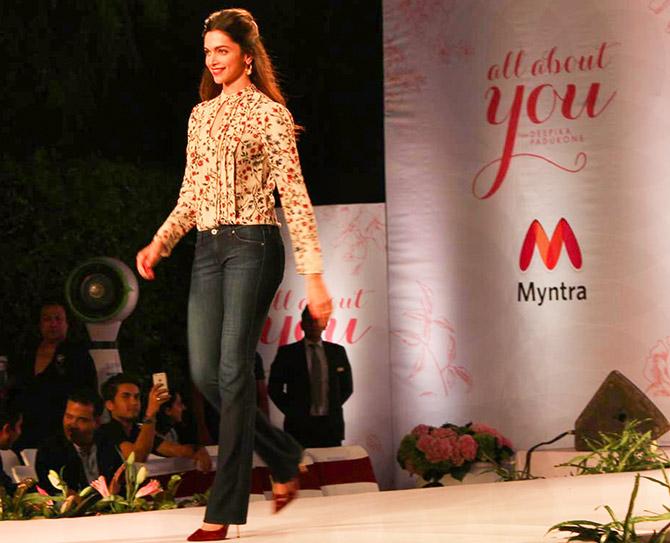 IMAGE: Deepika Padukone promotes her brand, All About You, on Myntra.
These days I only wear Moda Rapido," announces Ananth Narayanan, chief executive officer, Myntra, with a flourish, pointing at the pair of black jeans he is wearing.
"The fun part is this brand is built entirely by leveraging the data we have at our disposal. Artificial intelligence, if you wish," he offers helpfully.
We are meeting for lunch at Prego in Westin, Gurugram.
It is obvious Narayanan and his team are upbeat with the way the private labels at Myntra are shaping up.
"You must try it -- it's a really good brand," he says, with all the seriousness he could muster.
Moda Rapido is among the hot selling brands on the fashion portal but what makes him so excited is the fact that there are no designers involved in the making of a Moda Rapido product.
"Our artificial intelligence tells us what people are buying at that point, what is in fashion; on the other hand, we have a fair idea of the material available. It gives us a sense of what we should be putting across in the market and we can put them across really quickly -- you have to, you see, fashion changes rapidly and if you have to be at the top of the game, you have to identify the trends quickly and act on them fast."
It took eight months and a 25-member team to develop the brand in-house, but churning out new styles is a matter of days.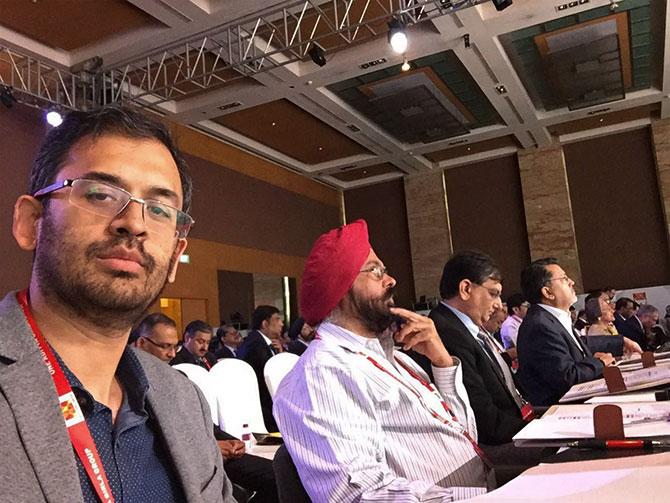 IMAGE: Ananth Narayanan was part of the jury for this year's Aditya Birla Awards for Outstanding Achievement. Photograph: Kind courtesy Ananth Narayanan/Twitter
The restaurant has an interesting open kitchen, I notice, which is supposed to whip up 'Californian style Italian cuisine'.
There is an 'unlimited pizza and pasta' festival on at the moment and to make things easy we ask our attendant to choose a spicy pizza and a not-so-spicy pasta for us.
"Then I don't have to make choices," he says with a smirk. "I could have a coffee later… so just these three for me."
Narayanan has completed a year at the portal, though he insists it's a bit longer than that because he had been "unofficially spending time with the guys there July 17 (2015) onwards", before taking over the baton of chief executive from Mukesh Bansal in October 2015.
"Fantastic guy he is. I met Mukesh, Sachin and Binny all on the same day. We sat for about three/four hours and at the end they made an offer. It took me a week after that to decide," he says, rolling his eyes.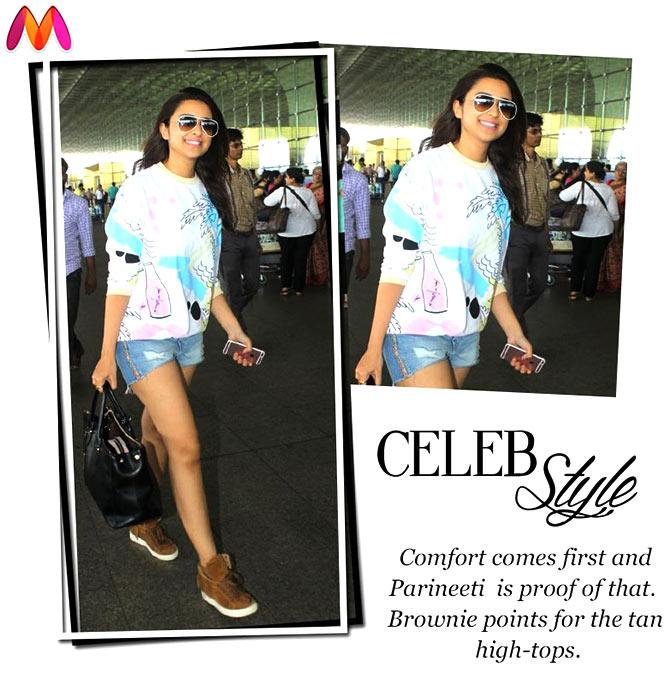 IMAGE: Using celeb fashion, like the shoes worn by Parineeti Chopra, to promote the site.
Before joining the Flipkart-owned fashion store, Narayanan was with McKinsey, leading its product development in Asia and its automotive practice in India. He worked with the firm for over 15 years across four of its offices -- Chicago, Shanghai, Taipei and Chennai.
The e-commerce market has changed remarkably in the last year or so and so has Myntra, I say.
"Well, a year ago Myntra was growing moderately at 20-30 per cent and we didn't have a big focus on what I call unit economics. That's exactly the big focus area now -- I believe that all businesses should make money. So we have changed trajectory: July-August-September we grew 87 per cent year on year. And our unit economics that was deeply negative -- double-digit negative -- is now positive. That's a pretty dramatic shift in strategy."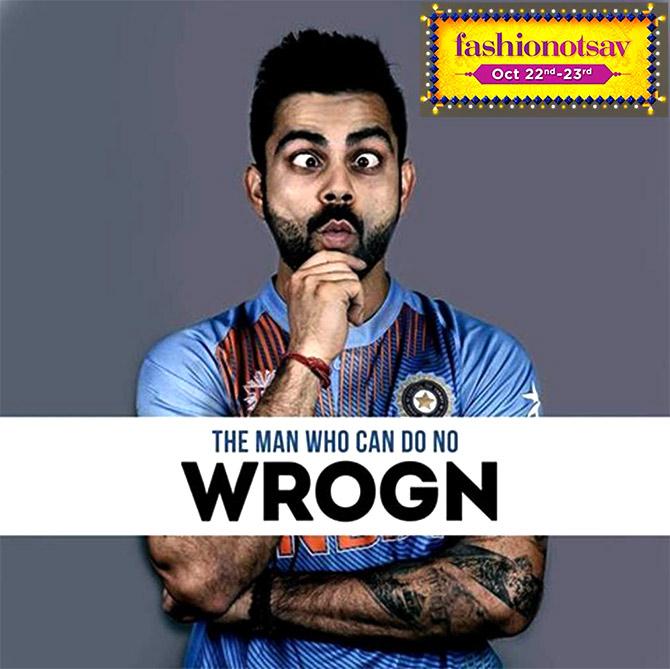 IMAGE: Wrogn brand ambassdor Virat Kohli promotes a Myntra sale.
You have a background in that -- strategy I mean, I interject.
"I do have a background -- not a lot of operational, but strategy yes, though never in retail," he points out.
"Anyway, we made three big shifts in strategy. First, we said, 'Let's focus on selection'. We said, 'Look, we won't have unlimited width, we will have 100-150 brands but get the best selection from them."
Then we said, 'Let's focus on private brands.' Private brands offer higher margins. If we are getting 16-17 per cent, we said, we will make it 20 per cent. Three of these are what we call brands -- Roadster, HRX, All About You; we spend on their marketing, we want them to be national brands. The others are labels, they are much more profitability-driven. So the second is focusing on private brands and making them more profitable.
"The next thing is positioning: See, we don't want to fight Flipkart, we don't want to fight with Amazon. We said there is a huge mass premium market to explore. So we will go for the fashion-conscious customer as opposed to the brand-conscious customer."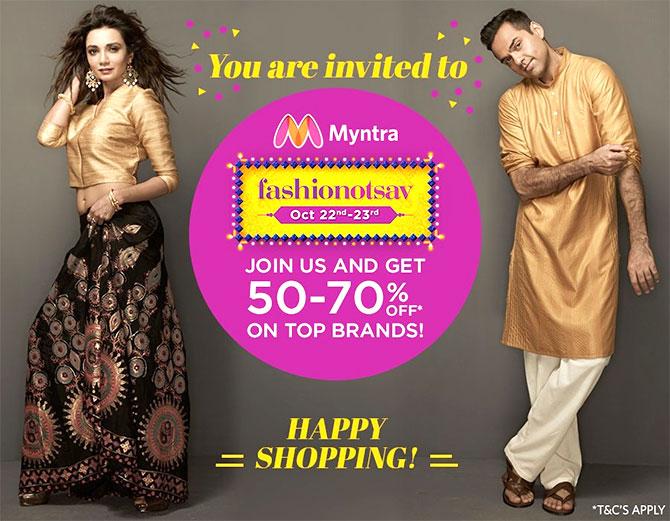 IMAGE: As does Abhay Deol.
Are they mutually exclusive, I ask, as I dig into my spicy chicken pizza. Narayanan is a vegetarian and his pizza margherita looks kind of uninteresting.
Of course, he continues animatedly.
A brand-conscious customer, he explains, would be one who always wears, say, a Hugo Boss. So whatever Boss introduces he will wear. Whatever the brand offers is fashion for them.
"Whereas fashion-conscious customers -- and they are typically more women than men -- don't care necessarily for the brand. They actually say, 'Whatever is in trend, whatever is in fashion I will buy. As long as it offers that look, I will buy.'
There are overlaps, he says, but they are two distinct sets.
"Men are more brand-conscious," he adds. "There is data to show it's 60:40 men and women when it comes to brand and 40:60 men and women when it comes to fashion."
IMAGE: Quick constests, like this one with Sachin Tendulkar, are used to add recall value to the brand.
Pizza over, I wave my hand frantically to draw the attention of one among the bunch of waiters at the far end of the room. "Our pasta, please."
So is there a difference in the way they buy?
Yes, men are more efficient shoppers. They want brand X and they buy brand X, he says. And that behaviour reflects in their online behaviour as well.
And what is it that you have done to make Myntra the largest fashion store online? "Again, three things, selection, service and engagement."
So 'three' is the operative word for you, I observe.
"Yes, I like to organise my life in three things; more than three I can't compute," says Narayanan, a father of three girls. His wife runs a chain of diagnostic labs, Ehrlich Laboratory, in Chennai, and the family lives in Bengaluru.
Now the question that has been hanging around since Myntra took over Jabong about a year and a half ago: Can Jabong and Myntra co-exist? In the long term?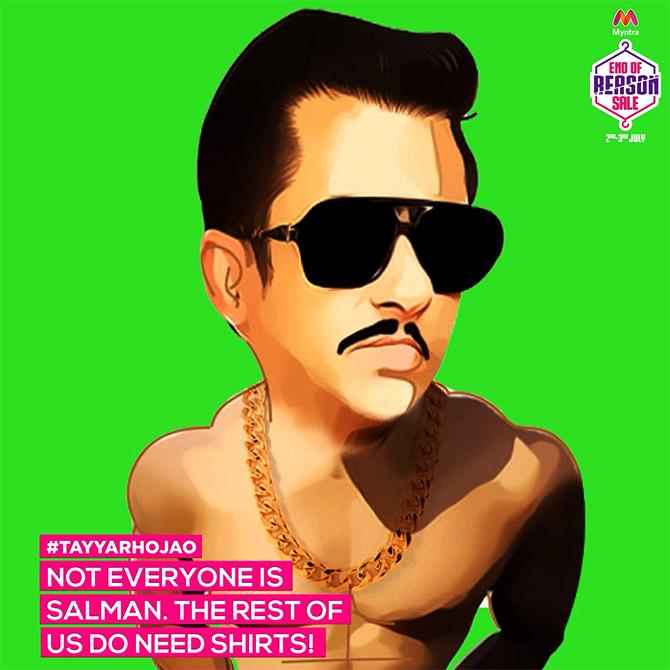 IMAGE: So do fun ads like this one, taking off on Salman Khan.
"Of course!" Narayanan is emphatic. "Jabong is very strong among women and in international brands. Myntra has tremendous strength in private brands and I think the two can leverage each other's strengths.
"As I see it, there is no reason why I can't sell Myntra's private brands on Jabong and there could be brands on Jabong that we can showcase on Myntra. These are things that have to be worked out in the future; there is no reason to rush into anything."
When the acquisition was announced, Jabong and Myntra had claimed a combined customer base of 15 million, but geographically they were stronger in different markets.
"Jabong is really strong up north, especially in the NCR and that is something Myntra can leverage. Between the two stores we are in a position to offer more choice to our customers, better variety and a unique consumer experience."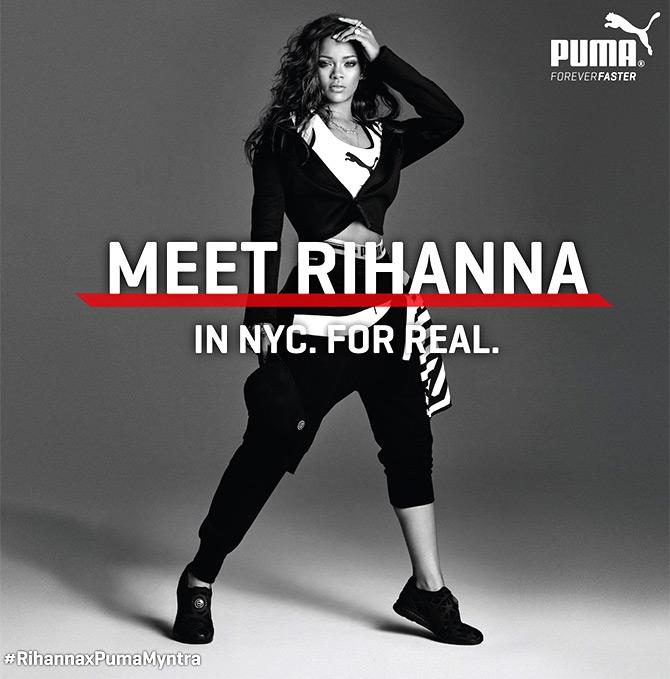 IMAGE: Of course, you first had to shop on Myntra.
So while there could also be many synergies in the back end, the two will remain separate entities, he insists.
Right now, most of his time goes into the planning of two more fashion brands under Myntra slated for launch in spring-summer 2017 and an offline store that would be unveiled sooner than later.
"It won't be your regular retail store, mind you," he says. "It would be completely tech-enabled — from having a smart mirror all the way to a virtual reality corner where you have brand videos, ads… very different. The idea is not sales but the brand experience."
The pasta is forgettable.
As I watch Narayanan dollop tabasco sauce on his penne, I check the menu once again in the hope of spotting a drink to wash it down.
Photographs: Kind courtesy Myntra/Twitter