'He was sought after because he delivered.'
Ishita Ayan Dutt profiles Tata Steel's new boss.
Illustration: Dominic Xavier/Rediff.com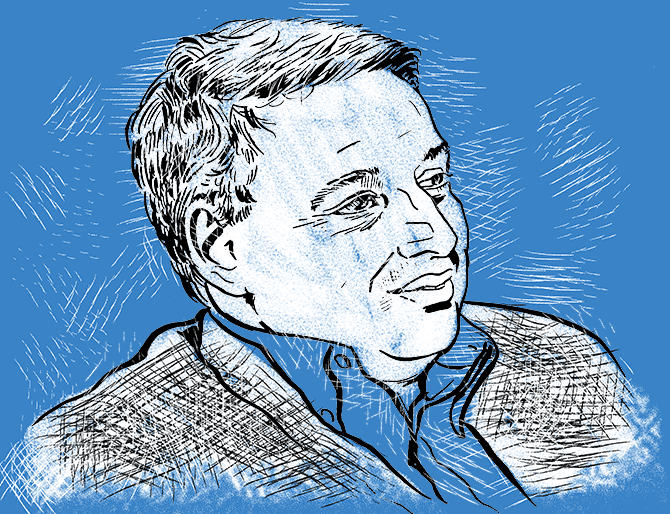 T V Narendran, the newly appointed global CEO & MD of Tata Steel, runs at the rate of 8 km an hour, three days a week.
Last year and the year before, he ran 10 km in the Tata Steel Kolkata 25K marathon. Running for him is not just a way to stay fit, it's also his thinking time.
As he slips into a global role, he might have to run some extra laps to deal with the complexities of Tata Steel's new joint venture with Thyssenkrupp in Europe.
But Narendran, 52, has had a successful track record of handling complex situations.
In fact, one of the reasons that went in his favour in this new appointment was the execution and commissioning of Kalinganagar, one of the largest greenfield projects in India.
No one, not even the management at Tata Steel believed, at one point, that it would be possible. Today, the three million tonne plant is running at around 100 per cent capacity.
Tata Steel started work on the Kalinganagar project during the steel boom in 2005. That was the time companies -- domestic and foreign -- were queueing up to set up mega steel plants in the mineral-producing states.
But in 2006, a police firing over land acquisition claimed lives -- and set back the Tata Steel project. It also became the starting point for protests against land acquisition for industry across the country.
When Narendran took charge as managing director of Tata Steel (India and Southeast Asia) in 2013, only the boundary wall around the 3,000-acre plot in Kalinganagar had been constructed. He is credited with establishing the Tata brand equity with the local community and imbuing some confidence into Tata officials working at the site.
Narendran reviewed the project on a weekly basis and when he visited Kalinganagar, he made it a point to meet all stakeholders. Everyone had access to him.
"It enthused people on the ground and helped build the ecosystem," explained officials.
When Tata Steel first went to Odisha it expected to be welcomed with open arms, considering its legacy. But that didn't happen. The villagers were too cut off from Jamshedpur and its transformation led by the Tata group.
Building the Tata brand by setting up hospitals and schools no doubt helped the cause. Finally, on November 18, 2015, the project was dedicated to the state of Odisha, and commercial production started in May 2016.
It is worth noting that sometime in 2015, South Korean steel major Posco, which had entered Odisha before Tata Steel, put its project on hold, indefinitely.
Tata Steel's statement to the stock exchanges last month mentioned that Narendran enhanced Kalinganagar's ability to deliver to higher value segments such as steel for automobiles. A Tata official explained the fact that Narendran wasn't a "pure" operations person, helped.
Narendran essentially comes from a marketing background. "So Tata Steel started producing what could be sold profitably, and from a production-driven company, it became a marketing-driven company," the official said.
Even though the recent promotion might have come as a surprise, the prospect of Narendran becoming MD of Tata Steel was widely expected because old timers believed he had been groomed for the job. Few people within the organisation had the domestic and international exposure that he did.
"He was sought after because he delivered," a colleague said.
Fresh from IIM Calcutta, Narendran started with Tata Steel in 1988. He first worked with the international trade division, during which he had a stint in Dubai. On his return to India, he worked in the marketing and sales department and between 2001 and 2003, he was chief of marketing and sales.
"He was responsible for posting record sales during this time," an ex-colleague remembered.
Narendran was also principal executive officer in the office of B Muthuraman, then Tata Steel managing director. He was actively involved in Tata Steel's first overseas acquisition, NatSteel, and went on to become its president and CEO in 2008, and finally became vice-president (flat and long products) of Tata Steel before assuming charge as MD (India and South East Asia) in 2013.
Yet, no one really knows what will be the role of Tata Steel's MD once the joint venture with Thyssenkrupp goes through. But that's still a long way off; the deal closure is likely by March 2019.
And one of Narendran's biggest challenges will be to make this joint venture happen.
Narendran has a unique way of handling work pressure. An ex-colleague recalled that he had heard that Narendran would shut the windows and doors and play the drums to let off steam when it all got too much.