While both oil and data generate value, the comparison stops there, the new age entrepreneurs seem to argue. Their fear, and Facebook's is no different, is that treating data like oil has resulted in governments hoarding data, says Nivedita Mookerji.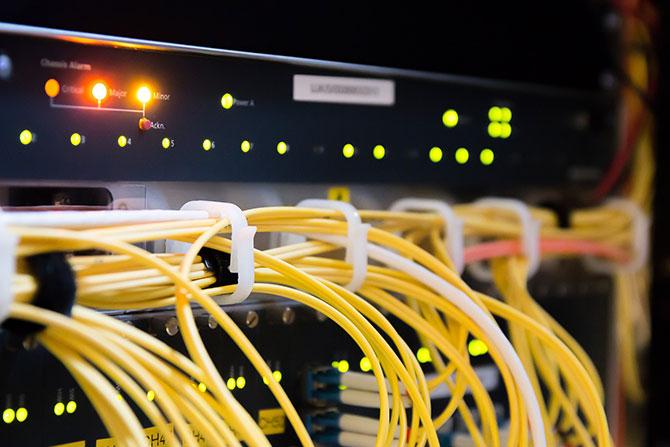 Recently, a headline on data caught much attention.
While anything that deals with data is of significant interest now as our lives revolve around the resource in multiple forms, this one had another pull factor.
It had a combination of Mark Zuckerberg and Mukesh Ambani, making it a runaway hit.
'Facebook counters Ambani, says data is not oil', headlines across newspapers and websites screamed.
Well, it was only half true, as a colleague on the beat pointed out rather angrily.
She's right.
This is what really happened.
A visiting Facebook executive said in a speech that data was not new oil and countries like India should allow free flow of data across borders instead of attempting to hoard it as a finite commodity.
Facebook Vice President (Global Affairs and Communications) Nick Clegg, who was earlier UK's deputy prime minister, also said, 'There are many in India and around the world who think of data as the new oil and, that, like oil, having a great reserve of it held within national boundaries, will lead to surefire prosperity.
'But this analogy is mistaken.'
Since Reliance Chairman Mukesh Ambani had, not too long ago, made the statement, data is the new oil in relation to Jio, connecting that with Facebook's contrarian position on the same subject seemed logical.
But, Facebook's Clegg did not mention Ambani in that speech, though it's anybody's guess whether he had the RIL boss in mind while referring to data and oil.
When he was quizzed on the matter later, Clegg shrugged off the controversy saying that "nobody has a copyright" on the subject of whether data is the new oil or not.
There may not be a copyright on that line, but what the angry colleague was trying to explain and what is relevant in the current context is that Ambani is neither the first nor the only one to say data is the new oil.
Many have said it before Ambani did in 2017.
It's another matter that Ambani made the line popular in India, along with Jio.
Similarly, many others have said what Clegg had stated in New Delhi.
That is, data is not new oil.
Clegg was trying to argue that while oil is a finite commodity, data is not.
It was, in fact, way back in 2006 that mathematician Clive Humby had coined the phrase "data is the new oil", analysts who have dug deep into the subject believe.
Humby's also credited for setting up UK supermarket chain Tesco's Clubcard -- the loyalty card scheme that operates across countries.
This is what he had to say at a summit in Kellogg School of Management: "Data is the new oil. It's valuable, but if unrefined, it cannot really be used.
"It has to be changed into gas, plastic, chemicals, etc to create a valuable entity that drives profitable activity; so must data be broken down, analysed for it to have value."
Many other prominent people have commented on the subject thereafter.
Meglena Kuneva as European Consumer Commissioner in 2009 had said: "Personal data is the new oil of the internet and the new currency of the digital world."
In 2011, Peter Sondergaard of Gartner described information as the oil of the 21st century, and analytics as the combustion engine.
In 2012, Bill Diggins as CEO of Diggit gave it another tweak.
"We're able to view just everything that they do.
"And that's really where data is going today.
"Data is the new oil," Diggins had said.
The following year, Ginni Rometty as IBM CEO said in a speech to the Council on Foreign Relations: "I want you to think about data as the next natural resource."
Then in 2016, Piero Scaruffi, author of A History of Silicon Valley, pointed towards the difference between oil and data -- the product of oil does not generate more oil, whereas the product of data will generate more data...
By this time, businesses and data analysts had started moving away from the narrative of data is the new oil and were focusing more on data as a free-flowing boundary-less resource as opposed to a walled garden.
2016 onwards, there's been a series of write-ups, lectures and analysis trying to establish why data is the new oil is a "ludicrous proposition".
Even the last meeting of the World Economic Forum at Davos had a session on why data is not the new oil.
While both oil and data generate value, the comparison stops there, the new age entrepreneurs seem to argue.
Their fear, and Facebook's is no different, is that treating data like oil has resulted in governments hoarding data.
While the jury's still out on whether or not data is the new oil, my take, it's fifty-fifty.