The Alams saw the magical spot while on a drive to the hills.
A few years later they set up home and a small hand woven shawl business, hiring local weavers, using local wool and natural colours made of root, stem and flower.
Rediff.com's Archana Masih met them in their home overlooking the Himalayas and got a lesson in dyeing.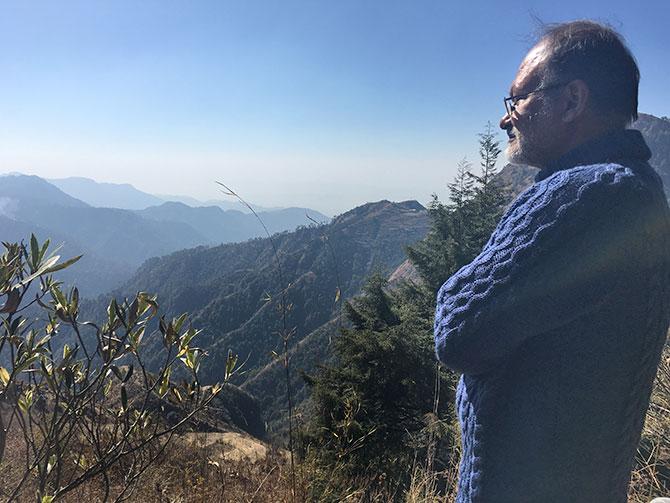 IMAGE: Dr Ghayur Alam, an economist-turned-shawlmaker, stands in his garden overlooking the Himalayas in Masrana, Uttarakhand. Photographs: Seema Pant.
Patricia and Dr Ghayur Alam live in a dream location.
Their cosy home looks upon the Himalayas; the green bench in the garden has a beautiful view of the mountains; and their closest neighbour lives on the hill in the distance.
It is one of those rare days when the snow-capped Himalayas can be seen clearly. The white peaks sparkle gloriously in the morning sun, rising up above the wired fence of the home.
Three dogs snooze at the entrance.
"It's cleaner and fresh and nice to hear people say what a lovely place you have," says Dr Alam, formerly an economist-researcher at the National Council of Applied Economic Research.
He and his wife Patricia, along with Makkhan, the assistant, left Delhi a few years ago to start a small organic dyeing-weaving shawl business in a tiny village in Uttarakhand.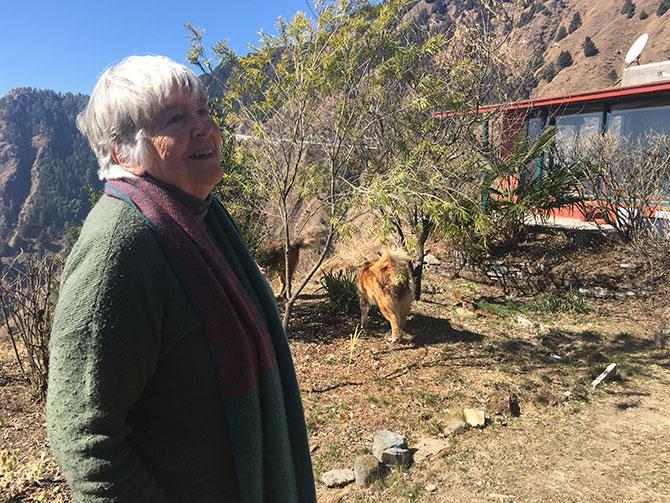 IMAGE: Patricia Alam worked as a speech and drama teacher for 16 years in New Delhi. She is the in-house designer.
"Winter is nice. We have a very nice bukhari (wooden stove) and a well insulated house but the monsoon is a problem -- for four months it is continuously damp."
The couple spotted the land while on a drive to the hills and bought it when practically nobody lived here; and it hasn't changed much.
Down the road, is a tea shop run by a young man from the neigbouring farm while the owners of the other house around the corner come only for the holidays.
"We miss permanent neighbours. It's nice to share problems like water. There is hardly any," says Patricia, a speech and drama teacher at the British School in Delhi for 16 years, who subsequently worked as a voice consultant at a call centre which dealt with British clients.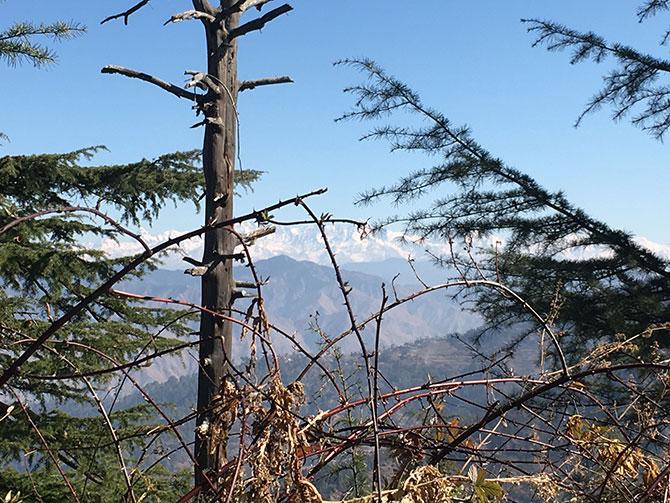 IMAGE: A view of the Himalayan range from the Alams' home.
The couple met while Dr Alam was pursuing a PhD in Manchester, the United Kingdom. With a beautiful green and blue stole draped around her shoulder, Patricia is the in-house designer, as hiring professional designers costs a lot of money.
With just five workers, the wool which is -- largely obtained locally -- is dyed in a small room at the back of the house.
The colours come from natural sources like wood, roots, dried flowers etc bought from an Ayurveda shop and are kept on display in jars on a shelf in the shop.
Basic everyday things like a washing machine and drums are used for dyeing which is primarily Makkhan's domain, who also takes the shawls to exhibitions and fairs in Delhi. His sister looks after the second shop along with another local girl in Dehradun.
Four weaving families from nearby villages make the shawls on looms in their homes.
The simplicity of it all is charming.
"It is small honest work. It's independent. In small businesses you have to do everything," says Dr Alam, who hails from Old Delhi with a long standing interest in mountain agriculture, rural development and environmentally friendly technologies.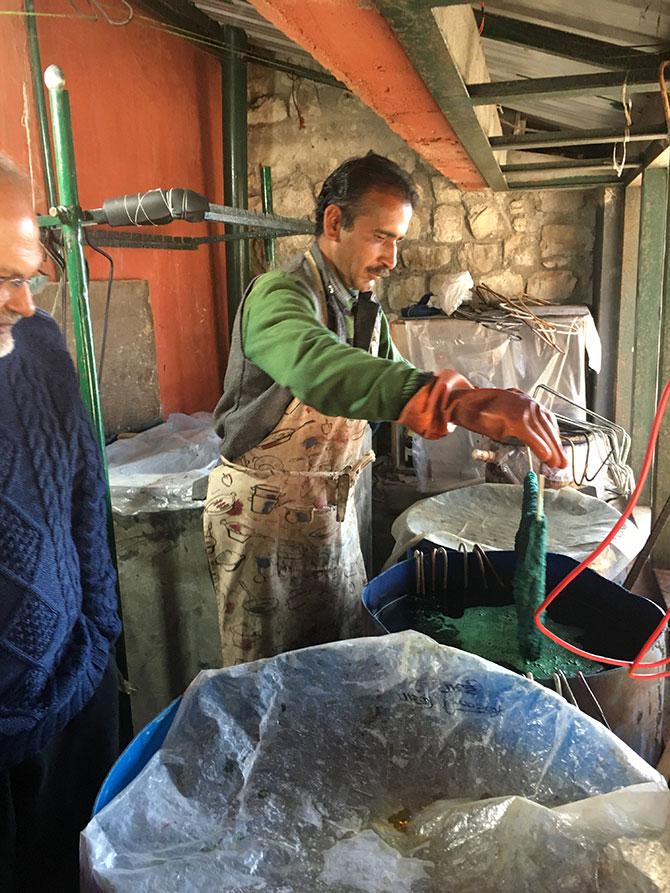 IMAGE: Makkhan dyes wool with vegetable colours. The wool is hung out in the sun to dry and then woven into shawls.
A project on the conservation of medicinal plants paved the way for Himalayan Weavers about eight years ago.
People in high altitude areas were harvesting medicinal plants illegally and the forest department was unable to control it because of the vastness of the area.
Dr Alam's team discovered that many of the plant pickers made wool or owned sheep and wove hand-made articles like blankets.
"We thought if they had market access to wool and started making money out of wool, they would stop going to the jungle to pick medicinal plants illegally," says Dr Alam, who then started the Web site Himalayan Weavers (external link).
"When we went for conferences we used to take their stuff. People bought it because it was made by ethnically important tribals from the Himalayas, but wouldn't use it because the wool was rough, had no colour and didn't look good."
Then began an investigation into finding out why the wool wasn't soft and how natural dyes could be used to bring colours to the shawls.
Wool was bought from Uttarkashi and dyed in their kitchen with the majeeth root that gives the colour red.
"We dyed 1- or 2 kg of wool and gave to a weaver to make 4 or 5 mufflers. Our friends said 'badhiya hai.' Though when we look back I think 'bahut bekar the'," he smiles, sitting alongside Patricia in a room with large windows with potted plants, over a cup of tea and locally made biscuits.
Behind him are racks draped with shawls in uplifting ice-cream colours. The room, overlooking the valley, is part of the main store -- housed inside their home.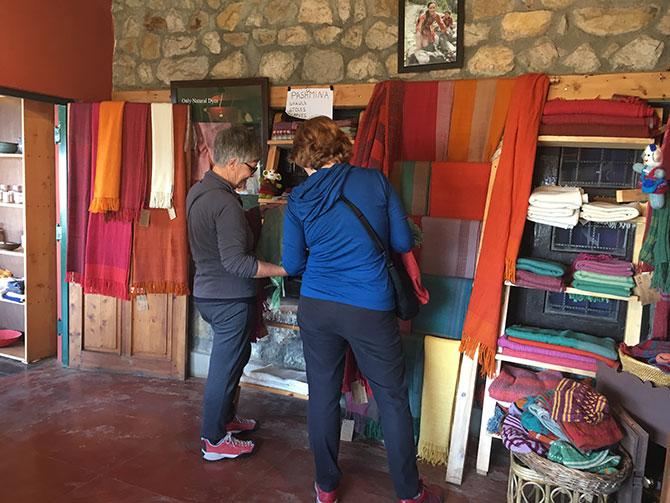 IMAGE: Hand-woven shawls on display in the store attached to the house. Hand-knitted caps made by local women lie in a pile on the right.
"Gradually, we started dying a little more wool -- moved from the kitchen to larger buckets. We then started using silk, pashmina, organic cotton and linen."
"We use Eri silk found in Assam and the North-East. It is the only silk produced without killing the pupa. Otherwise, the cocoon is boiled to make the yarn. Here, the pupa is allowed to become a moth and fly away," says Dr Alam, using his training as a teacher to explain how the web is scraped and looks fluffy like wool or cotton.
Their journey in shawl-making began around the time when weavers in Uttarakhand were going through troubled times. Before the state was bifurcated from Uttar Pradesh, the UP Khadi Board used to give the weavers bulk orders for blankets. The wages were low, but since the orders came in bulk, payment was assured.
When Uttarakhand was carved out, many weavers took to working as daily labourers.
"When we started, they were happy to return to weaving. Now every week they get about Rs 7,000, Rs 8,000 each from us," says Dr Alam, adding that they pay 25 per cent to 30 per cent more than the market rate.
The couple had not expected the venture to grow into in a business. "But within six months, we knew that if we continue, people would buy. It took us a year to increase the scale and to break even," adds Dr Alam.
Four or five groups of visitors come to the shop everyday. Several tourists often ask why the shawls are priced at Rs 2,500 when cheaper ones for Rs 300 are available on the Mall in Mussoorie.
"We say, 'yes, you may find something very nice and pretty, but it won't be wool'," laughs Patricia, dismayed that local knick-knacks of the old like walking sticks are fast disappearing to make way for synthetic stoles and caps in popular hill destinations.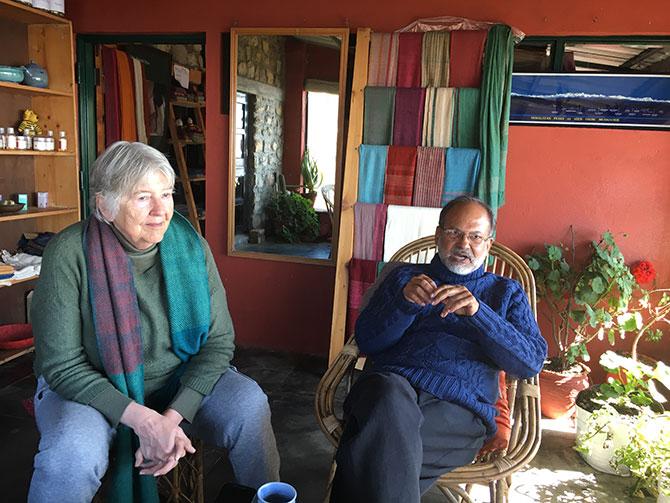 IMAGE: The couple in the the double window-insulated sitting room, overlooking the hills.
India has changed so much in the last 20 years that the middle class which is so influenced by Western concerns, is also becoming interested in natural products, feels Dr Alam.
"20 years ago, people did not have money and were not bothered. Now they have plenty of money and hence are interested."
Weaving may be dying as craft but in places like Himachal Pradesh, with a very strong weaving tradition, and where there is more demand than supply of weavers, there is still hope for craftsmen.
"Things are not bad here as in Banaras and Andhra Pradesh. The power looms of Surat have affected the weavers in Banaras. There are lots of weavers in Banaras and very few buyers. Most Banarasi saris are Chinese silk made in Surat. That's globalisation," Dr Alam points out.
The best way to encourage India's indigenous craft tradition, he says, is to buy it.
But the suggestion is accompanied with a sound dose of realism.
"You can sell chips, coke and Maggi in a comparatively poorer area, but you can't sell craft," he says. "Who has spare cash for luxury like craft?"