Co-founders of India's latest unicorn expected Covid-19 to be a speed breaker; instead it accelerated sales. Cars24 now enjoys more than 90 per cent market share among all other similar online transaction platforms.
Dhruv Munjal traces the journey of this used-cars platform.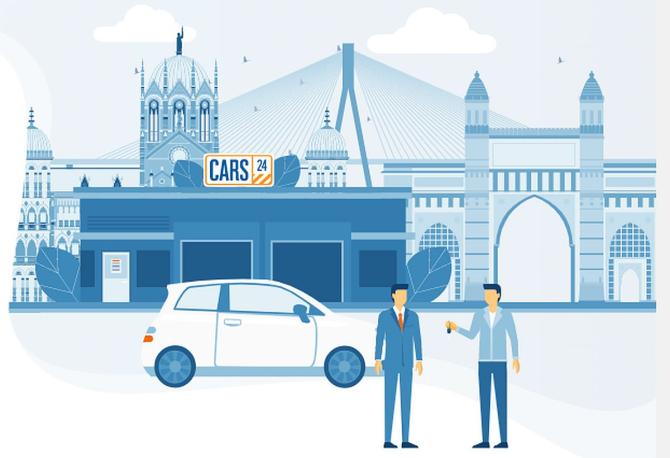 On reflection, Ruchit Agarwal, co-founder and chief financial officer of Cars24, wonders if they could have dreamt bigger.
"The Indian used-vehicle market as a whole is the roadmapworth $50 billion.
"When we started out in 2015, we didn't realise that.
"Along the way, as we leapfrogged ahead, we came to the conclusion that we had underestimated the scale," he says.
Agarwal is in a privileged position to say so because Cars24, in a short span of five years, has already achieved unicorn status.
The tag became official recently, after billionaire Yuri Milner's DST Global invested $200 million in the company.
"A billion-dollar valuation is obviously a big milestone. But given the size of the market, the potential is endless," says Agarwal.
The story goes that the idea for a used-cars platform came to chief executive officer Vikram Chopra after he couldn't find a buyer for his own car before temporarily settling in the US.
He bounced the thought off Mehul Agrawal, with whom he had started FabFurnish in 2012.
In 2015, the two stepped down from leadership roles at the online furniture retailer to launch Cars24, which is based in Gurugram.
While helming FabFurnish — which was later acquired by Future Group from Rocket Internet before it folded up — Chopra and Agrawal felt that their next entrepreneurial venture had to be more seller-driven.
"We have so many businesses in India that are solving problems for the consumer.
"Everyone always thinks demand first, we rarely think about the supply side of the problem," said Chopra in an interview to Business Insider last year.
Agarwal, working with Bank of America Merrill Lynch (BofA Securities now) at the time, came on board to shore up the finance side of things.
The fourth founder, Gajendra Jangid, a batchmate of Chopra's at Indian Institute of Technology Bombay, was brought in for his operational skills.
"Vikram and Mehul realised that they needed people with strong finance and operations backgrounds to complete the skill-set, and we were excited about the idea and ready to take the plunge," says Agarwal.
The need for a platform like Cars24 also arose because both Chopra and Agarwal, who have lived in the US, felt that the Indian market suffered from a trust deficit when compared to the West.
"Nobody wants to buy a car from a stranger. That's where an intermediary like us, which owns the entire value chain, comes into play," explains Agarwal.
The majority of India's used-car industry is still fragmented, but online portals like Cars24, CarDekho, Droom and OLX have been able to streamline the buying and selling process, while offering fair prices and quality.
The potential that Agarwal speaks about is reflected in the fact that in 2019, the used-car market in India was valued at $24.24 billion, according to market research firm Mordor Intelligence.
It is expected to grow at a CAGR of 15.12 per cent in the forecast period 2020-2025.
Even so, the pandemic delivered an unexpected silver lining for Cars24.
Initially fretting the lockdown, the founders feared the worst.
"We hunkered down to cutting all the irrelevant costs immediately," reveals Agarwal.
While there were no layoffs, many employees took voluntary pay cuts, and were later rewarded with ESOPs during the festive season.
But starting June, with people still afraid of using public transport, demand surprisingly bounced back, with website traffic up four times from pre-coronavirus levels.
Sales — Cars24 has an estimated gross annual revenue of $600 million — went up 20 per cent.
It sustained through September and October, reaffirming Agarwal's belief that this wasn't just a case of "revenge buying" but a study in consistent growth.
He adds that Cars24 now enjoys more than 90 per cent market share among all other similar online transaction platforms.
"Due to Covid-19, the need for personal mobility will only go up.
"And economically, with job losses and businesses doing badly, people are cautious and unsure of buying new cars," says Kavan Mukhtyar, partner and leader-Automotive, PwC India.
"So clearly, these companies will remain on a growth path."
A significant part of Cars24's success has been down to its ability to leverage technology at every stage of operation, giving a hassle-free experience to both buyers and sellers.
It uses an inventive real-time digital auction system, in addition to an efficient inspection mechanism and an intelligent pricing tool — all of which means you can purchase a car in less than an hour while sitting in your living room.
Much of the new investment will be directed towards augmenting artificial intelligence, as well as boosting new verticals, the major one being the two-wheeler segment that Cars24 ventured into earlier this year.
"This round of funding couldn't have come at a more opportune time for us," says Agarwal.
The $200-million infusion, however, wasn't really part of the plan.
DST Global, which has the likes of Byju's, Swiggy, Ola and Udaan in its portfolio, reached out to Cars24 after seeing the resurgence in demand.
"Just six months ago, it was all about survival. But when DST came calling, we saw it as a great opportunity. The deal got stitched in no time," says Agarwal.
Rahul Mehta, the Dubai-based managing partner at DST, has been like mentor to the founders, often acting as a sounding board.
"He's the one who has a different perspective to the four of us put together. In a way, he keeps us honest," says Agarwal.
Having achieved the $1-billion valuation mark, Cars24 is now focused on developing a full-stack approach, right from documentation to servicing.
That's one of the reasons why Cars24 obtained an NBFC (non-banking financial company) licence last year — in order to facilitate vehicle loans.
Such a model may also hold the key to profitability, which Agarwal reckons is not far away.
Illustration: Courtesy, Cars24