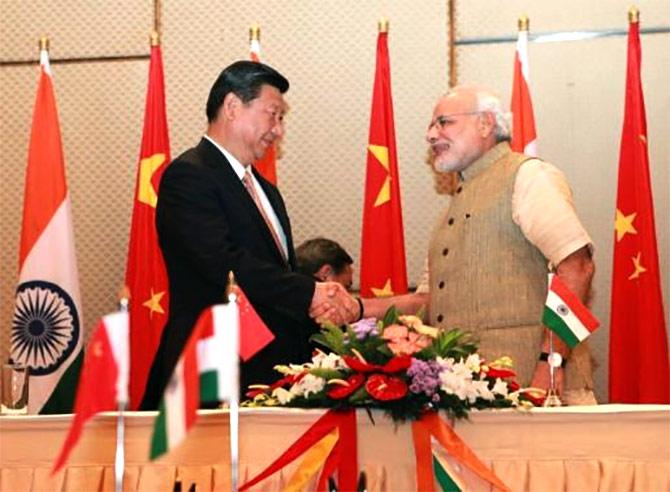 Prime Minister Narendra Modi (R) shakes hands with Chinese President Xi Jinping during a signing of agreements ceremony in Ahmedabad. Photograph: PIB
India on Thursday signed a 5-year trade and economic cooperation agreement with China with a view to improve the trade balance and obtain $20 billion Chinese investment into the country.
The 'Five year Trade and Economic Development Plan' was signed by Commerce Minister Nirmala Sitharaman and her Chinese counterpart Gao Hucheng in presence of Prime Minister Narendra Modi and visiting President Xi Jinping.
The agreement lays down a medium term roadmap for promoting balanced and sustainable development of economic and trade relations between China and India, on the principle of equality and mutual benefit.
Among other things, it seeks to reduce bilateral trade imbalance and strengthen investment cooperation to realise $20 billion investment from China in 5 years.
Also a transparent, stable and investor friendly business environment and an enhanced cooperation between Chambers of Commerce and financial sectors of the two countries would also be covered under the pact.
The trade gap between the two countries stood at $35 billion in favour of China. The total bilateral trade was at $66.4 billion trade last year.
Sitharaman and Gao also signed the minutes of the tenth session of India-China Joint Economic Group held earlier this month in Beijing.
Both sides during the Beijing meeting held detailed discussions on various issues to promote broad and deep bilateral trade and economic cooperation and agreed to undertake measures to achieve sustainable and balanced trade.
Specific measures to enhance market access to Indian products such as agricultural and pharmaceutical, and export of services were also discussed during that meeting.
Key pacts
A key pact on trade and economic cooperation will provide for $20 billion Chinese investment in India over a period of five years. The agreement lays down a medium term roadmap for promoting balanced and sustainable development of economic and trade relations.
China has also agreed to strengthen India's Railways network and two pacts were inked aiming at increasing speed of trains, studying feasibility of cooperation in high-speed railways and redevelopment of railway stations.
An action plan will be prepared between Railways Ministry and the National Railway Administration of China on strengthening cooperation in Railways. The pact provides specific projects for cooperation in railways.
A separate pact on Audio-Visual Co-production between the Information and Broadcasting Ministry and China's State Administration of Press, Publication, Radio, Film and Television was also signed to enable producers from both countries to get an opportunity to pool their creative, artistic, technical, financial and marketing resources to co-produce films.
The two sides also decided to enhance cooperation in matters related to custom administration and inked a pact that will help strengthening cooperation to fight trans-border economic crimes and custom offences through sharing of information. It would also facilitate trade through enhanced customs cooperation.
The MoU enables both sides to encourage exchange and cooperation in the exploration and use of outer space for peaceful purposes, including research and development of scientific experiment, remote sensing and communications satellites.

Both sides also agreed to carry out cooperation in fields of drug standards, traditional medicine and drug testing. A pact was inked in this regard.