If you have health insurance it will cover you if you travel to a destination within the country. But what if you are travelling to an international destination, asks Bindisha Sarang.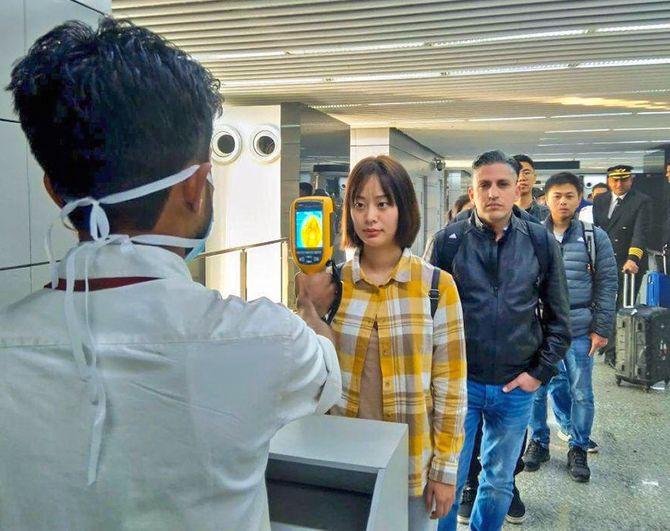 To travel or not to travel is the question boggling many minds today.
Owing to coronavirus and the panic it has created worldwide, many are questioning whether they should go ahead with their travel plans that were made months in advance, and for which bookings have already been done.
If you are one of them, here are a few things that will help you make the right choice.
If you don't want to go
If you cancel, what happens to your money will depend on where you bought the ticket.
Some players are offering a complete refund.
Says Aloke Bajpai, co-founder and chief executive officer, ixigo: "We are providing a no-questions-asked full refund on the countries most impacted by COVID-19, irrespective of the airline's own policy in this regard."
But not everyone has a policy like this.
So, check with the airline its policy in this regard.
Vistara, for instance, said it was cancelling 54 international flights in March and customers could opt for a full refund for these flights.
SpiceJet, too, has cancelled flights from New Delhi to Hong Kong till March 28 and is giving a full refund or fee waiver.
In short, flyers can avail of a full refund or utilise the booking amount to travel with the airline in future.
The point to note here is that airlines may give refunds or offer free rescheduling if they are cancelling their flights, but not if you cancel your travel.
Want to go
Airfares on several international routes have dropped considerably in the aftermath of the virus outbreak (see table).
"While traffic to the countries that have been impacted the most has slowed, demand for travelling to other destinations still exists," says Bajpai.
If you want to travel, observe a few precautions.
Says Mukul Lalka, a Mumbai-based foreign travel expert: "Travel with minimum luggage. Wear and carry disposable masks and plastic hand gloves, like the ones chefs use in kitchens. Apply cream on the face, wash it regularly with soap, and reapply the cream, and use a sanitiser when you remove your hands from the gloves."
Plastic gloves will help you avoid contact with a potential virus-infected surface.
Keep your hands folded as much as possible to reduce inadvertent contact.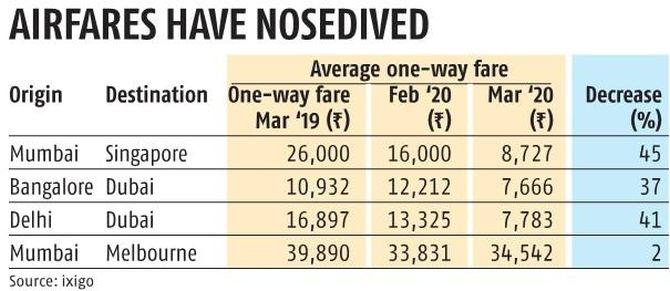 As for fresh bookings now, some players are offering special schemes in response to the uncertainty prevailing among travellers.
SOTC has also rolled out its "Ultra Flexi Scheme" for new customers.
"Under this scheme, customers will enjoy flexibility on departure dates, and only actual visa charges will be made in the case of cancellations due to COVID-19," says Daniel D'Souza, president and country head, leisure, SOTC Travel.
Will insurance protect you?
If you have health insurance, it will cover you if you travel to a destination within the country.
"Our health insurance plans cover such virus outbreaks. New diseases such as coronavirus will not fall under the category of pre-existing illness, so there will be no waiting period associated with them," confirms Biresh Giri, appointed actuary, head of product development and chief risk officer, Acko General Insurance.
Disease-specific cover is available now.
"Digit Insurance has launched a new policy that exclusively covers medical costs associated with coronavirus, but again treatment will be covered in India only," says Pravin Sinha, senior vice-president, Anand Rathi Insurance Brokers.
Disease-specific cover is less expensive than comprehensive health plans and may be purchased as a stop-gap measure by people who do not have health insurance.
But what if you are travelling to an international destination? "Overseas travel insurance policies will cover the disease as currently there is specific exclusion for covid-19," says Sinha.
However, he suggests checking with your insurer, especially if you are travelling to a country for which the government has issued an advisory suggesting you should not travel to it.