Byju's, Flipkart, PharmEasy and CRED, among others, have taken the acquisition route to grow, reports Shivani Shinde.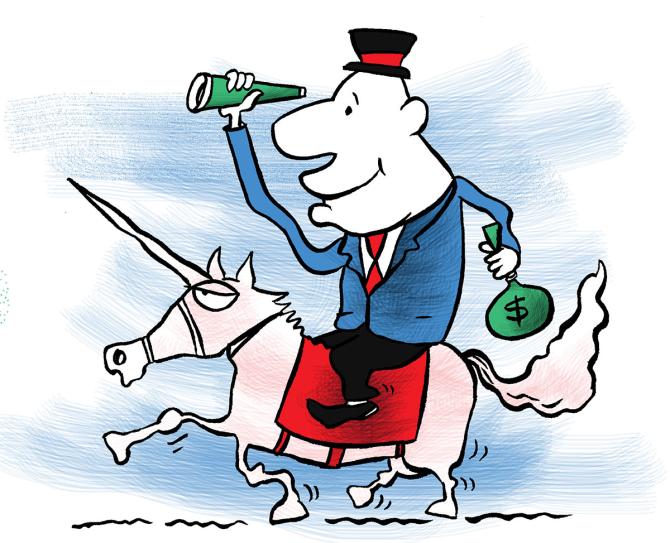 Even as startups in India continue to attract investors and take their valuations higher, several unicorns are now becoming strategic investors themselves and picking up stakes in smaller companies.
In 2021 restaurant aggregator and food delivery company Zomato led the pack by investing in five startups, including Curefit, Grofers, Shiprocket and Magicpin.
The other player that has been buying minority stakes in smaller startups is Rebel Foods, a cloud kitchen company.
It has invested in four startups, including Goodness Beverages, FoodyBuddy and Zomoz.
Explaining his rationale for picking up strategic stakes in smaller startups, Deepinder Goyal, founder of Zomato, wrote in a blog recently that while food delivery and dining out remains at the core of Zomato, investing in building the ecosystem that complements this business is also his focus.
"We want to take an investment route to building these businesses instead of building them in-house. This strategy is inspired by the likes of Alibaba and Tencent, where they invested behind the ecosystem at large, created multiple M&A options for themselves, and in the worst case of M&A not panning out, realised windfall financial gains from their investments in market leaders across different categories," wrote Goyal.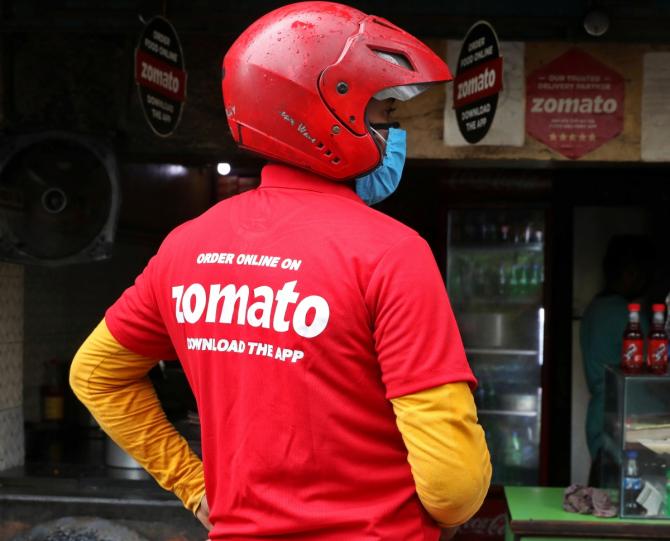 Zomato shut down its D2C (direct to consumer) business Nutraceuticals and chose to back Shiprocket, which offers logistics solutions.
Similarly, Fitso was sold to Curefit and in turn, Zomato also invested in Curefit.
Earlier this month, Rebel Foods had stated that it would invest $150 million in strategic brand investments and acquisitions in India and abroad.
"Investing for a minority stake in other startups can unfold serious synergies, especially when it comes to cross-selling and customer acquisition. Companies like Zomato, Swiggy, etc. can afford to compromise short-term RoI (return on investment) goals to build an ecosystem that supports their long-term growth plans," explained Ankur Bansal, co-founder and director, BlackSoil.
He added: "Acquiring a minority stake seems to be a prudent step on the part of these companies. They seem to be planning on investing additional capital once the businesses of their investments scale and grow and there is incontrovertible proof of synergies. While it is too soon to tell how this inorganic growth strategy will pan out, they have approached these investments more as partnerships as opposed to buying out the competition."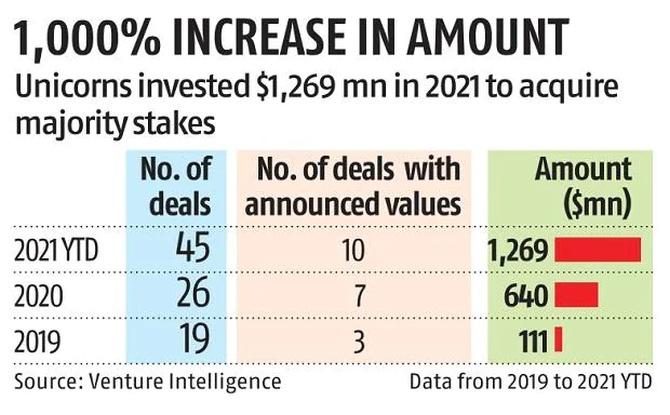 However, unicorns are not only acquiring minority stakes in startups -- they are also aggressively pursuing merger and acquisition opportunities.
Byju's, Flipkart, PharmEasy and CRED, among others, have taken the acquisition route to grow.
In fact, the number of unicorns acquiring majority stakes or buyouts have gone up significantly.
The value of such acquisitions hit $1.27 billion in 2021 (year-to-date) across 45 deals, much higher than $640 million in 2020 and $111 million in 2019.
Anup Jain, managing partner, Orios Venture Partners, which has invested in startups such as PharmEasy, Zostel, Zupee, among others, said: "The trend of bigger, more mature market-leading startups investing in smaller startups has a two-fold strategy. One, maintain dominance by identifying newer adjacent companies with promising talent which could become a threat in the future, and two, increase their own valuations through inorganic growth."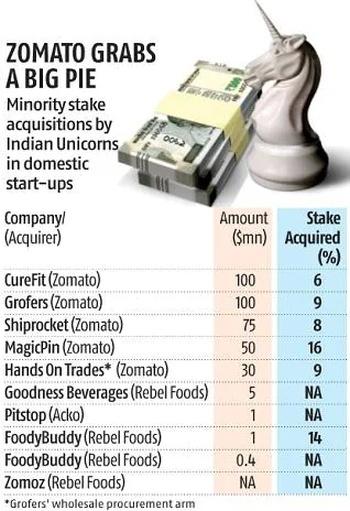 According to recent news reports, food delivery startup Swiggy, too, is looking to invest in Rapido, as it allows the food-tech firm to strengthen its logistics capabilities.
As for Zomato, it is planning to deploy $1 billion over the next 1-2 years in such opportunities.
"Our business today is at the confluence of food and hyperlocal e-commerce. What powers our business is the last-mile hyperlocal delivery fleet, which is now 300,000+ delivery partners strong on a monthly active basis. We are bullish about the various use cases that we can plug our delivery fleet into, and we think we can be the primary contenders for building large businesses in hyperlocal e-commerce in India," Goyal wrote.
Feature Presentation: Rajesh Alva/Rediff.com