Within TCS, the change was being brought about by the 'triple A strategy' — Awareness, Articulation and Amplification, says Shivani Shinde.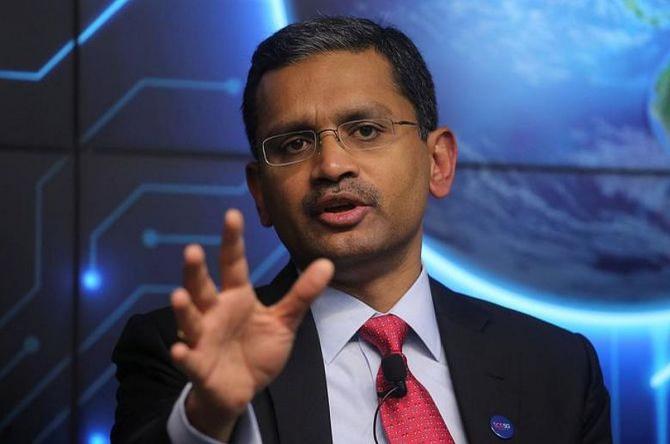 In March this year, when Tata Consultancy Services (TCS) unveiled a new brand statement of "Building on Belief", many wondered if it was the right strategy.
When things are uncertain, wouldn't a brand statement such as "Experience Certainty" have been better?
But for Rajesh Gopinathan, CEO & MD, TCS, it was all about the way the company was looking at business.
As Gopinathan explained over a video call, "Today, we have over 1,000 customers and 98 per cent of our business is repeat business; our relevance to customers should continue, and to increase.
"Our situation is unique as our customers want to work with us more, so the onus is on us to ensure that we develop ourselves continuously so that we remain relevant to the customer ecosystem and that is our G&T (growth and transformation) agenda."
The company started to talk about its G&T-led strategy more openly about three quarters back.
At a Q4 FY21 me­dia meet Gopi­nathan had said: "The overall opportunity, what we call 'growth and transformation', is huge, and we are still early stage participants there.
"We are investing in it across the value chain, whether in developing capabilities by harnessing contextual knowledge, by innovation, experimenting and investing into new opportunities."
He also pointed out that the upstream (consulting) work that is cornered by the Big Four — Deloitte, PricewaterhouseCoopers, KPMG, and EY — and the consulting services provider needs to change.
The traditional consultants have used a "cookie-cutter" type of approach to solve problems, he said.
Peter Bendor-Samuel, CEO, Everest Group, a global research and advisory firm, believes that there are two reasons for TCS to enter this space.
"First, it is a large and attractive market.
"Accenture and Capgemini are two somewhat similar firms that have been successful in building and sustaining large advisory and strategy businesses alongside their outsourcing and System Integrator (SI) business," he said.
The second reason is that TCS hopes to use the influence that advisory or strategy provides to get in early to large transformation SI and outsourcing opportunities and potentially create a sole-source capability similar to Accenture, Deloitte and E&Y's.
This shift has meant a lot of internal introspection.
Within TCS, this change was being brought about by the 'triple A strategy' — Awareness, Articulation and Amplification.
"It starts with a heightened awareness of what we do.
"One of the exercises that we have been doing for the past few years has been identifying the value of what we do," Gopinathan explained.
"There are multiple G&T projects in which TCS was participating and executing very well, but what we did in the last few years was to become more aware of which part of the customer agenda we are partnering with.
"And this awareness is the key part of our strategy."
The Articulation strategy began within TCS a decade back when the company brought in vertical focus into its business.
This meant that there were people who were experienced in a particular vertical, its trend, internal culture, challenges, technology needs and new possibilities and what that industry was doing at that stage.
These individuals were identified as Contextual Masters.
At present TCS has 25,000 Contextual Masters, who not only know their industry needs inside-out but also hold patents for their research work.
Gopinathan is focused on increasing this number manifold in the coming years.
The final "A" is Amplification. This is where clients endorse what TCS has made possible for them.
"This whole exercise was triggered by the feedback we got from our clients who said they cannot be our salesmen," added Gopinathan.
This is important for TCS as it's known for its execution capabilities.
But the G&T strategy focuses on innovative thinking and execution.
Take the case of the Nordic insurance player Gjensidige.
The firm wanted to increase its market share in Sweden.
Instead of asking what the client wanted, TCS suggested that Gjensidige could be part of its innovation lab in Ams­ter­dam, called Pace Port.
This is a place where clients and TCS co-innovate.
In this case Gjensidige got a team of business leaders who worked with a TCS team to create a pilot. Based on the results of the pilot, the company has created a backlog of activities that need to be carried out as part of its transformation, and TCS is part of it.
At present, TCS Pace has four hubs — in Tokyo, New York, Pittsburgh and Amsterdam.
"These co-innovation labs are not directed at solving immediate problems, but are designed to bring the engagement forward, and this has increased in volume.
"We have built a lot of credibility with the client and now we are taking it a step further and saying why not ideate on other areas, and it is generating a lot of interest," Gopinathan said.
To reach this point has meant a lot of internal change.
"The challenging part has been the internal mindset.
"This is not moving away from our values but claiming what is ours," Gopinathan added.
"Talking about what is rightfully ours is not negation of it but a logical extension because of the size we have and the aspiration that we have.
"When you are small, your work is visible internally and externally, but when you are large and diverse as we are you need to tell your story."
Bendor-Samuel thinks this shift will be a challenging one, especially when several have failed miserably when they shifted gears to be players in the advisory and strategy space.
"It is possible to pair the advisory and/or strategy business with SI and outsourcing as Accenture and Deloitte demonstrate.
"What makes TCS' journey harder is that there are already large firms in consulting advisory and strategy in the market blocking their progress," he added.
"On the other hand, TCS' strong customer relationships, with footholds in SI and outsourcing, is a very deep balance sheet," he pointed out, while adding, "But even with these formidable advantages, it faces a steep learning curve and a difficult journey if it is to emerge with a market leading business.
"Buying an existing firm is possible but the integration challenges are formidable; growing the business organically may mean that it never gets to scale and falls short of the kind of revenue and influence that it seeks."