Insolvency and Bankruptcy Code bound stocks have witnessed a steep fall in 2018.
Pavan Burugula and Advait Rao Palepu report on the hows and whys of this fall.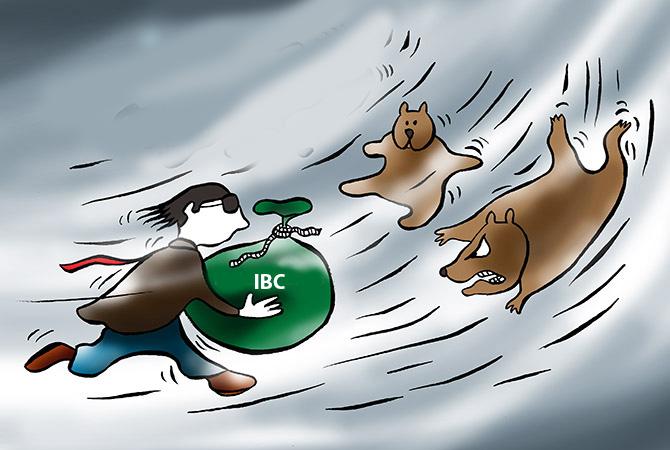 Illustration: Uttam Ghosh/Rediff.com
Investors betting on insolvency-bound stocks have been caught on the wrong foot.
Several investors had lapped up shares of companies that were headed for insolvency proceedings late last year, anticipating a business turnaround.
This optimism led to a 30% to 40% rally in these stocks.
However, the stocks have been on a downward spiral for the past few months as the turnaround process has not panned out according to expectations.
Uncertainty within the resolution process, consistent delays and the fear of trading curbs have prompted investors to book losses.
The Reserve Bank of India issued its first list of companies to be admitted under the Insolvency and Bankruptcy Code in June 2017.
The list comprised 12 companies whose outstanding debt had to be resolved before December 31.
Failing this, these firms would have to face proceedings at the National Company Law Tribunal.
Initially, market participants expected the bidding process for some of the companies to conclude by January 2018, with a turnaround imminent in the next six months. This prompted investors to take big exposure in these stocks.
"It was speculative trading as investors hoped to make gains when there was a turnaround in the company. However, such transformation is easier said than done," said Alok Churiwala, managing director at Churiwala Securities.
"If a company is undergoing insolvency proceedings," Churiwala added, "it means the company is bankrupt and there is a slight chance of a turnaround."
Jaypee Infratech's shares had rallied 68% between October and December 2017. Since the beginning of this year, the stock has plunged 75% amid unanticipated developments.
The company was one of the first real estate developers to be admitted in the NCLT.
Steelmaker Monnet Ispat and Energy is another case where the company's shares have taken a serious beating in 2018. The company featured in the RBI's first list of defaulters and was admitted in the NCLT late last year.
The news raised hopes of a turnaround, lifting its shares by 20%. However, a legal tussle between prospective bidders, ArcelorMittal and JSW Steel, delayed proceedings. The stock has fallen 49% during the year.
In insolvency proceedings, bidders are expected to pare debt and plan out a turnaround plan for the stressed companies within 270 days.
Experts say an actual turnaround can take up to three years as plans have to be implemented while the new management settles in.
However, proceedings have dragged on due to the complex nature of the process, jurisdictional issues between different government agencies, and litigations by promoters and bidders.
This has led to delays in the resolution process as the appellate tribunal and Supreme Court have been approached for providing direction and clarity.
Fear of regulatory curbs on the NCLT-bound stocks is another reason keeping investors at bay.
During its latest board meeting, Sebi had proposed imposing trading restrictions on the stocks that were undergoing insolvency proceedings in order to curb speculative trading. However, the market regulator is yet to release final norms.