The fear of price rise gained momentum after reports surfaced that the NAFED procured 50,000 tonnes of onion this season.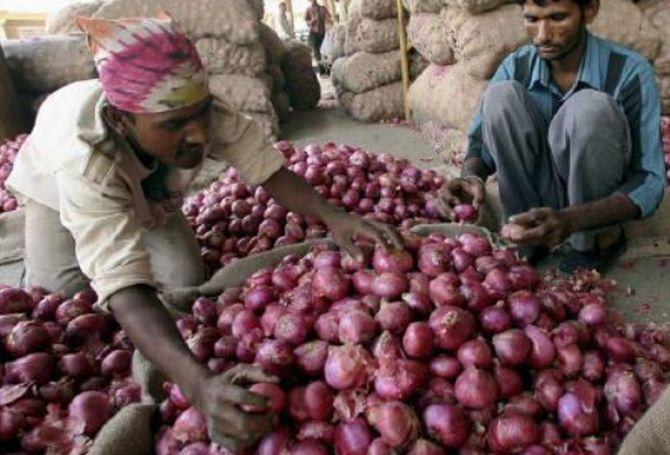 High temperature in most areas and the fear of drought may hit onion prices.
Maharashtra and south India, which produce 60 per cent of the bulb, are battling high temperatures and experiencing drought conditions like last year.
Onion prices are selling at Rs 12 per kg in Lasalgaon mandi in Maharashtra.
A government official said rabi sowing in Maharashtra has fallen 15-20 per cent and prices are already at Rs 12 in Lasalgaon, which raises fears of mounting pressure on prices around August.
Onion is a sensitive commodity and last year there was a problem of plenty, with low quality onion being sold at Rs 1 a kg - leading the government to take urgent corrective actions to support prices.
This was reversed few months later. The prices would stabilise after November, the official added.
The fear of price rise gained momentum after reports surfaced that the National Agricultural Cooperative Marketing Federation (NAFED) procured 50,000 tonnes of onion this season.
NAFED has mostly sold last year's procure, which is keeping prices in check.
However, the cited quantity is viewed as lower-looking in a scenario that could shape up going forward.
Ajit Shah, president, Onion Exporters Association of India, said the worry is about more crop produce from Southern India.
Last year too, there was a drought, and production was lower. Produce from the south had been acting as a price deflator in Maharashtra.
This year, crop arrival is expected to fall, which means cushion from crop availability will not be there in July-August.
Led by Karnataka, South India produces over 20 per cent of the total crop. In Gujarat, too, lower crop production by 10 per cent is a major concern.
High temperature is also affecting quality of the stored onions.
The temperature affects the yield of standing crop and durability of the stored crop.
Prices of this commodity have largely remained under control, except a sharp fall in January-February because of a 50 per cent increase in production over the last five years, which has given enough cushion to the market.
Shah, however, said the stock position of onion is good and prices will not rise if the monsoon are normal.
The Onion market also depends on wastages apart from monsoon.
Wastage is estimated at 30 per cent, which is because crop durability is low, excess rain damages and increased temperature makes onions dry which hits quality.
This is apart from other damages like transport etc from which no vegetables are exempted.
Some crop loss can be easily handled by keeping wastages low.
Photograph: Amit Dave/Reuters