Falling jet fuel prices, stable rupee signal lower losses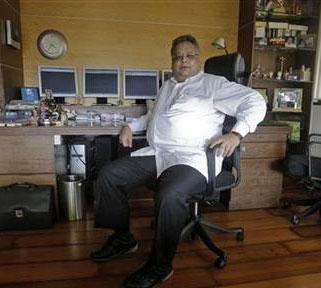 Ace investor Rakesh Jhunjhunwala may have seen the beginning of a turnaround for debt-ridden SpiceJet when he bought a 1.4 per cent stake in the airline for about Rs 13.41 crore (Rs 131 million) on Friday. The Kalanithi Maran promoted airline, which reported five consecutive quarterly losses, has been unsuccessfully trying to raise fresh capital for much of this year.
SpiceJet did not respond to an emailed query.
It reported a Rs 310 crore (Rs 3.1 billion) loss in the quarter ending September against Rs 560 crore (Rs 5.6 billion) in the year-ago period. The airline is now operating 26 Boeing 737 jets, down from a fleet of 35 earlier this year. But the operational environment for the airline seems to be changing with the dramatic fall in crude oil prices, a stable rupee and a reviving economy. The airline expects to fly 50 jets by the second half of the next year.
"Despite concerns over negative net worth, the operating environment has turned favourable over the past two months," says Rashesh Shah, analyst with domestic brokerage ICICI Securities. "With over 10 per cent reduction in ATF (aviation turbine fuel) prices and improving demand, we expect healthy margin expansion," he adds.
Brent crude oil prices have declined to an average of $78.4 per barrel in November from a high of an average of $101.98 a barrel in August. This has led to a decline of 14.4 per cent in ATF prices to Rs 59,943 per kilolitre in December from Rs 70,044 in August in Delhi. ATF prices are expected to further decline to about 20 per cent lower than the August prices as crude prices are expected to be around $75 a barrel in the near term.
With ATF accounting for about 50 per cent of domestic carriers' operating costs, this is likely to cut SpiceJet's losses sharply in 2015-16. Sales tax rationalisation expected at key airports in the next 6-12 months will further lower costs. The rupee is now much more firm against the dollar, one of the influencing factors with nearly 75 per cent of total operating costs linked to it. This will help bring down SipceJet's operating costs.

"Based on an expected fall in ATF prices, further cost rationalisation and sensible revenue management post recapitalisation, it is possible to see SpiceJet's turnaround in the next 12-18 months," says Kapil Kaul, chief executive officer (South Asia) at the Centre for Asia Pacific Aviation (Capa).

According to the Director General of Civil Aviation, there was an 8.6 per cent growth in the number of passengers carried by domestic airlines in the January-October period. This is expected to accelerate as India's economic growth is expected to reach six per cent in 2015-16 from 5.3 reported in the quarter ending September.

SpiceJet succeeded in increasing its market share to 18.1 per cent in 2013-14 from 12.9 per cent five years ago by expanding its fleet and keeping its prices low. But a high cost environment caused by currency weakness and a demand slowdown over the past two years led to heavy losses. The company reported a Rs 1,003 crore (Rs 10.03 billion) loss in 2013-14, up from Rs 191 crore in the previous year.