'How low GDP would have been, we don't know.'
'It raises serious questions because so many indicators are pointing to such a sharp decline and GDP estimates are still showing 4 per cent growth.'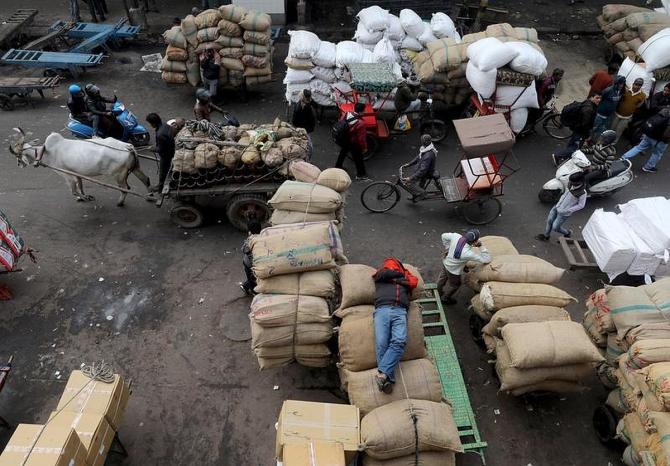 Criticism of the current official gross domestic product (GDP) series is not new.
Many commentaries have put a question mark on the latest series since it was announced in 2015.
The current series has a different methodology to calculate GDP and its various segments when compared with the old one.
The current base year is 2011-2012, while it was 2004-2005 in the previous calculations.
A recent presentation by former chief economic advisor Arvind Subramanian at the Indira Gandhi Institute of Development Research has reignited the debate on the latest GDP series.
The presentation was basically a study -- titled Peering Back to Look Forward: Measurement to Prognosis -- done by Subramanian and Josh Felman, former International Monetary Fund resident representative in India who now runs an economic consulting firm, JH Consulting.
It showed that GDP had contracted during 2019-2020, a pre-pandemic year, unlike the official version that showed GDP growth merely decelerated to 4 per cent during that fiscal year.
GDP grew 6.1 per cent in 2018-2019 and 7.2 per cent in 2017-2018, according to the data released by the ministry of statistics and programme implementation.
Subramanian and Felman presented their findings in a 'posterity' curve that they plotted using the numbers given by the National Statistical Commission panel, headed by Sudipto Mundle, during 2005-2006 and 2010-2011.
After that, Subramanian and Felman made estimates based on alternative indicators, such as IIP (consumption), IIP (investments), tax revenues, exports, imports, and credit.
To a query from Business Standard, Subramanian clarified: "These were estimates with uncertainty around them."
In his response to a question as to how much had GDP contracted during 2019-2020, the former CEA further clarified: "I don't have an exact number, but looking at all the other indicators it (GDP growth) should be negative. How much negative remains to be precisely estimated."
All the indicators used by Subramanian and Felman declined during 2019-2020.
For instance, investments shown in the IIP contracted 7.1 per cent, and consumption in the index declined 3.8 per cent that year.
Besides the two segments of the IIP, imports declined 5.5 per cent, tax revenues slipped 4.6 per cent, exports dropped 1.9 per cent, and credit fell 1.4 per cent.
But are the conclusions arrived at by Subramanian and Felman appropriate and do other economists involved with GDP calculations concur with them?
"No," said former chief statistician Pronab Sen.
He explained that the difference between the previous series and the current series is that in the former "you went essentially by physical output and then converted physical output to value, while in the new series you are measuring it in value terms".
He pointed out that both indicators and current GDP series have uses.
"This does not mean that the new GDP series is wrong. If you are getting diversion (between indicators and the new GDP series), then you should apply your mind as to what you are looking at from the data."
"To conclude that the new GDP series is wrong because it is not in sync with what other data points are telling us -- that is a statement that he (Subramanian) has been making for a while. That is wrong. My personal view is that his approach is wrong," Sen stated.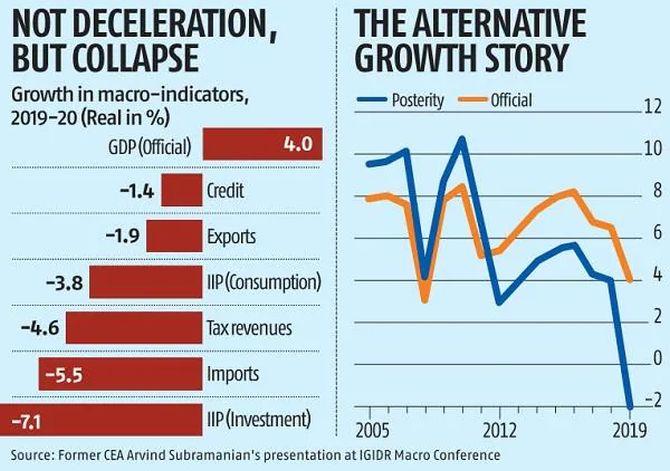 Sen said the question one should be asking is why indicators and GDP growth as measured by new series are diverging.
The reason why they are diverging is that there is an income distribution issue post-demonetisation, explained Sen, who is now director of India Programme of International Growth Centre.
The poorer people were hit much harder than the richer, Sen said, adding that there was an income distribution hit that had happened.
"You see what was happening; motorcycle purchases went down. The income distribution moves everything in the consumption basket towards higher value items, even as they may be the same in volume terms. People who were buying Maruti Alto could no longer buy them, but people who were buying Baleno could now afford to buy SUVs. That will show up in the GDP figures that are measured in value terms. That will not show up in physical terms," Sen explained.
If one reads the GDP data with physical indicators, s/he would find that the composition of the consumption basket has changed post-demonetisation.
"Consumption has shifted from low-value products to high-value products because richer people have more money and the poorer have even less," Sen said.
Mundle, who is now a distinguished fellow with the National Council of Applied Economic Research, complimented Subramanian for using "fairly robust parameters", but cautioned that his posterity graph is a guess and does not portray actual numbers.
"I think he (Subramanian) is making a very credible case. However, what he shows as a 'posterity' curve is just an imagined curve. That is not an accurate thing," Mundle said.
The data that Subramanian assembled certainly raises questions about the official series of GDP, not just for 2019-2020, but also for earlier years," Mundle added.
"But how low GDP would have been, we don't know. We don't have alternative estimates. It raises serious questions because so many indicators are pointing to such a sharp decline and GDP estimates are still showing 4 per cent growth. It should be looked at seriously. But we don't have any alternative estimates. His posterity curve is not an accurate thing; it is guess work," Mundle pointed out.
N R Bhanumurthy, who was a member of the panel that made recommendations on back-dated GDP data based on the new methodology, said: "If you look at the (posterity) graph, he (Subramanian) was only extending the old GDP graph. He was trying to drag the old GDP methodology to a new database. In my view, the old and the new methodologies are not comparable. There are many differences, such as coverage of the sectors and different databases."
Bhanumurthy, now vice-chancellor of the Bengaluru-based B R Ambedkar School of Economics, noted two things are happening -- the government is doing the back-casting by using the new methodology on old databases for the pre-2011-2012 series and Subramanian is using the old methodology for forecasting GDP post-2011-2012.
The Mundle report gave its recommendations on the back-dated data on the current series in July 2018.
However, the the ministry of statistics and programme implementation later came out with its own back series data that depressed the GDP growth during 2005-2006 to 2011-2012 when compared with what the old series had shown and what the Mundle committee had recommended.
For instance, the Mundle panel had shown the GDP growth rate of 10.23 per cent during 2007-2008, against 9.73 per cent shown by the old series and 10.78 per cent for 2010-2011 compared to 8.91 per cent in the old series.
The official series showed these numbers at 7.7 per cent for 2007-2008 and 8.5 per cent for 2010-2011.
Bhanumurthy said there is not much difference between the numbers given by the Mundle panel and the official ones at the nominal level.
"It is only in the real numbers (after adjusting for inflation) that there is a difference," he said.
It is basically inflation that accounted for the difference, Bhanumurthy pointed out.
For instance, the Mundle panel showed GDP growth at nominal prices at 16.57 per cent for 2007-2008 and 20.73 per cent for 2010-2011, and official figures put them at 15.1 per cent and 19.9 per cent, respectively.
What the official methodology did was first, it estimated nominal numbers and then it used deflators to get real figures.
It is more of a "deflated growth", he said.
The Mundle panel retained the GDP deflators of the previous series and worked only on the nominal, while the revised official methodology worked on nominal, as well as on the deflators, he explained.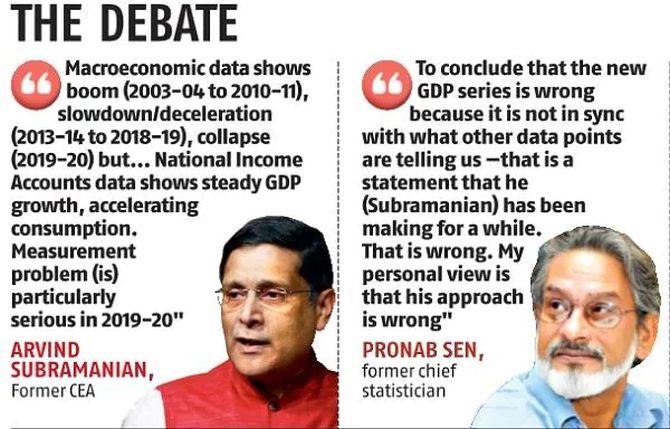 Feature Presentation: Aslam Hunani/Rediff.com