Three-quarters into the 10 years that Mr Modi had sought for transforming India, the 'output' numbers look impressive, but the key 'outcome' numbers don't show up much, if at all, observes T N Ninan.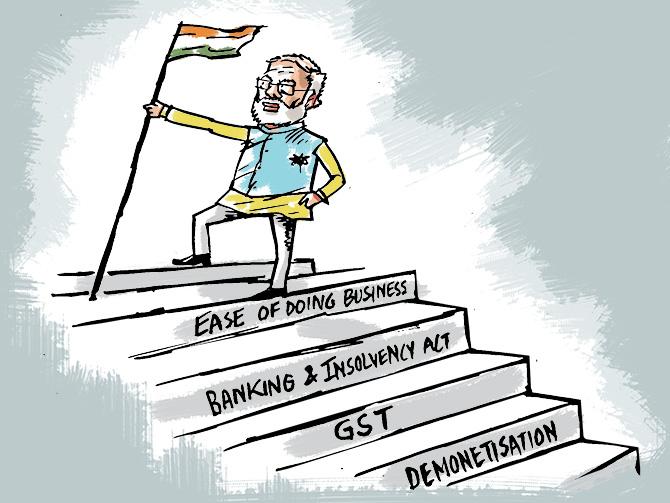 Narendra Modi is days away from the half-way mark of his second term in office, having been sworn in on May 30, 2019; and three-quarters of the way through the 10 years he had sought to transform India.
How should one assess his economic record?
Since Covid's impact was felt from late March of 2020, it would make sense to consider Mr Modi's first six years as one group, and treat the subsequent period separately.
That produces an odd coincidence: The official figures show that in his first six years GDP growth was almost exactly the same as in the last six years (2008-2014) of the Manmohan Singh government: 48.6 per cent for Mr Modi, compared to 48.4 per cent for Dr Singh.
So Mr Modi's economic record till 2019-2020 was not the 'disaster' that Dr Singh had predicted, nor the confident march to double-digit growth that the NITI Aayog and others had blithely forecast.
If anything, there was a steady loss of momentum.
The prime minister's acolytes rightly argue that his record would have been better if he had not inherited the bad debt problem.
On the other hand, he benefited from a sharp drop in oil prices as soon as he took charge, and that boosted GDP growth in his first couple of years even as it crimped inflation and improved the trade balance.
On their part, Mr Modi's critics point to the damage caused by demonetisation and a defective goods and services tax, especially to the informal sector, and therefore to employment.
If one were to set aside the human cost of disruption and unemployment and look at pure economic growth, India muddled along much like before.
If, that is, you buy the official statistics.
There are those who don't, who point to export stagnation and other faltering indicators since 2011, like credit growth, corporate profits, and investment.
Mr Modi's signature effort has been on two fronts.
One is the use of technology to make government programmes more effective and better targeted, and the second is the expansion of mostly existing welfare programmes - in some cases achieving a quantum leap.
The 'output' numbers are impressive, whether it be new houses and toilets built, new bank and gas connections, the rapid expansion of renewable energy capacity, medical insurance, and now tap water.
But the key 'outcome' numbers that should reflect this output surge -- better health and education attainments, a lower poverty headcount, or reduced air pollution -- don't show up much, if at all.
Poverty may in fact have increased if one takes into account the stagnation or drop in consumption as well as in employment.
So we have a new duality: Many millions have access to benefits or mod cons that they did not enjoy before, yet they also wait for the promised 'achchhe din' -- in essence more work for better pay.
Then there is the Covid phase, a period of bungling, then learning from mistakes.
The first national lockdown was a gross error (remember those migrants), so the second round was handled differently.
The vaccination programme started slowly and late, but then picked up momentum -- only to have lost it again.
The country was not ready for the second round of Covid, having already declared victory over the pandemic, but the government scrambled to recover.
The official death toll is approaching half a million, but independent estimates place it at multiples of that.
The economy suffered sharply in 2020-2021, but has seen an equally sharp recovery.
On every metric, some countries have done better, others worse.
Meanwhile, Mr Modi's governance style has become clear: Make expansive promises (like doubling farmers' incomes), drive officials to deliver against ambitious programme targets, emphasise the successes and divert attention from the failures by presenting new goals, and do ceaseless image projection.
If the output-outcome duality remains it is because this government focuses on specific programmes, has a patchy record on sector reform, and is weakest on the broad goals of faster growth, employment creation and poverty reduction.
Feature Presentation: Aslam Hunani/Rediff.com