'India is the only country whose economy is strong and growing fast.'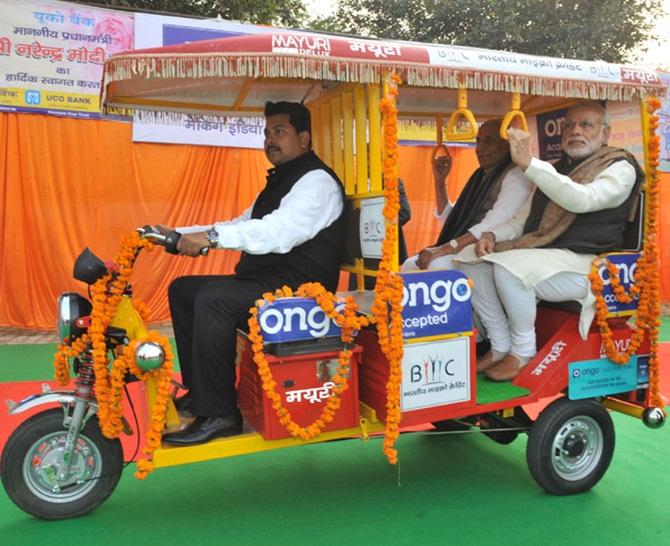 Image: Prime Minister Narendra Modi taking a ride on E-Rickshaw, after the distribution at Rickshaw Sangh programme by the Bhartiya Micro Credit, in Lucknow. Photograph, courtesy: Press Information Bureau
Prime Minister Narendra Modi on Friday said his government is aiming not only to make India the fastest growing economy but to transform the lives of the poor people wherein the youth will have employment and can stand on their own feet.
Modi, while distributing electric rickshaws to a number of people in Lucknow, talked about a number of schemes of his government like Jandhan Yojana, Mudra Yojana and Atal Pension Yojana and said these all were aimed at transforming the lives of the poor people.
"Today, the entire world is facing economic recession and even the major countries are affected. Amidst this, India is the only country whose economy is strong and growing fast," he said in his address at the event.
He said the global bodies like the World Bank, IMF and rating agencies unanimously accept that India is going to progress rapidly.
"When we hear this, it gives satisfaction to us. But our target is not only to make India the fastest growing economy but to transform the lives of the poor people. We want that the youth should have employment and stand up on their own feet," said the Prime Minister who is on his first visit to Lucknow after assuming the top post in May 2014.
He said his government's effort has been to ensure that the youth do not have to wander in search of job but have some own venture and hire some others too.
"Our all initiatives have been for the common people so that they can live on their strengths and contribute to the economic development," said Modi who, along with Home Minister Rajnath Singh, had a ride in an e-rickshaw before the event.
Referring to the initiatives regarding the financial inclusion, the Prime Minister said banks had been nationalised 40 years ago with an argument that it was for the benefit of the poor people.
"40 years passed but the doors of banks had not opened to the poor people. After our government came, we decided that the poor people should have accounts in banks. By now, 20 crore (200 million) new bank accounts have been opened (since the Jandhan Yojana was launched in late 2014)," he said.
Modi said Rs 30,000 crore (Rs 300 billion) had been deposited in these accounts even though the government had said that these could be 'zero balance' accounts.
"The poor people live by their values and principles. That is why they did not want to keep their accounts with zero balance," he said.
He then talked about Mudra Yojana under which loans are given to the poor people.

"In 5-6 months, two crore (20 million) people have got loan under this scheme. Without any guarantees... just on the basis of trust, Rs 80,000 crore (Rs 800 billion) have been disbursed under this scheme," the Prime Minister said.
While talking about the electric rickshaws, he said these vehicles would benefit not only those using these and their families but also help in the fight against the global problem of climate change.
The e-rickshaw users will also be entitled to Atal Jeevan Bima Yojana and other such schemes, he said, adding it will be like a "protective shield" to them.
Modi said that drivers were the first contact for tourists and key in shaping the image of the country when they interact with the travellers.

He said e-visas are being given to more than 100 countries and special training will be imparted to drivers about their conduct.