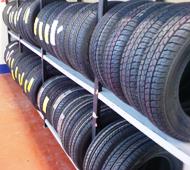 In the first protest of its kind, transporters have decided to boycott Apollo Tyres from June 2 for increasing tyre prices.
The All India Motor Transport Congress, the apex transporters network (it represents around 680 associations and seven million trucks) announced on Tuesday it would not carry raw material supply to the company's three plants in Tamil Nadu, Kerala and Gujarat and would also block the supply of Apollo's products in the market.
The threat is to soon boycott other tyre makers, too. Transporters claimed tyre prices have shot up by 52 per cent in recent times.
"We have decided to boycott the inbound and outbound transportation from all Apollo Tyres facilities from June 2. If the tyre prices are not reduced in 10 days, we will also boycott services at the facilities of other tyre companies also," said G R Shanmugappa, president of AIMTC.
The government has chosen to remain silent on our concerns over the cartelisation by tyre manufacturers, he added.
Apollo Tyres said it would not comment, as it had yet to get any communication from AIMTC.
"In the last 12 months, raw material prices have moved up by more than 40 per cent, and natural rubber, which constitutes 50 per cent of the raw material, increased by 70 per cent in FY11 as compared to FY10,"
said an email reply from Apollo Tyres.
The reply further said Apollo had tried and absorbed the cost push up to a certain level by increasing internal efficiencies. Beyond which, they had to go for price corrections.
"The total price increase taken in this period was only 16 -17 per cent. This massive difference in the cost push and the price increases have resulted in our profits going down by more than 30 per cent," added the reply.
AIMTC also demanded that diesel prices not be raised; rather, that these be reduced by at least Rs. 2 per litre.
"If the diesel prices are increased, we will not be able to operate our trucks because the business will become further unviable," said O P Agarwal, chairman, All India Transport Welfare Association and a member of AIMTC.
He said diesel and tyre costs were 82 per cent of total operating cost. With any further rise, it would be impossible to operate.
"The government should reduce diesel prices by Rs. 2 per litre so that we do not go deep into red," he added.
AIMTC has also insisted the proposed clause in the new Carriage by Road Rules for suspending the registration of a trucker for a week in case of a complaint of non-delivery be removed. Else, it has threatened action.