There is no substitute for hard work. I think the smartest people in life don't get ahead. It's the hard working people who do, says Rishad Premji.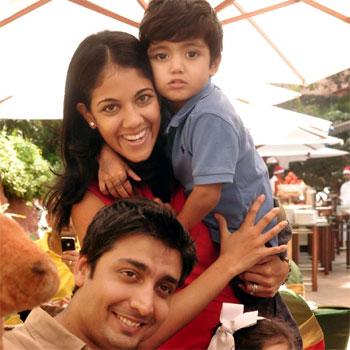 Some four years after he joined Wipro in 2007, Rishad Premji, the elder son of chairman Azim Premji, gave his first interview to the Indian media, although a little reluctantly, desperate to avoid the kind of attention that he had garnered when he had first joined the company as a manager.
Recently, when he was inducted into the company board; Rishad was only quoted in a press statement released by the company. In spite of being a part of the company for almost eight years now, the 38-year-old likes to keep a low profile.
His integration into the company was modest. After spending six years working for companies such as Bain & Co and GE Capital, Rishad, who graduated in economics from Wesleyan University and later went on to pursue an MBA from Harvard University, joined Wipro as a manager in the banking, financial services and insurance (BFSI) business. Rishad married Aditi in 2005 and the couple has a daughter, Rhea, 8 and a son, Rohaan, 7.
Unusually for India, he got his first job at Wipro after going through a series of rigorous interviews. "It was a personal decision and I came to Wipro like any other employee. I was interviewed by Girish Paranjpe when he was in London. I approached it the way I would have approached any other new job," Rishad had told Business Standard in an earlier interview. "I came with no expectation. I was just looking for a new job, moving to a city that I had left 12 years ago."
However, unlike his father, who had to leave his studies midway at Stanford University due to the sudden death of his father to manage the family-run business, Rishad had a well-established system to guide him when he joined Wipro.
During his time at the company, Rishad has been slotted into a variety of roles - handling consulting, investor relations and merger & acquisitions (M&As). He was also instrumental in setting up the company's corporate venture arm, Wipro Ventures, with a corpus of $100 million that has already seen some success.
"He has got the right education and the right pedigree. The experience he gained from working with companies such as Bain has helped him tremendously at Wipro," says a senior source at the company. "He has a strong sense of work ethic like Premji, and his induction to the board should be seen as a transition phase in the organisation."
In a statement issued on Tuesday, Wipro had made it clear that eventually Rishad would take over the 'mantle of ownership' from his father. "These past eight years have given Rishad an in-depth view of the organisation. He is well-positioned to guide Wipro," Ashok S Ganguly, independent director and chairman, board governance and nomination Committee, Wipro, had said in a statement.
The next few years will give Rishad an opportunity to get involved at the apex level, and to shape the future of the company. Along with juggling various executive roles, his biggest challenge would be to revive Wipro's slumping fortunes and help the company attain a growth rate that matches the industry average.
"The greatest lessons I have learnt from him (Premji) are discipline and hard work. There is no substitute for hard work. I think the smartest people in life don't get ahead. It's the hard working people who do," says Rishad.
Image: Rishad Premji with wife Aditi and son Rohaan. Photograph, via Facebook