Rajan's departure from the RBI is an end to 'outside interference' in policy making, government insiders feel.
Archis Mohan reports.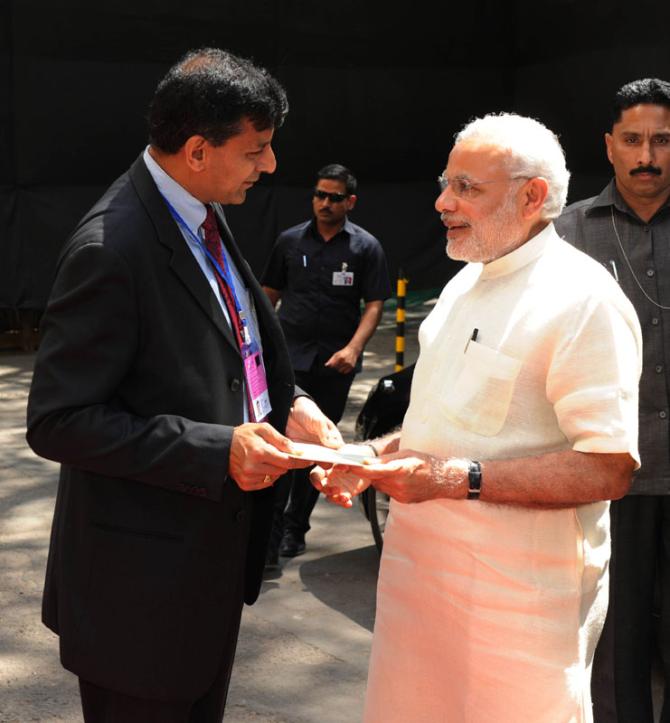 IMAGE: Reserve Bank of India Governor Raghuram Rajan greets Prime Minister Narendra Modi at the RBI headquarters in Mumbai. Photograph: Press Information Bureau
That the larger Sangh Parivar was unhappy with Reserve Bank of India Governor Raghuram Rajan for his views on issues such as 'intolerance' was no secret.
The die was cast when Subramanian Swamy, a Rajya Sabha member from the Bharatiya Janata Party, wasn't reined in when he went as far as calling Rajan's policies 'anti-national in intent.'
There were also severe difference of opinion between Rajan and those in the government, including in the finance ministry bureaucracy, on the RBI's monetary policy, particularly on the issue of the central bank's refusal to lower interest rates.
People in the government and industry had complained about Rajan's obstinacy in not reducing interest rates, especially when the oil import bill was low and other macro-economic indicators were suitable.
Those in the government and industry were looking at the RBI to reduce interest rates to spur growth in real estate and the MSME sector.
A spurt in these two sectors, or so it was argued, would have contributed to job growth -- one of the principal planks of Prime Minister Narendra Modi's 2014 Lok Sabha campaign.
It was also deeply resented that Rajan had backers such as former finance minister P Chidambaram and Infosys co-founder N R Narayana Murthy. Both had gone on record asking for a second term for Rajan.
The decision on a second term for Rajan, it was felt, would be taken after the prime minister's return from his five-nation visit, including to the United States, earlier this month.
However, according to one source privy to the Rashtriya Swayamsevak Sangh, the BJP's ideological parent, and also the government's views on economic issues, Rajan's departure from the RBI is an end to "outside interference" in policy making.
The RSS might exult at Rajan's exit as its triumph, but the source said Rajan's views on intolerance were only the last straw. The source likened his exit to one of the first decisions of the Narendra Modi government -- that of kicking out 350 consultants who during the UPA years advised the government on various issues of planning and policy making.
Another source went as far as to say that Rajan demoralised government-owned banks and destroyed the economy.
In his first comments after the development, Swamy, currently in Bhubaneshwar, termed Rajan's decision as 'good.' Swamy had written to Modi to demand that Rajan be sacked as he is not 'fully mentally Indian' and had been sending confidential and sensitive financial information around the world.
'The reasons I had given (against Rajan's continuance) were all valid. He has realised he would not get a second term. That's why he has made a statement himself,' Swamy said on Saturday.