Amid headwinds across global markets, US issues fresh restrictions on H-1B visas. Ayan Pramanik and Raghu Krishnan list out the many ways in which this impacts the Indian IT industry.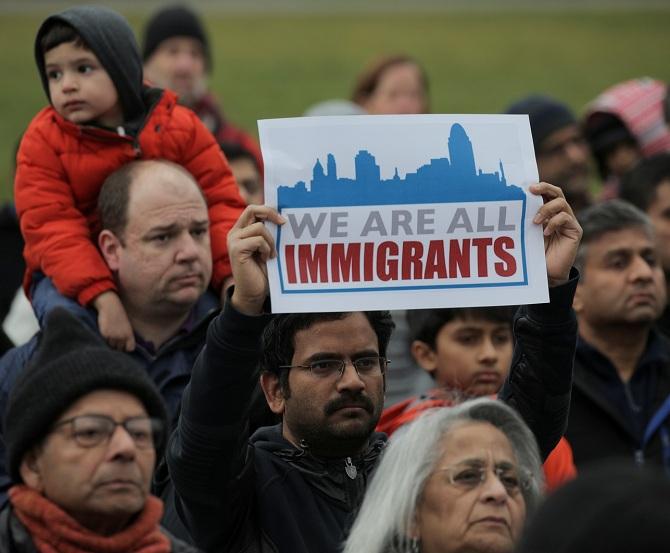 The $115-billion software services sector in the country will possibly have to deal with fresh restrictions after the Donald Trump government announced measures to step up scrutiny of H-1B visa holders in the US. There are plans to prohibit visas to entry-level engineers too.
The US Citizenship and Immigration Services Agency said this week that it would scrutinise petitions on three parameters -- validation of employer's basic business information, higher H-1B employee ratio and employers petitioning for H-1B workers who work offsite at another company or organisation's location. There will be more scrutiny of fresh engineers who apply for these visas.
The latest salvo from the US has come at a time when there's an air of protectionism globally.
Besides the US, the Indian information technology (IT) industry is already facing visa hurdles in other important export bases, including the United Kingdom and Singapore. The governments of the UK and Singapore are also increasingly protecting high-paying computer engineering jobs for locals.
The Trump administration's move will hit Indian IT firms such as Tata Consultancy Services, Infosys and Wipro as well as US firms such as IBM, Google and Facebook, who depend on H-1B visas to send engineers from India to work on projects in the US.
The US has opened a window to invite applications for 85,000 H-1B visas it plans to issue for 2018.
Kris Lakshmikanth, chairman and managing director of The Head Hunters India, a specialised recruiting agency, estimates that the Indian IT services industry would have to slash the number of engineers it sends to the US on H-1B visa by half.
Last year, 40,000-odd engineers had gone to the US on this visa.
"An overall protectionism in the US is also expected to hit the Indian IT firms' bottom line (profit), if the legislation to double minimum wage for H-1B visa holders is passed," said Lakshmikanth.
Recently, Singapore also stopped issuing work visas to Indian IT professionals, pushing companies to hire locally.
In November, the UK tightened visa rules, making it difficult for Indian IT professionals to work in the country. The visa rules have set higher threshold for salaries and tougher language norms for family members of visa holders.
For many Indian companies, Singapore acts as a base for Southeast Asia, while the UK is a regional base in Europe.
The National Association of Software and Services Companies (NASSCOM), the lobby group representing Indian software companies, has termed the steps taken by the Singapore government as "unfortunate".
The net effect is that the existing people are getting phased out, said R Chandrasekhar, president, NASSCOM. "When the visas expire, they (engineers) come back and that's the end of the story.''
Companies have invested in Singapore to build a base there for the Asean region, Chandrasekhar said: "Now that does not look like a viable option."
The industry has raised its concern at multiple levels, including before the Singapore and Indian governments.
---
Also read: Trump era actions on H-1B
---
These developments will push Indian firms to hire a larger number of local engineers in the US and other international locations, thereby increasing their cost.
It could perhaps delay execution of projects, too, because of shortage of talent in several geographies outside India. For instance, the US faces a shortage of one million computer science engineers, according to estimates. The gap has so far been addressed by sending Indian engineers on work visas and moving work offshore to India.
The fresh crackdown may also force Indian IT services companies, which apply for nearly one-third of the H-1B visas issued to India, and their counterparts in the Silicon Valley to be selective on H-1B applications this year.
Pareekh Jain of HfS Research India says this is a change in the evaluation and execution process, but the policy remains same. "This will primarily result in selective approach by Indian IT firms in H-1B visa petitions."
Computer programmers made up about 12 per cent of all H-1B applications certified by the Department of Labor in 2015, Bloomberg said. "The H-1B visa programme should help US companies recruit highly-skilled foreign nationals when there is a shortage of qualified workers in the country. Yet, too many American workers who are as qualified, willing, and deserving to work in these fields have been ignored or unfairly disadvantaged. Protecting American workers by combating fraud in our employment-based immigration programmes is a priority for USCIS," said the agency.
While the industry is already struggling to maintain growth momentum in traditional services business, companies may have to factor in a higher cost for sending engineers on projects in the US, anticipating a wage hike for H-1B visa holders.
Meanwhile, many Indian firms have already announced hiring more local workers as visa restrictions intensify.
Infosys declined to comment on this development.
But Nasscom, in a statement, said that "the H1B visa system exists specifically because of the persistent shortage of highly-skilled domestic IT talent in the US, and our member companies have and will continue to provide skilled talent and solutions to fill that gap and keep US companies competitive globally."
During his election campaign, US President Trump had called for tougher immigration laws for technology companies, and had threatened to impose taxes on companies that moved work offshore.
In his first State of the Union address to a joint session of the US Congress last month, he also proposed having a merit-based immigration system like Canada, Australia and other nations.
Poorvi Chothani of LawQuest, a global immigration and employment law firm, believes a few Indian IT services firms may reduce the number of petitions this year.
"The number of H-1B petitions for Indian nationals may be less. But overall, we expect there will still be more applications than the overall cap of 85,000, leading to a lottery for this year too," said Chothani.
"The new Trump administration would clearly like to introduce more protectionist policies, and this new memo is a minor example of their intent. However, it is also clear that the Congress has limited appetite to enact significant protectionist legislation. It is probable that the visa laws will be changed in future years and that the new laws will close the loophole which service providers exploit to aggressively utilise H1B and L1 visas to subsidise their on shore costs structures," said Peter Bendor Samuel, founder and CEO of Everest Group, a global outsourcing advisory.