Where do Indian IT firms stand compared to their global peers in this journey of transformation?
Ayan Pramanik seeks answers from IT services analyst Phil Fersht.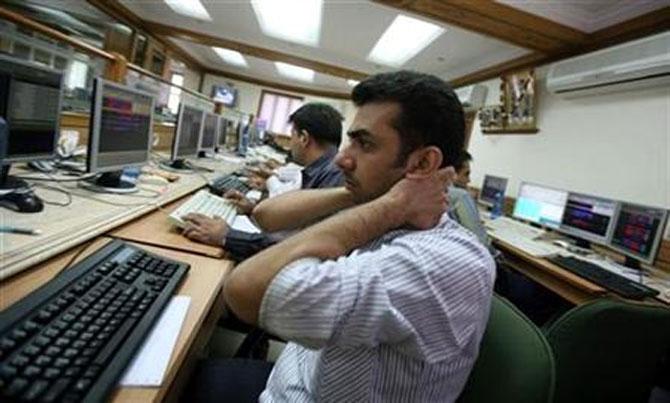 IMAGE: There is an increasing need for Indian IT firms to develop their consulting capabilities. Photograph: Reuters.
As the Indian information technology sector shifts its focus from legacy technology to cloud-based services and automation; Trump's administration in the US may bring fresh challenges primarily with access to talent. Companies like TCS, Infosys, Cognizant, Wipro or HCL Technologies will vie for rebid of a lot of technology deals from clients in the US and Europe.
Phil Fersht, chief executive of HfS Research, believes Indian firms should acquire better consulting capabilities.
Edited excerpts:
The IT services industry is passing through a tough time given the shift from traditional to digital technology. Adoption of Robotic process automation or AI has been slow.
Where do you position Indian firms like TCS, Infosys, Wipro, Cognizant compared to their global peers like Accenture, IBM and others in this journey of transformation?
I think their position is quite well in certain areas to be honest.
They are all different in their own strategies.
Cognizant has developed a strong digital competency. It has invested in onshore delivery as well as offshore. The company has good local presence. It hired 4,000 people in the US last year. It is an example of how they effectively compete with the likes of Accenture, IBM.
Wipro has acquired Appirio and DesignIT. These are good acquisitions and it is building some great competencies around the digital ecosystem. The Holmes platform is another great strategy.
Infosys has a focus on design thinking and has a team in California, with focus on innovation.
You can look at HCL Technologies of how it has done some interesting things with their IBM partnership.
Clients will look at using any of these firms in addition to Accenture or an IBM for many, many deals.
Some of the work they are doing in automation help them stay competitive. I think that the Indian firms have kept with the changes as much as anyone else.
Everybody is going through the change and we are moving to an era of skills rather than locations.
Our research is saying no one is thinking of location but looking at skills. But, at the same time there is an increasing need for more consulting capabilities to be with the clients on-site, and I think the Indian firms need to make more investments, acquire consulting skills by buying local firms.
A lot technology contracts are up for rebid over the next 1-2 years. Do Indian firms stay ahead of the curve?
There is a concern. I think there will be some issues around immigration. If there is heavy requirement for H-1B and L1 visas, that may hurt some of these firms that are reliant on such visas.
At the same time, a lot of these deals are shifting away from locations to skills. So, immigration will put them on disadvantage in certain deals.
In one of your blogs you said automation will eliminate 8-9 per cent of the current jobs. How fast will that happen as many companies are releasing people from projects and not all of them are redeployed?
We have done the maths quite extensively. Around 9 per cent of the services jobs will be eliminated in five years due to automation and that is not a huge number.
Parts of jobs will be automated, rudimentary works will be automated. People will take on more judgement-based work more personalised work, there will be retraining.
I do not think Robotic Process Automation hurts the industry as bad as recession does. Automation will become more prevalent and will streamline the processes.
We will see more mid-size companies opening up.
The legacy kind of business is shrinking slightly, but there is an emerging business in digital and other complex areas.
With digital focus, people will have to be retrained with new skills. If they do not, they will be in trouble across junior, middle or senior management. These services companies have to be like universities for learning as well.
Do you believe a new H-1B visa norm is a threat to Indian IT players as they have been dependent on sending engineers on-site?
I think it is a threat, unlike it was the case five years ago.
Indian IT has learned to manage with offshoring. It is not as dependent on visas as it used to be. It will stifle certain deals; it will restrict access to talent. It will be a difficult period with the new legislation, if it comes.