The 'angel tax' and notices to start-ups and angel investors from the income tax department was certainly a dampener. However, a bigger factor is the lack of exits.
Illustration: Uttam Ghosh/Rediff.com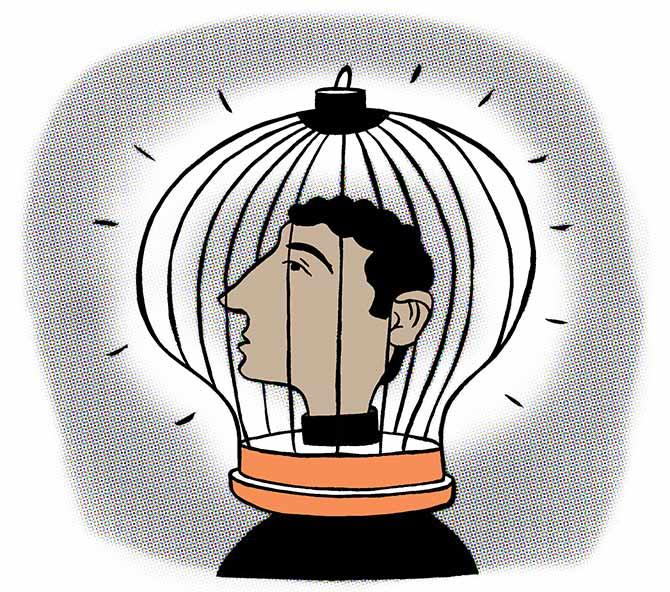 In 2018, when start-ups raised a record $7.8 billion (nearly Rs 56,000 crore), angel/seed funding deal volumes fell 27 per cent and deal values declined 10 per cent.
Series-A funding growth was almost flat. Angel deal volumes in 2018 were half of those in 2015 and 2016.
The term 'angel investor' refers to anyone who invests his or her money in an entrepreneurial company (unlike institutional venture capitalists (VCs), where this is investing of other people's money).
What explains the drop? The 'angel tax' and notices to start-ups and angel investors from the income tax department was certainly a dampener. However, a bigger factor is the lack of exits.
Take Dinesh Agarwal, founder-chief executive of IndiaMart.com. Agarwal has invested in 100 start-ups but seen exits in only three. He's not an outsider who's jumped on the start-up bandwagon.
"Exits are not happening. There's a lot of churn in the angel networks. Investors who have invested say, Rs 50-60 lakh, are saying let's wait to see exits and are not renewing their memberships," says an angel investor with over 100 deals.
Many angel investors who came during the funding boom in 2015/16 have burnt their fingers in start-ups that shut down.
Many did not understand the asset class; angel investing is a portfolio game, a bit of a spray-and-pray model.
"You need to do 20 deals to get your money back," adds an investor.
''The start-up investment market was flooded with 'tourists'. These tourist investors are out of the eco-system, after they found this was a risky and illiquid asset class,'' says Sanjay Mehta, an angel investor.
The current model of networks is also flawed, where a lead investor does a job of representing a group of investors, with zero or very little of incentives.
India has very few lead investors who can run syndicates themselves on their own. So, seed-stage investment suffers.
For instance, Rehan Yar Khan was considered a very good lead angel investor but he has started his own fund.
Typically, when VCs invest in a start-up, they are not able to offer exits to angel investors, since their mandate (of being a growth investor) requires them to buy primary shares.
So, angel investors are chasing strategic investors for exits, says Sushanto Mitra of Lead Angels.
In some cases, VCs are willing to buy out angels but at a discount. So, they stay invested.
Another key reason why exits are not happening is that unlike in the US, corporate investors are not so active in India.
''The likes of TCS, Reliance or HDFC Bank, etc, would have the appetite to buy or acquire but they prefer to build things ground-up than buy,'' says Mehta.
That's partly driven by cost. Companies are willing to buy a start-up at, say, a four-to-five-time valuation. Anything more and they find it better to build it up.
Investors have also turned cautious. Earlier, angel investors were backing good ideas; now, they are looking for tracking and revenue before they invest, says Ishan Jindal of Lead Angels.
Investors today are more disciplined in making early-stage investments (particularly Series-A), as they have more experience and can leverage the experience from 2015 or early 2016, when many companies got funded which, in hindsight, weren't ready for Series-A.
''Today, investors want to see a more sharply differentiated business model, with reasonable product-market fit and higher traction,'' says Ashish Sharma, chief executive of Temasek-backed Innoven Capital.
Several companies that got funded in 2015/16 (when the early-stage funding environment was easy) are not yet Series-B ready.
That's why Series-B has been a bit challenging for a couple of years, says Sharma.
Yet, the numbers don't tell the full story.
Many VC entities -- Accel, Sequoia, SAIF Partners or Nexus Venture, for instance -- do not announce early-stage deals for fear of these businesses getting quickly copied.