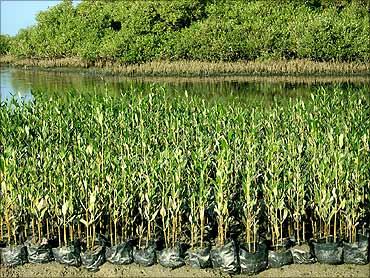 Grow-Trees.com has launched a project to plant 50,000 mangrove saplings in the famous Rukhmani temple creek site at Dwarka in Gujarat.
The project aims to restore the mangrove cover on 50 acres of inter-tidal mudflats.
Members of the local communities have been trained in mangrove nursery practices and saplings of the 'Avicennia marina' mangrove species are ready for plantation. 
The project in association with Tata Chemicals is aimed at restoring the ecological balance in the coastal areas of this region.
Dwarka has been submerged six times in its history and restoring mangroves will help protect the coastline and the environment.  Mangroves play an important role in filtering land run-off and controlling coastal erosion; they regulate flooding and act as sinks for absorbing pollutants discharged into the sea.
It is estimated that mangrove forests once occupied almost seventy five per cent of the tropical coasts across the world. Unfortunately, this has now been reduced to less than fifty percent of their original spread.
Grow-Trees.com also gives individuals an opportunity to greet friends by planting trees during New Year, birthdays, anniversaries, festivals or special occasions, at a nominal rate of Rs 50 per tree.
A customizable 'green' certificate with a personal message will be sent to the recipient. Trees are planted only on government and community lands with the objective of benefiting rural communities.
Launched on World Environment Day (June 5, 2010), Grow-Trees has planted 52,000 trees so far.
A number of corporates have joined the green initiative.Franklin Templeton, Kotak Mahindra, HSBC Asset Management, Kansai Nerolac Paints, Panasonic Energy, Patni Computer, Rallis, Times Now, Rotary Club and  Abbott have joined hands with Grow-tress to plant trees on behalf of their customers as well as employees.