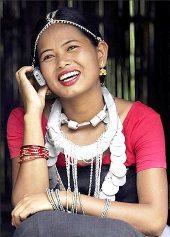 Implementation of the much-awaited mobile number portability from Thursday will hit the operating margins of service providers and those with deeper pockets would be better placed to cope up (with the new scenario), ratings agency ICRA said on Tuesday.
The nationwide implementation will increase churn of customers, shoot-up the customer acquisition and retention costs, and lower the average revenue per user as competitive tariff plans will have to be offered, the agency said in a note.
These factors are 'expected to result in a decline in the operating margins of the telecom operators especially in the short term,' the agency said, adding service quality and differentiated services will be the key for telcos going forward.
On service quality, operators will have to focus on better customer care and network coverage while differentiated services like 3G can
also swing customers towards a particular operator, ICRA said.
The market reacts to tariffs very quickly by adjusting prices and hence, tariffs will not be a differentiating proposition, it said.
Hence, 'telecom operators with stronger financial profile would be better placed to cope up with the increasing competitive intensity' once the regime starts.
Retaining the high-usage post-paid subscribers with higher ARPUs will be the biggest focus area for telecom operators post-mobile number portability, ICRA said.
The MNP scheme was launched first in Haryana last month and is to be implemented nationwide from January 20.